Senior Lecturer
Health Care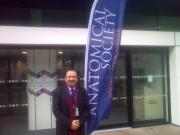 Professional memberships
Australian New Zealand Association of Clinical Anatomy (ANZACA)
Anatomical society of GBI (UK)
American Association of Clinical Anatomy (AACA)
Egyptian Society of Basic Medical Science (ESBMS)
Egyptian Society of the Anatomical Science (ESAS)
Editorial and Reviewer service :
Acta Medica International Journal http://www.tmu.ac.in/acta_second_issue.htm

WebMD Central Editor https://www.webmedcentral.com/wmc_editor_details/5783

Academia Anatomica International (AAI) http://aijournals.com/journals/aanat/editorialBoard

Anatomy, Physiology and Biochemistry International Journal (APBIJ) http://juniperpublishers.com/apbij/editorialboard.php

International Journal of Anatomy Physiology and Biochemistry http://www.eternalpublication.com/ijapb.php

Human Biology and Health Education Journal https://bioaccent.org/humanbiologyhealtheducation/editorialboard.pp

Mathews Journal of Cytology and Histology. http://www.mathewsopenaccess.com/CytoHistology-eb Joseph-Aziz.html

Open Access Research in Anatomy http://crimsonpublishers.com/oara/editorial-board.php




Profile
Joseph N.Aziz is a leading expert in gross and clinical anatomy education. He is contributing to the teaching and assessment of human gross and clinical anatomy and physiology at all levels. He completed his MD of basic medical sciences at School of Medicine 2010, Cairo University. He was selected by Military Medical Academy as leading Anatomist for Education Committee and member of the Court Examiners for the High Schools of Nurses. He was appointed in several academic positions both national and international. At that time, he is an active member of many international societies of Anatomy as American association of clinical anatomy (AACA) Anatomical society (AS) UK and ANZACA . He has served as a member on several scientific journal Editorial Boards and panel of reviewer of many journal in the field of anatomy.
Research Interest
His research interest is involving the field of the clinical anatomy. Interests in clinical anatomy become the key stone of his teaching strategy using modern imaging techniques (CT- scan, MRI and Ultrasound). He is continuing to develop momentum in this research area and have published and presented regularly on this topic at international scientific conferences.
Publications
Aziz, J. (2018). A Common Arterial Trunk Replacing Middle Colic and Right Colic Arteries: A Case Report and Surgical Significance. Open Acc Res Anatomy (OARA) (Vol. 1(3)).
http://hdl.handle.net/10652/4123
Thabet, WN., & Aziz, JNS. (2017). A Comparative Study between Different Types of Local Flaps used for Soft Tissue Reconstruction of Volar Thumb Defects. MOJ Anatomy & Physiology (Vol. 3(3)).

Aziz, J., & Morgan, M. (2015). The Possible Protective Role of Magnesium on Ciprofloxacin Induced Chondrotoxicity on the Epiphyseal Plate Growth of Juvenile Albino Rat: A Histological and Morphometric Study. Academia Anatomica International (Vol. 1(1)).
http://hdl.handle.net/10652/4081
Aziz, Joseph Naiem. (2015). The Structural and Functional Changes Indcuced By Lithium on The Renal Cortex of Growing Albino Rats: Ultrastructure and Laboratory Study. Acta Medica International (Vol. Vol 2 (1)).

Ghaly, E. N., Gergis, S. W., Aziz, J. N., Yassa, H. D., & Hassan, H. A. (2014). Role of mesenchymal stem cell therapy in nephrotoxicity in adult albino rats: Ultra structural & biochemical study. Acta Medica International (Vol. 1(2)).

Aziz, W., Mohamed, M., & Aziz, J. (2014). Using of Single Forearm Incision for Tendon Transfer for Radial Nerve Palsy: Prospective Study. Egypt, J. Plast. Reconstr. Surg., (Vol. 38(1)).
http://hdl.handle.net/10652/4072