Academic Programme Manager
School of Applied Business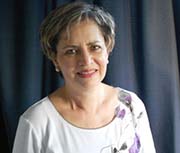 Profile
Kia ora! I am one of the Academic Leaders in the Business Practice Pathway and, among others, look after the students on the Bachelor of Communication and lecture on the Business courses.
Publications
Wessels, A., Robertson, C., Zidov, M., Malhotra, M., & Vellore Ranganathan, S. (2021). Developing a CSR strategy for a multi-national corporation in New Zealand. MIT/Unitec Research Symposium - Rangahau Horonuku Hou - New Research Landscapes, Unitec, Auckland.

Wessels, A. (2019). The Role of Ethnic Media Beyond Providing Entertainment: The Case of SANZ Live. Yu, S.S & Matsaganis, M.D. New York, USA (Vol. 2019).

Wessels, A. (2018). SANZ Live Radio: The role of ethnic media beyond entertainment. IAMCR, Eugene, Oregon, USA.

Wessels, A. (2016). The role of SANZ Live, a migrant radio programme, in making sense of place for South African migrants in New Zealand. Unitec Institute of Technology, Auckland, New Zealand.