Make the most of the Unitec Sport Centre and fully equipped gym right here on campus. Unitec students and staff get discounted membership and there is no joining fee!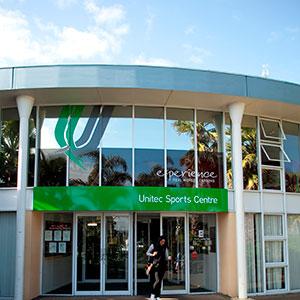 The Unitec Sports Centre is open to the public and offers excellent training facilities for all ages and fitness levels - from beginners to professional athletes.
We offer a variety of memberships at competitive prices and concession cards are also available.
Check our Facebook page for prices and class timetables.
Our friendly fitness instructors and personal trainers are all qualified exercise professionals who want to help you achieve your fitness goals. The centre has a fully equipped hammer strength-certified weights room, a specialized cardio area with a variety of Life Fitness equipment and a fantastic group fitness schedule packed full of Yoga, Pilates and cardio classes. We also have the expertise to offer advice on nutrition and a comprehensive range of nutritional supplements for sale.
Contact