At 22 years of age Unitec boatbuilding student Josh Kingi-Perese is proving to be a force to be reckoned with both on the water and off.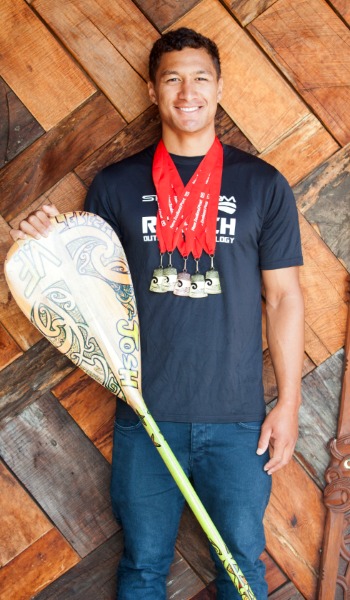 As a member of the Manukau Outriggers waka ama team, the Mt Roskill resident has participated in many races nationally and overseas.
Kingi-Perese has won many national titles and counts some of these as his biggest achievements to date.
"I've been to Tahiti four times, represented Samoa in New Caledonia for the South Pacific Games and represented New Zealand in the World Sprints in Canada where we brought home two golds.
"Racing in Tahiti is always exciting because it's their main sport over there. They're the best of the best.
"So, we don't just go to race, we go to learn and bring some knowledge back to New Zealand."
Kingi-Perese plans on establishing a boat building business once he completes his degree.
"I want to leave with a good foundation of knowledge in the boat building industry and be able to design my own waka.
"I tell people about it and they say it's a good business idea, but it's not really about the business, or making money for me.
"It's about doing something I like and also trying to contribute to the sport and make it grow bigger."
Since taking the leap into boat building, Kingi-Perese looks back on how he found his new career pathway.
"When you finish school, you don't know what to do. So, I worked at a few different jobs. Mostly labouring.
"One day I was just randomly searched boatbuilding on the internet and that's when I saw it [the certificate in boatbuilding] and thought, 'Man, I should go and do it'. So I did."
He says everyone he meets at Unitec has been supportive during his time there, especially his tutors.
As part of his course Kingi-Perese was supposed to build a dinghy, however after consulting with his classmates who all supported the variation, he put forward a proposal to make a waka (canoe) instead.
His tutor supported the change saying he was happy his students were being responsible for their own learning and had a sense of connection to their grades.
"The whole process of doing the design, making the waka and then testing them on the water was a pretty good experience."
"For a basic entry level course, coming out with those things is massive for me."
Waka ama is more than a sport for Kingi-Perese, it has enabled him to connect with his Tainui, Ngāpuhi and Samoan cultures, and has given him a greater understanding about the sustainability of our water.
"Waka ama is powerful. I've experienced many benefits and have seen these also in our waka ama community.
"My passion and involvement with waka ama, alongside the guidance of my parents has made me the person I am today."
A young man, whose passion and dedication will see him paddle the oceans in a waka of his own creation.