School of Construction graduate excels in BRANZ ArchEngBuild Challenge
Unitec School of Construction graduate Jason Webb took part in the 2022 BRANZ ArchEngBuild Challenge and his team, which included Theresa Epton – Architectural Designer (ARA), and Wenxian Hu – Engineer (UoC), produced the winning design.
15 February 2023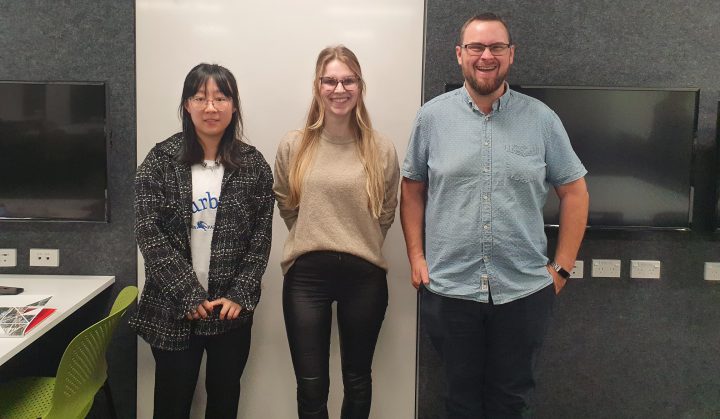 The event sees thirty architecture, engineering, and construction management students from throughout New Zealand take part in the design challenge, which was held at the University of Auckland, Faculty of Engineering. The winning team shared $7500 between them.
Over three days, students collaborate in 10 teams of three (one from each discipline) to respond to one real-life client brief. The teams' mission was to enhance the environment of the host town or city while also demonstrating effective interdisciplinary collaboration.
The competition brief for 2022 was to design low-carbon sustainable medium-density housing that enhanced well-being, enables social engagement, and made a positive impact on the environment and urban landscape.
Jason has recently completed a Graduate Diploma in Construction Project Management and was nominated for the competition by Assoc Prof Linda Kestle, who had been his lecturer in integrated design and construction management.
Jason has been working in the construction industry for many years, first starting as an apprentice, and then moving on to site management before deciding to further his knowledge with study. In 2016 he started a Diploma in Construction and then, in 2019, switched to the graduate diploma, doing the papers part-time while working over the past three years.
The BRANZ ArchEngBuild competition takes place over three days, with participants first meeting and being briefed on the concept, then taken to visit sites so they can get an idea of what they will be designing, in this case low carbon and medium-density buildings.
"We had a look at a few different low-carbon buildings in Auckland, then at one o'clock, we went back, got put into our teams and started designing."
At first, Jason says he wasn't sure what he would get from the competition as he has been working in the industry for some time, and he admits he was surprised that their design won because all the groups were so good and produced incredible designs.
"But it was really amazing. I've worked with a lot architects and engineers in the past, but you get to see it from their perspective of what goes into the design, like the concept design… Also, we're feeling very connected because you go through such an immersive experience together."
The judges commented that they were impressed with Jason's team's collaboration. "They saw strong evidence of sustainable thinking regarding whole-of-life emissions – this included all matters relating to materials, building operations, and waste management. Team 2 created interior and exterior working spaces to enable a diverse community of occupants to thrive. Team 2 proposed readily available materials be used, which meant the proposed calculations and construction processes appeared realistic."
Jason says he has enjoyed the experience of studying and doing the challenge and feels that his studies have helped him to carry his career into the future.
"I think construction is changing a lot. There's a lot more involved, and councils are requiring more from builds. While I think I would have progressed in my career without my qualifications, I believe it has definitely helped me progress faster…although having experience on the tools certainly helps as it is a very practical industry."
---
Study Graduate Diploma in Construction Project Management