Lecturer - Voice
Creative Industries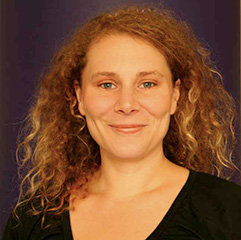 Professional memberships
Alexandra is a Designated Linklater Voice Teacher.
Alexandra is a member of the Voice & Speech Trainers Association (VASTA). She is the new Zealand representative on the VASTA International Committee.
Alexandra is an alumni of the Royal Central School of Speech & Drama (UK).

Profile
Alexandra is the full-time Lecturer in Voice for the Department of Performing & Screen Arts at Unitec in Auckland. She teaches First, Second, and Third-year acting students in Voice, Speech, Text, Experiential Anatomy, and Dialects. Alexandra also works as a theatre director, and voice, dialect & communication coach with actors and non-actors at Unitec, and within the wider community. Before her arrival at Unitec in January 2012, Alexandra taught at several acting schools in the UK, including the Royal Central School of Speech & Drama, the Academy of Live & Recorded Arts, East 15, the Oxford School of Drama, and Caravanserai Acting School.
Alexandra became a Designated Linklater Voice Teacher in 2011, and achieved her MA in Voice Studies from the Royal Central School of Speech and Drama (UK) in 2009. Previous qualifications include an Advanced Diploma in Acting from AIT Arts (1999- 2001) in South Australia, and a Bachelor of Arts from Flinders University, South Australia, in 2002. Alexandra has trained with Shakespeare & Company (USA), Double Edge Theatre (USA), Song of the Goat (Poland), Anna Helena McLean (France), Augusto Boal (UK), Ros Steen (UK), Cardboard Citizens (UK), and Jeremiah Comey (USA).
Alexandra's interests include; voice and speech for theatre and film, the integration of voice & movement practices, accents & dialects, the embodiment of classical text, song, Forum theatre, Laban Acting Method, physical theatre, yoga, and inter-cultural approaches to acting training.
Publications
Whitham, A. C., (Director) (2016). The Vagina Monologues by Eve Ensler. Te Pou Theatre, Shape Shift Collective, February 11th- 14th 2016.

Whitham, A. (2015). Biculturalism and the Voice Curriculum at a New Zealand Acting School: A Conversation with Whaea Lynda. The VASTA Voice (Vol. April 2015 - Volume 10, Issue 2).

Whitham, A. (2014). 45 minute interactive workshop with peers at the Voice & Speech Trainers Association International Voice Conference in London in August 2014. London, UK, VASTA (Vol. VASTA Conference 2014).

Whitham, A. (2014). Voice and the Compass. Unitec Research Symposium 2014, Unitec.