Real-world learning catches the eye of employers
26 January 2022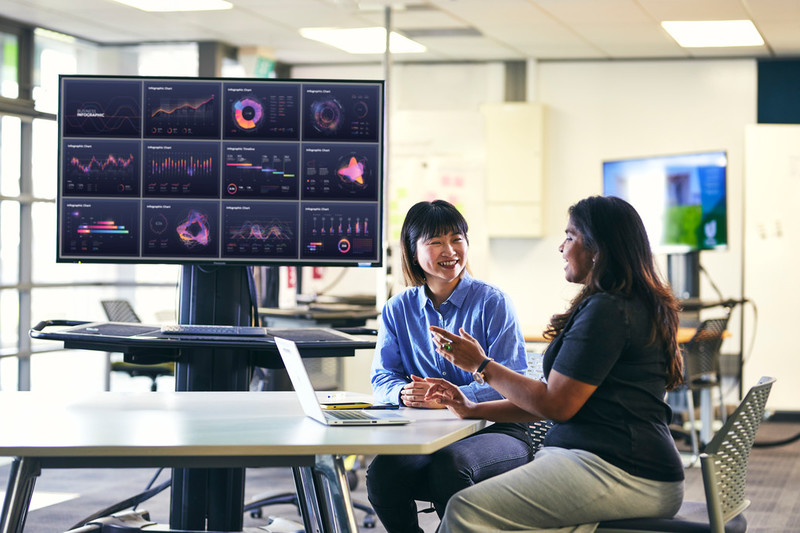 ---
Unitec's Masters of Applied Business (MAB) is a 180-credit post-graduate programme over three semesters with a focus on real-world learning in a contemporary business setting. Electives that students can opt to specialise in during the 18-month course include Business Analytics, Digital Marketing, Leadership, Supply Chain & Logistics and Advanced HR.
The programme offers a number of industry connections, most of which offer internships for students. In the business world, real-world experience is critical to success, and graduates who can show that they have the dual strands of theoretical and practical knowledge are likely to have a competitive advantage.
Unitec Scholarships Co-ordinator Nirmala D'Souza never thought she'd get back into learning. But after a 25-year gap, she thought she'd give it a go. As a graduate, the Masters of Applied Business at Unitec appealed, and she decided to enrol once she saw she could specialise in data analytics.
"Any other time in my life I wouldn't have considered the Masters programme," she says. "But data analytics seems to be the future and when I saw that it was offered as one of the electives on the programme, I knew I had to do it."
The mother of three has been studying part-time this year, juggling her studies with work and home life. She says the evening course time suits her work schedule, and Unitec also provides its staff with five days' study leave a year.
"I hadn't studied in a long time, and I felt quite anxious about going back into a learning environment," she says. "But it's a very practical course, helped by some great lecturers, and they gave me the confidence to face and overcome my initial reservations."
In the first semester, a guest lecturer talked to the class about data analytics. "Hearing about a real-life scenario changed things up quite a bit for me," says Nirmala. "He introduced us to a real-life experience of what it's like to be in the workforce.
"We can now go into the market knowing about data analytics and how to apply it – it's something I'm really keen on pursuing."
Nirmala admits this year has been challenging, with lockdown forcing classes online midway through the year. But she says the teaching staff went out of their way to offer support and guidance to students to ensure they continued to enjoy the learning experience.
"My lecturer was great – he recorded all the lectures which meant you could go back to the video if you wanted to refresh your memory on anything.
"He created a hybrid class for us – a lot of students liked the idea of referring back to past lectures, and he helped make that possible."
A Pathway Into Real World Experience
As part of the course, Nirmala has done some work experience at Complypro, a Birkenhead-based software company that produces apps used by food companies as well as a Health & Safety site safe app for use in the construction industry.
Forsyth Thompson, Head of Growth at Complypro, has worked with Unitec students for four years, and says the relationship is mutually beneficial. The projects he involves students in when they're on placement are central to solving some immediate questions within the business, but also help the business position itself better for future growth and investment.
"I think it's enormously important to give back, and I hope that by helping students get exposure to real world business problems and by being part of the solution to these, they can have a better chance at employment," he says.
"I hope that it brings them practical experience which helps them be more valuable to employers but more importantly, helps them stand out as candidates," says Forsyth.
"There's always a gap between classroom and office, and I hope that we're helping bridge that."
Forsyth says as an employer, he values programmes and courses that are built in conjunction with industry to deliver students with the skills that businesses are actively looking for. He'd also encourage students to consider courses that are founded in actual business environments, and where they can get real-world experience as part of their studies.
"I've interviewed a lot of graduates over the years, and hired a reasonable number too!", says Forsyth. "The hardest part as the employer is trying to guess whose study-based CV is going to set them up for the demands of your business.
"When I see graduates who have done internships or project-based work in real businesses and who understand the requirements of the workplace, I feel much more confident in making an offer of employment. Grades are all good and well, but when you're looking for a way to differentiate, you need more than that."
This is a view shared by Andrew Lister, operations manager at Foodstuffs, who has worked with the Masters of Applied Business programme at Unitec for the past 15 years.
"Having students on placement in the workforce allows them be part of a business and get real world experience," he says. "The student often will use the project work and the host organisation as a reference for future employment, so it's a win-win situation.
"The interaction with different businesses and leaders within those business allows students to demystify the workplace and gives them skills so they can be immediately productive" he adds.
"I enjoy employing Unitec students," he says. "They're practical thinkers, not afraid of getting their hands dirty and have the confidence to bring some of the learning from the classroom to the business."
Farah Herbert is the CEO of Cybercraft, a cyber-risk management start-up company which started working with Unitec students for the first time this year.
Farah says there is value in students being exposed to a range of different organisations, including start-ups, where no two days are the same.
"It's important that the students have the opportunity to work with a company that's in a growth phase," she says. "As we're dealing with changing technology in an agile environment, it gives students an exciting challenge to work with a constantly-evolving organisation."