'Care with purpose' takes Tuitupou to the top
Unitec Sports, Exercise and Recreation graduate Michelle 'Dee' Tuitupou is a champion multi-tasker, and her dedication and drive is paying off.
13 October 2020
Dee plays in the Tongan National Women's Rugby team and the Tongan National Women's Under-19 Soccer team. She also plays soccer for Manukau City at Conference level (one level down from Premier), works at Unitec's Sports Centre, and aspires to teach physical education in schools and work in youth development.
Juggling all these goals is already second nature to Dee. While studying full-time, she worked a part-time job, trained every day, and played rugby on Saturdays and soccer on Sundays.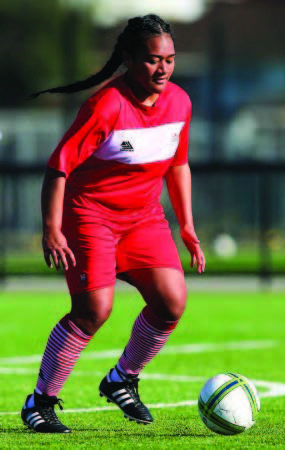 Unitec Sports graduate Michelle 'Dee' Tuitupou
Unitec's practical learning and supportive staff complemented Dee's natural motivation, pushing her to make the most of her education. She and her fellow sports classmates gained plenty of practical experience in schools of varying decile levels, teaching everything from a Year 10 boys' health class to primary school children with disabilities.
"We learned how to do unit plans for schools that worked within the curriculum, then go out and teach them. We taught all sorts of ages, we were always having to adapt."
The biggest lesson Dee learned was around confidence. "If something goes wrong, I have the confidence to keep going and not stop. Before, I would doubt myself. My lecturers pushed me to go higher, do better, and that's stuck with me," she said. Lecturers also used their industry connections to create opportunities for students. "Seeing how they were willing to go above and beyond for us was comforting and heart-warming."
Dee's parents moved the family from Tonga to New Zealand in 2002, so their children could enjoy better opportunities; the sacrifices her parents made motivated Dee to finish her studies "and finish high", she said. "I believe education is key; if you don't have education, you can't get anywhere in life."
Health and Physical Education lecturer Anne McKay was impressed by Dee's determination and sense of purpose. "Dee is such a high achiever – we were impressed with the way she threw herself into her studies while juggling so many other commitments. Our ethos in the sports department is 'care with purpose' – it's important to get to know and understand our students so we can tailor any support they need. It's always so heartening to see our students succeed."
---
Study Sport, Exercie and Recreation Order brochure Apply Now