Business thriving after Unitec grad follows his passion
Jacob Van Pelt is making a name for himself as a content creator and VFX artist even before he walks the stage at Unitec's Autumn Graduation Ceremony in April.
The 20-year-old graduate of Samoan and Dutch heritage completed a Bachelor of Performing and Screen Arts at the end of 2020. But it was his "proudest achievement as a student" which inspired him to dive deep into his own creative ventures and set up his own business during his final year at Unitec. "In my 3D Animation elective, we were given the task of modelling a 3D robot and animating a 15 second scene where the robot interacted with something," Jacob explains. "I convinced my lecturer to let me model a character that I'd been thinking up instead of a robot. This was the birth of Baby Jodo, the mascot for my brand."
Jacob's class assessment ended up being the launch video for his business Jodo Valley. His work quickly got noticed in the industry and business is flourishing. Even during last year's COVID lockdowns, he was highly sought after by clients in New Zealand and overseas. "I direct, shoot and edit music videos for artists, mostly in the hip hop scene. I also do contract work for my VFX and 3D Animation, as well as animated visualizers for festivals and advertisements," says Jacob.
Jacob was recently commissioned to create VFX for American hip-hop artists Nav & Gunna, who have millions of followers on social media and YouTube. His work was used during a live recording at Jimmy Kimmel Live. "I only had five hours to complete all of the VFX for this performance, but once it was complete my work was aired on prime-time American television – I was ecstatic!"
Jacob's editing lecturer Samantha Sperlich says she immediately saw his potential when he arrived at Unitec in 2018. "During the past three years I have been witness to Jacob's growth and developing voice as a young creative artist," she says. "Jacob was able to learn the fundamentals of post-production and further refine his skills as a visual storyteller. I am immensely proud of how far Jacob has come, and am excited to see where his talent will take him next."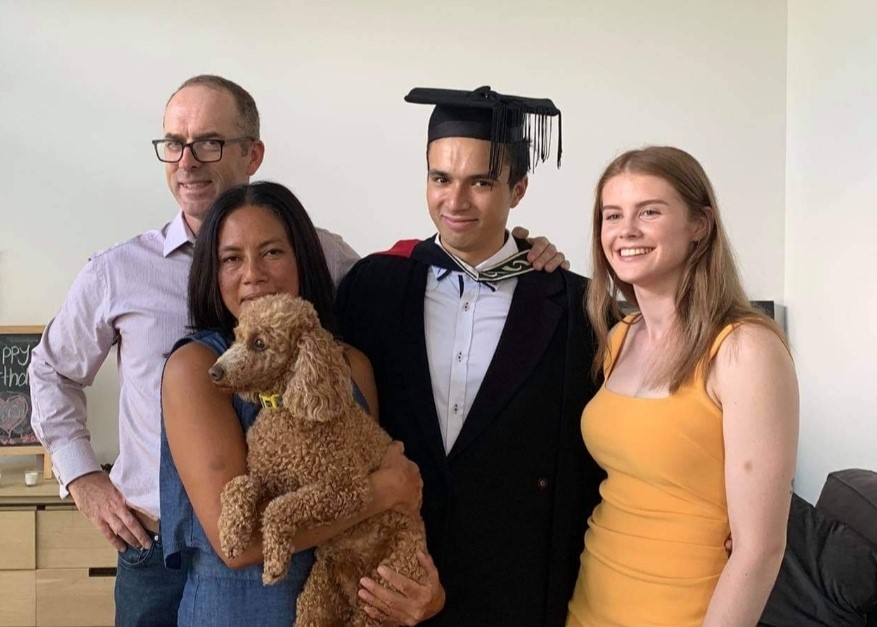 While he found juggling his studies and business challenging, Jacob's passion for his craft allowed him to succeed in both. "It was a tough balance but I have no regrets because I achieved more than I ever could've dreamed of in my first year of freelancing," he reflects. "I was always finding fun in my own little projects, so I believe that this taught me how to enjoy the creative workflow, without actually thinking of it as work."
Jacob's social media presence has contributed to his growing brand. He has watched his client list and audience blossom after initiating his content through Instagram. "I'm aiming to build Jodo Valley into a movement and a production company rather than just a portfolio for myself as I see great potential in the visuals I am putting out," he explains. "I feel that there is a big gap in New Zealand for videography in this stylistic field."
Jacob attributes his success to "putting myself out there" and standing out from the crowd. "Find that unique gap for your specific talent and stay passionate about it every step of the way," he says.
Head of School, Creative Industries Dr Vanessa Byrnes adds: "Jacob's success even before formally graduating reflects the innovative, hands-on, and individual creative approach we take in Creative Industries at Unitec. A great idea executed well translates across borders and perceived boundaries. The proven value of our Creative weightless export economy is becoming more prescient in COVID-adaptive times. Congratulations to Jacob and his expert teachers in our School for this success."
Business is thriving, but Jacob hasn't forgotten where it all started just over three years ago when he was a Mt Albert Grammar School student with big dreams making home videos. "What convinced me to study at Unitec was the focus on practical filmmaking and actually using the equipment and trying things out. In my opinion, that is the best way to learn," he says. Fast forward to 2021 and he is now living that dream.
You can check out Jacob's work on Instagram @jodo_valley_productions.
Published: April 27th, 2021