Advance magazine highlights the innovative research taking place across a wide range of disciplines, in conjunction with industry, the local community and relevant professionals. Featuring multiple projects with the practical and applied focus that typifies research at Unitec, the magazine opens doors to new ideas and possibilities.
Current Issue: Summer 2016
View Advance Summer 2016 (issuu)
In this issue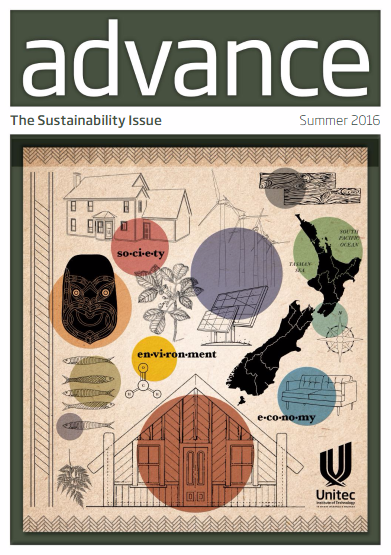 This summer 2016 issue focuses on sustainability. Sustainability is about long-term thinking that ensures sustained economic growth, positive social involvement and reduced environmental impacts.
This issue includes Unitec research focused on these different aspects of sustainability, from scientific to heritage conservation, waste minimisation, recycling of materials and buildings, to economically and socially driven projects that illustrate the fundamental shifts occurring across the construction, education and business sectors.
This is demonstrated in articles such as citizen-driven DNA sampling, which is poised to transform species conservation, to create green businesses and community ownership of threatened species, such as whitebait. Likewise, critical projects that evaluate the sustainable value of new technologies or policies are highlighted, such as thermal membranes and nationwide insulation policies that reach across business and social boundaries to drive change.
Past issues
View past issues of Advance Magazine.
Subscribe to Advance Magazine
Want the latest issues of Advance? Sign up to receive Advance by email or post.
If you already receive Advance you can also change your details.