Unitec | Te Pukenga e-Press publications promoting open-access scholarship
Over the past six months, Unitec | Te Pūkenga ePress has released a wealth of research reports, discussion papers, and journals reflecting the vibrant research environment at Unitec.
Highlights include insightful pieces on the role of Talanoa in enhancing Pacific traditions in Aotearoa New Zealand's tertiary education, Kaupapa Māori research, and the importance of preparing nursing professionals for an ageing population.
ePress operates with a clear vision: to be an innovative beacon in the online, open-access publishing realm. Its mission goes beyond just publishing. It aims to foster a direct connection between writers and readers, nurturing emerging Unitec scholars, pioneering innovations in digital scholarly publishing, and providing an alternative channel for scholarly dissemination. By doing so, ePress not only breaks down barriers to accessing scholarly information but also actively promotes electronic journals, especially in under-served and budding disciplines.
As a not-for-profit online publisher, ePress is committed to publishing peer-reviewed, quality-assured academic work.
Articles and papers
Whakarongo ki te Tangi! – Growing Kaupapa Māori Community Health Researchers through Mentorship
This collaborative research paper focuses on the Māori cultural practice of tangi, emphasising its significance as a medium of healing and expression for emerging Māori community health researchers. The paper underscores the pivotal role of confidence, preceding capability and capacity, in research mentorships. Four rising Māori researchers shed light on their journey towards increased research confidence, gained through a summer Kaupapa Māori research mentorship. Instead of suggesting ways to foster confidence, the authors invite readers to resonate with their stories, stressing the need for more Māori-led research opportunities.
Authors: Dr Hinekura Smith, Jenn Sarich, Taoitekura Eruera, Ann-Margaret Campbell-Strickland, Lillian Mato Bartlett.
VDI Networks in Education: A Focus on Archicad BIM Software
The study evaluates using virtual desktop infrastructure (VDI) for Archicad software within tertiary education. Conducted in the New Zealand Diploma of Architectural Technology programme at Unitec | Te Pūkenga, the research highlights the performance dynamics of Archicad in a virtual environment. Key factors include VDI design, RAM allocation, and user-to-VM ratios. Virtual computing provides many benefits, and this project could provide the confidence for stakeholders to adopt new strategies using VDI instead of the traditional approach of computers with locally installed software applications.
Author: Malachy McGarrigle
Kaupapa Māori Research: Bridging Theory and Diverse Practices
This paper delves into the relationship between Kaupapa Māori research and real-world practice, capturing reflections of four Māori practitioners during a research internship funded by Te Whatu Ora. Highlighted experiences include Marcel Croul's film collaboration on a wahine-led documentary, Allana Goldsmith's blend of jazz music with a Māori worldview, Manaaki Fletcher's exploration of kapa haka as a form of Kaupapa Māori research, and Atareta Moses' study on the confluence of Kaupapa Māori and human-resource management. The project, hosted at Ngā Wai a Te Tūī, showcases the versatility and profound influence of Kaupapa Māori research in diverse fields.
Authors: Byron Rangiwai, Marcel Croul, Allana Goldsmith, Manaaki Fletcher, Atareta Moses
Stocktake of Placement Preparation and Clinical Experience for Aotearoa New Zealand Student Nurses in Aged Care Settings: July 2023
With the global population ageing rapidly, demands on healthcare services are projected to surge. The "Better Later Life (2019–2034)" strategy emphasises healthy ageing and enhanced service access as critical responses to this demographic shift. Central to this strategy's success is the education of health professionals, especially nurses. This work explores how adequately the nursing profession is preparing its members to address the evolving needs and discusses potential curriculum developments to ensure a proficiently trained workforce.
Authors: Dr Samantha Heath, Susan Hudson, Nasyitah Abd Aziz, Adrianna Grogan, Dr Bernadette Solomon, Christianah Adesina, Dr Eltahir Kabbar, Fiona Soper, Janice Groube, Jillian Philips, Maia Topp, Michelle Eleno, Michelle Rogalin-Henderson, Molly Page, Dr Peta Taylor, Dr Pam Foster, Robina Mall, Dr Ruth Crawford, Shobha Johnson, Victoria Munro
Talanoa: Enhancing Pacific Traditions in Aotearoa New Zealand Tertiary Education
Pacific societies have thrived through their ancestors' storytelling traditions, encompassing myths, songs, art, and more. This paper emphasises the role of Talanoa—both as a concept and research method—in fostering Pacific knowledge within tertiary education in Aotearoa New Zealand. Employing Talanoa, the study gathered insights from Pacific staff on its integration in education, both offline and online. The research contributes to existing literature, underscoring the importance of Pacific oral traditions in enriching educational engagement. The findings advocate for the broader inclusion of Talanoa in tertiary educational practices.
Author: Daisy Bentley-Gray
Journals
Whanake: The Pacific Journal of Community Development edited by David Kenkel and Hoa Nguyen, School of Healthcare and Social Practice
A crucial platform for both practitioners and academics devoted to the field of community development, Whanake journal supports the sharing of dreams, discussions and plans for our common futures, acting as a crucible of democracy and community development. Whanake offers a vital forum for sharing the kind of knowledge that will be ever-more needed as climate change and a changing political landscape impact Aotearoa and Pacific communities.
Perspectives in Biodiversity edited by Professor Peter J. de Lange and Dr Marleen Baling, School of Environmental and Animal Sciences
Perspectives in Biodiversity is a peer-reviewed journal that accepts submissions mostly from the Australasia and Pacific regions. This journal covers a wide range of topics, including the study of plants, animals and fungi, and their behaviours, genetics and environments.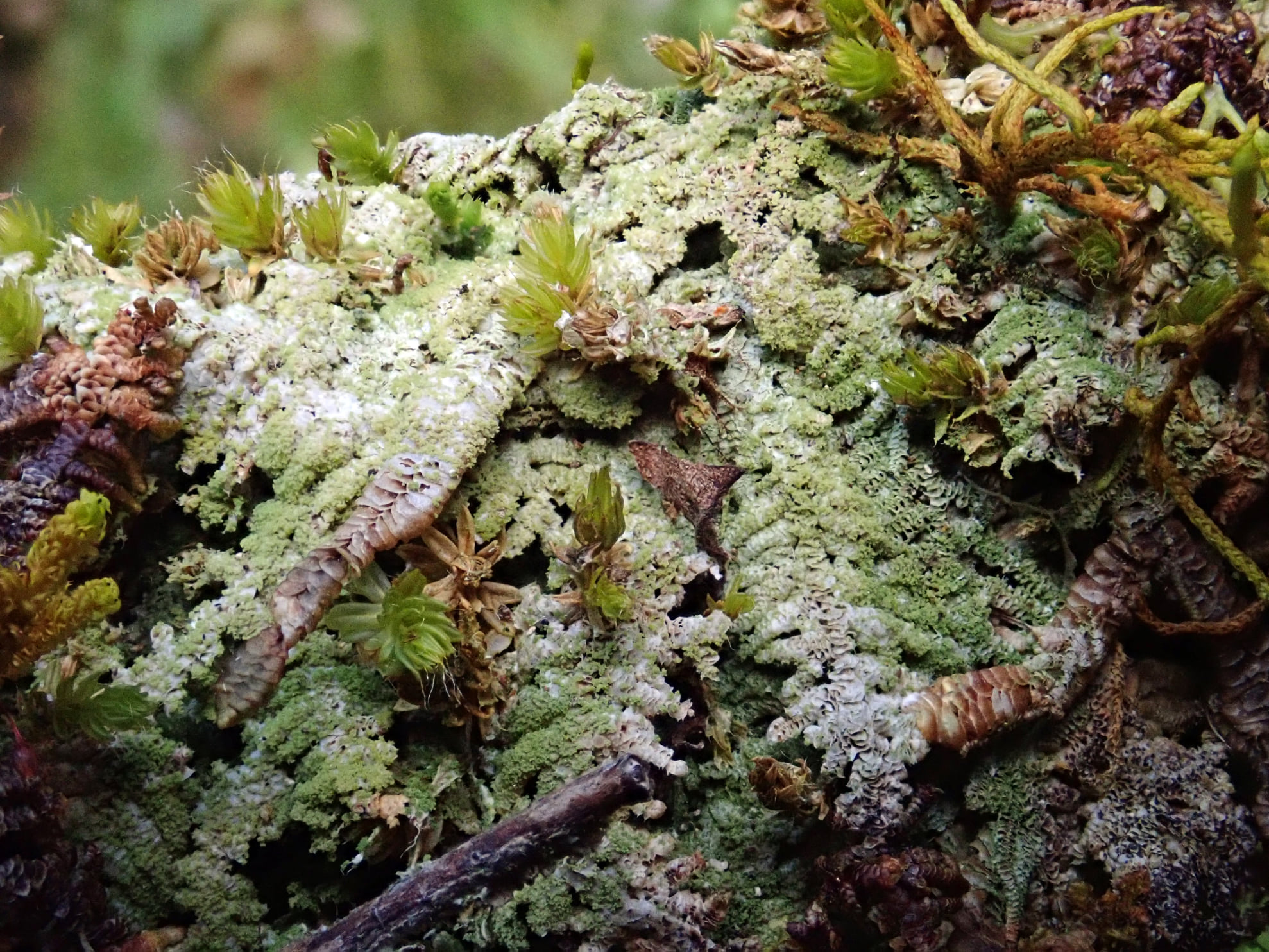 The latest issue features four papers on subjects ranging from the avifauna of Rēkohu / Wharekauri / Chatham Island to the biota associated with the exhibits of the Auckland Zoo. One paper describes a new species of lichen, Megalaria crispisulcans.
Perspectives in Animal Health and Welfare edited by Kristina Naden and Laura Harvey, School of Environmental and Animal Sciences
A multi-disciplinary electronic journal of research papers and other outputs covering all aspects of the fields of animal health and welfare, and aims to provide an opportunity for the publication of outputs by, and for, veterinary nurses, veterinary technicians, and allied veterinary professionals.
One paper is available in preprint for the next journal
Optimising Staff Utilisation In Companion Animal Veterinary Practice In Aotearoa/New Zealand