Unitec Creative Practice graduate wins major art award with her highly-acclaimed work, 'Pink Bats'
"Where the Masters programme really shines is the Art and Design staff and their commitment to supporting students." – Melissa McMahon, Unitec Master of Creative Practice graduate
29 March 2022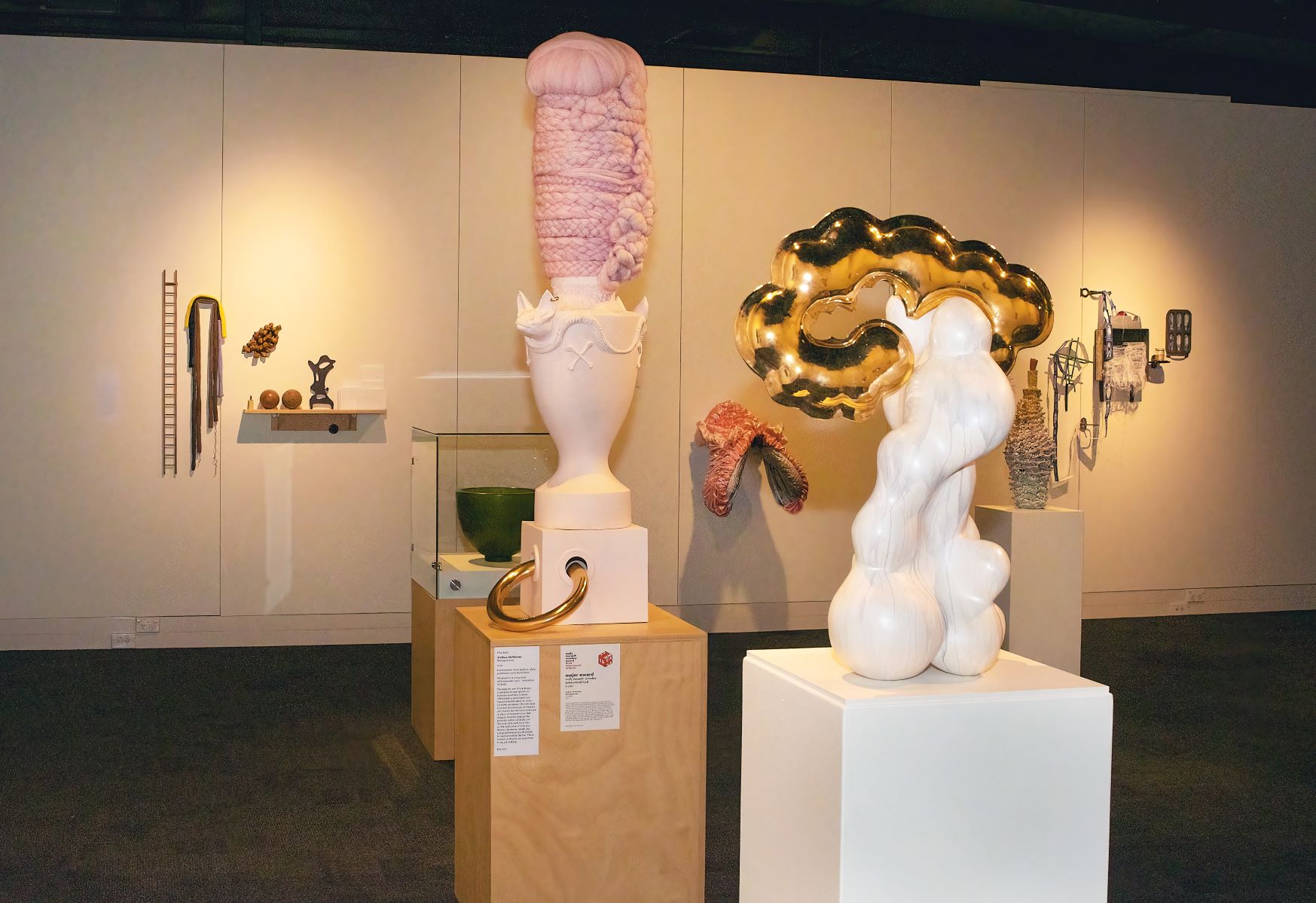 Melissa McMahon, a recent Master of Creative Practice student, has won the Molly Morpeth Canaday Award Three Dimensional Artform 2022 with her winning work Pink Bats selected from nearly 300 entries nationwide.
The award, in its 38th year, seeks to highlight and celebrate excellence in fine art throughout Aotearoa, and is sponsored by the Molly Morpeth Canaday (Whakatāne) Fund, and presented by Arts Whakatāne with exhibition partners Whakatāne District Council Museum and Library.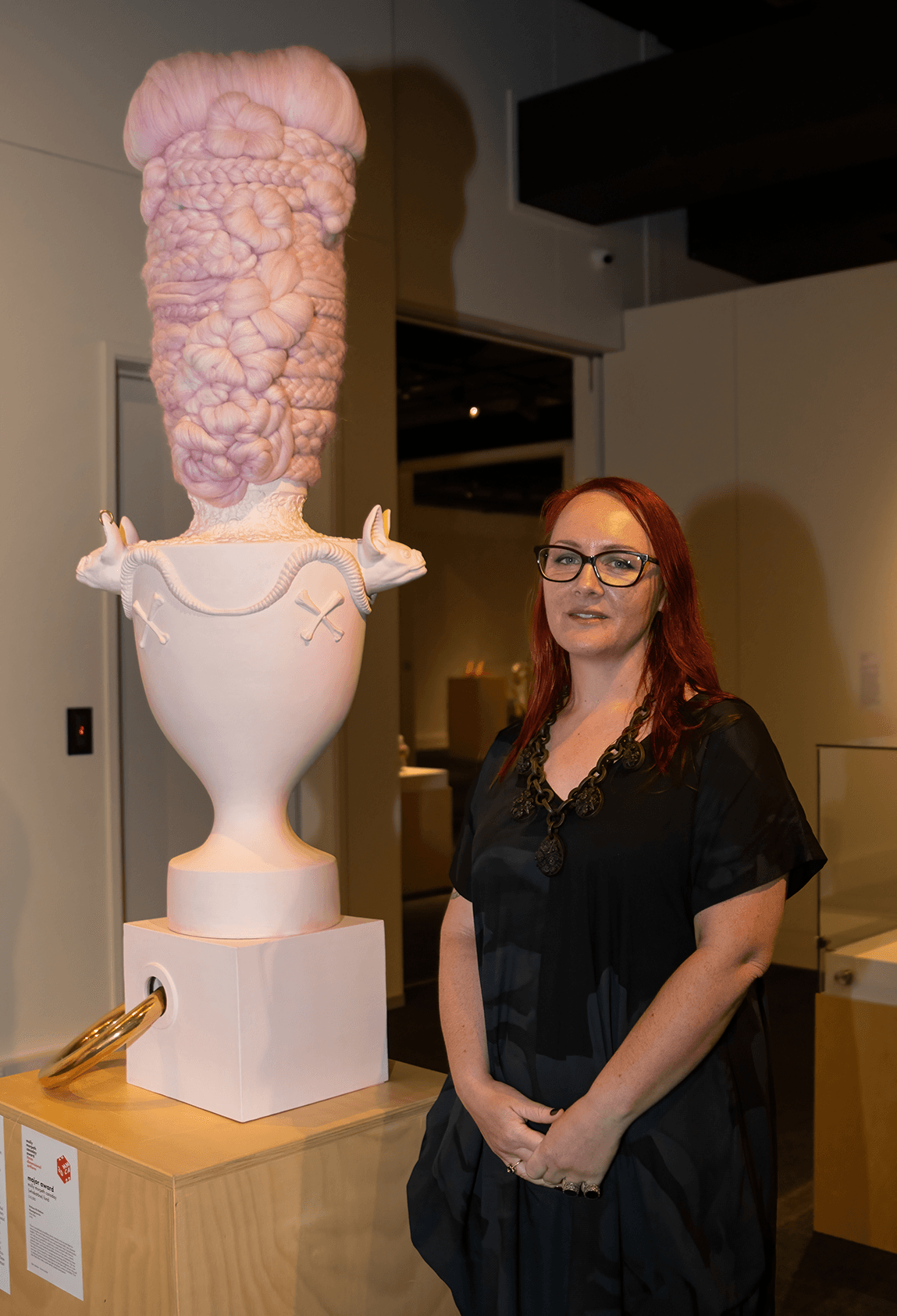 Melissa's winning work Pink Bats, made from earthenware, terra sigillata, glaze, gold lustre, and wool blend fibre, was chosen by guest judge Robert Jahnke, who praised Melissa's use of memento mori, or reminders of death.
"This work really made an amazing impression on me – there's something compelling about ceramic urns beyond their funerary function and that is their earth-bound materiality and inherent fragility, he said.
"The title 'Pink Bats' sums up the artist's playful demeanour."
Melissa, who's from Maungaturoto in Northland, said her win was a very welcome surprise and represented several years of work.
"Pink Bats was the result of three and a half years of research for my Masters, so it was great to have that work recognised."
In accepting the award, she paid tribute to her Unitec course tutors, saying their input and support had been essential to the creation of her work.
"The staff are amazing, and my supervisors were very supportive," she said. "As it's a practice-focussed programme, you can really concentrate on studio research, and you have the freedom to pursue a vast array of creative outcomes."
"Where the Masters programme really shines is the Art and Design staff and their commitment to supporting students."
Unitec Creative Industries lecturer Richard Fahey, who supervised Melissa on her Master's programme, said the time, space and resources that the Masters programme extends to students enables projects that are ambitious and demanding.
"I'm delighted with the news of Melissa's award, but not unduly surprised," he said. "Within her Master's project she took the opportunity to challenge herself, conceiving and constructing work at a far more ambitious scale than she had done previously."
Melissa works mainly in clay, but also uses a lot of mixed media, including textiles and fibre, rubber, metal, timber, and bones.
"It's a tough time to be a student - there are a lot of challenges, particularly if you have a specialist making practice like I do," she said. "But I have a whole series of work in development, and I'm also in the process of setting up a new studio, so it's a very exciting time."
Melissa completed a Certificate of Design and Visual Arts and a Bachelor of Design and Visual Arts (Contemporary Craft) at Unitec before embarking on her Master of Creative Practice last year.
Further information on the Molly Morpeth Canady Awards and the 2022 winners is here
Study Creative Industries Study Master of Creative Practice Order brochure Apply Now