Unitec celebrates excellence in teaching and outstanding contribution
Staff from Unitec's Mt Albert and Waitākere campuses gathered last week to celebrate excellence in teaching, research and service.
9 December 2022
Twenty-two awards were presented to kaimahi across thirteen categories, ranging from 'Excellence in Teaching' to 'Innovation and Enterprise'.
Unitec Executive Director Gus Gilmore said staff's mahi and commitment to ākonga during what has been another highly challenging and disruptive past year "is testament to your dedication, innovation and commitment to Te Noho Kotahitanga."
Excellence in Teaching awards went to Trades lecturer Craig Goodhue, Nursing lecturer Vimlesh Shukla and the Whaikaha - Supported Learning teaching team.
The prestigious 'Unitec Champion' award was presented to Sue Emerson, Lead Academic Programme Manager in Community Studies, in recognition of how she "connects at all levels of the organisation guiding our waka, uniting communities, and building capability and resilience within our people."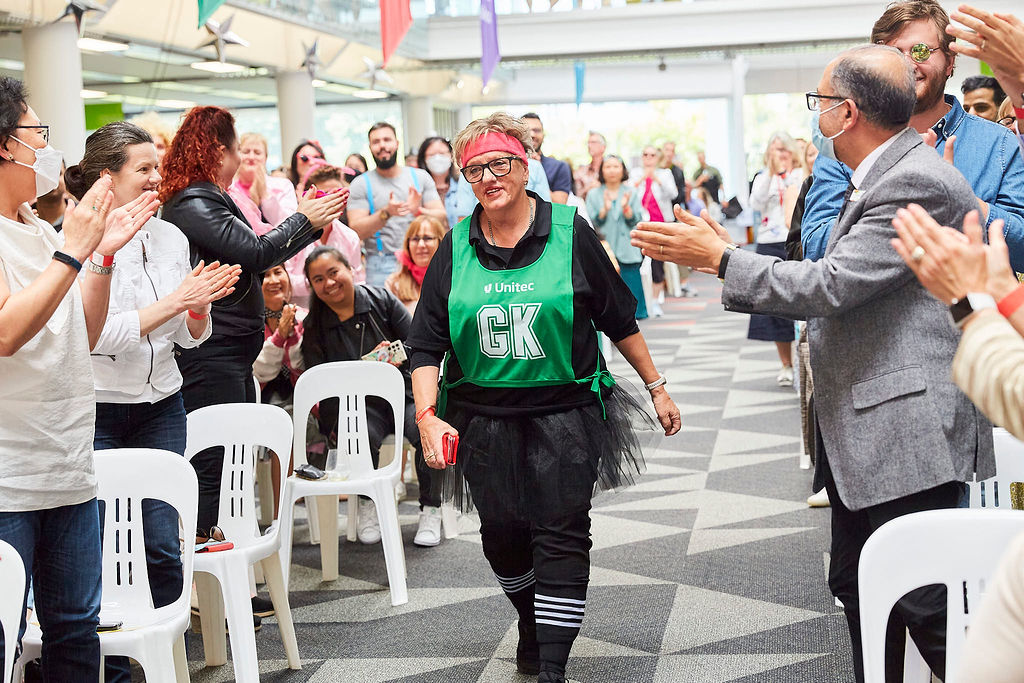 Sue was thrilled to receive the Champion award and spoke passionately to the audience.
"A week or so ago I heard a young Maori Samoan woman called Arizona Leger give the closing address at our global IWG Women and Girls in Sport conference. She challenged us to be brave ancestors for the next generation to come. She said 'We are brave ancestors. When thunder strikes choose to be brave, to pay back those who have gone before you by being brave. We are wayfarers; right now in education we sure are wayfarers."
Full list of winners:
Excellence in Early Career Teaching
Maia Ratana: Lecturer – Architecture
Sameh Shamout, Lecturer – Architecture
Excellence in Teaching
Craig Goodhue, Lecturer – Trades and Services
Vimlesh Shukla, Lecturer, Nursing – Healthcare
Whaikaha – Supported Learning: Dave Hicks, Caroline Leader, Angelina Wright, Lynette Solomon, Utkarsh Sanjanwala, Mary Perich, Colleen Chong
Excellence in Teaching – Kaupapa Māori
Dr Hinekura Smith, Interim Director – Nga Wai a Te Tui, Ngā Wai a Te Tūī
Innovation in Teaching
Caleb Wong, Lecturer – Trades and Services
Excellence in Early Career Research
Associate Professor Renata Jadresin-Milic – Architecture
Excellence in Research
Associate Professor Peter de Lange – Animal and Environmental Sciences
Excellence in Support
Bettie Warwick-Ching, Human Resources Business Partner
Joseph Pitovao, Carpentry House Builds Project Lead
Dr Norasieh Md Amin, Subject Librarian
Supporting Pacific Learners Award
Jason Hallie, Lecturer – Social Practice
Outstanding Contribution by a Project Team
Exercise Lab team: John MacFarlane; Wesley Verhoeff, Andrew Lenton, Rob Gambolati, Maja Zidov, Sarah Coutts, Malcolm Yurak, Katie Bruffy, Sue Emerson
People and Culture – Transition to Te Pūkenga team
Innovation and Enterprise Award
Mechanical Engineering Teaching Team
Vivienne Merito, Director – Marketing and Communications
Sustained Outstanding Contribution to Unitec
Aanoalii Rowena Fuluifaga, Manager – Learning and Achievement
Associate Professor Marcus Williams, Director – Research & Enterprise
Te Noho Kotahitanga Team Award
Accounts and Finance: Irene Lee, Sharon Fu, Natalia Moroz, Vijaya Rath, Thi Nguyen, Siphiwe Kumwenda, Abhishek Masih, Rakesh Patel, Louise Spears, Michal Chudzinski-Pawlowski, Wei Jin, Rebecca Millward, Manasi Khatkul
Student Central: Jeffrey Wu, Chardanay Apikolo, Fatin Elier, Joe Wang, Lubna Khan, Michelle Paki, Muhammad Sajjad Haider Naqvi, Pa Tepairu Tere
Unitec Champion Award
Sue Emerson, Lead – Academic Programme Manager, Community Studies