The future is closer than you think
Unitec/MIT hosts industry leaders as part of Techweek 22.
25 May 2022
Unitec recently hosted its first external in-person event in two years when it welcomed more than 120 attendees to its Mt Albert campus for a future-looking forum as part of the nationwide Techweek 22.
Speakers at the event, which was facilitated by Unitec's Dr. Masoud Shakiba and Dr. Vanessa Byrnes, included Gus Gilmore, CEO of Unitec/MIT; Victoria MacLennan, CEO of IT Professionals NZ; Vanessa Sorenson, Managing Director of Microsoft New Zealand; and Steve Renata (Ngāpuhi), Managing Director of Kiwa Digital and Unitec/MIT board member.
The topic of the tech-focused discussion was 'The future is closer than you think' with speakers describing how technology can present opportunities, the issues currently facing the industry, and how their respective organisations are creating jobs and helping grow New Zealand's workforce.
Real-world examples of innovation and forward-thinking
In his opening address, Unitec/MIT CEO Gus Gilmore touched on some of the real-world tech projects that students had designed and developed over the course of their studies. The projects had led to wider involvement with the community and commercial sector, helping students gain practical skills, knowledge and contacts that they could take on their career journeys.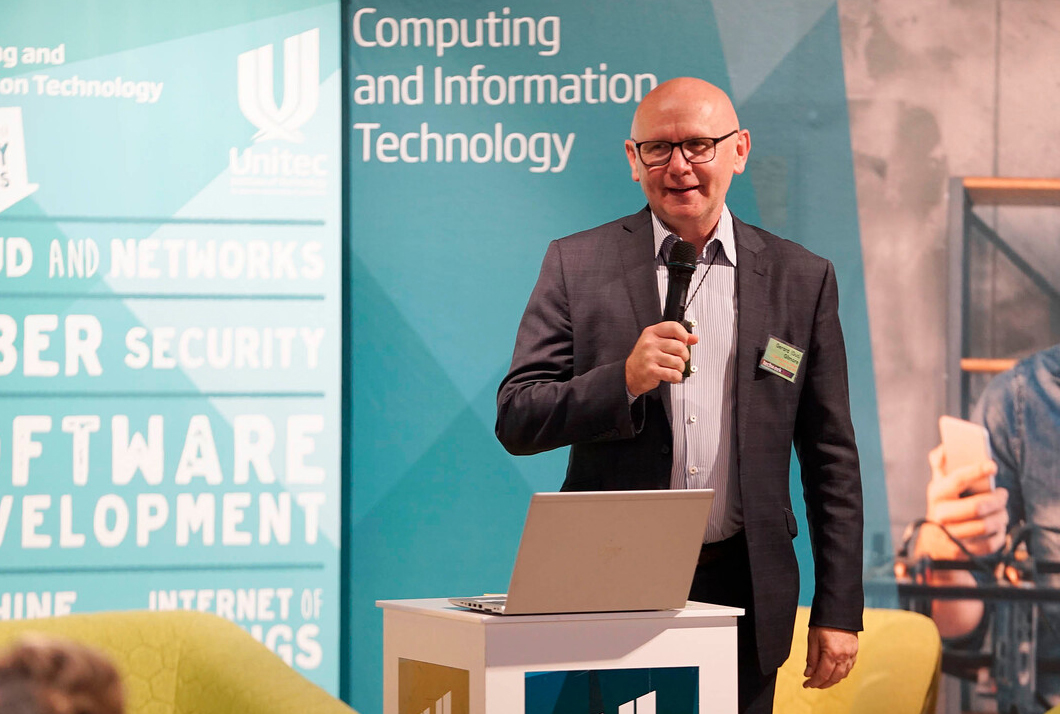 "All of these projects are multi-faceted -- they're designed and developed by our students under the guidance of teaching staff who bring their own invaluable industry experience and talents to the mix," said Mr. Gilmore.
Recent initiatives include Uniwaka, a new carpooling app for staff and students at Unitec which has been designed and built through a collaborative effort by students and staff from the School of Computing, Electrical and Applied Technology and the School of Creative Industries. The Uniwaka app, which is currently in test phase, enables users to connect with Unitec whānau to share rides when needed, reducing traffic congestion and carbon emissions in Tāmaki Makaurau.
Another example is Te Aka Mātauranga -- the world's first pou whenua made using 3D printing technology – which was unveiled at the opening of MIT's TechPark last year.
"TechPark is a modern trade school, so the idea of a 3D printed pou or 'totem' was to demonstrate the adoption of new technologies, but still recognising the old ways and cultural importance of who and what MIT is," Mr. Gilmore said.
The digital divide
Victoria MacLennan of industry body IT Professionals NZ and a partner on the event said it was difficult to talk about the future of digital technology without focusing on the issues we're facing today - with the skills shortage being the number one issue.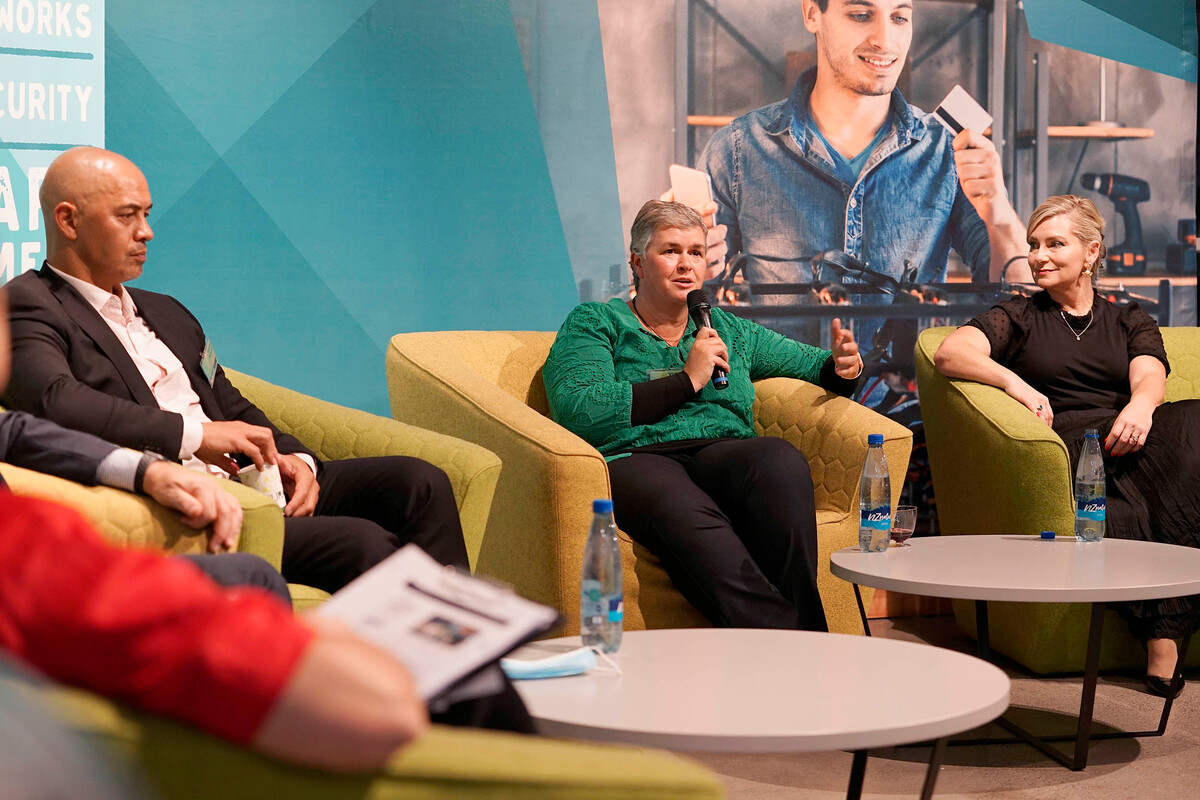 She said that after two years of zero immigration to supplement the workforce, coupled with decades of underinvestment in developing capability, the "brain drain" is becoming a reality for many in tech.
Equally digital inequity, digital poverty and digital harm are all widening the digital divide, she said.
Victoria referenced a recent BNZ report which found that 20% (or 800,000) of adults in New Zealand had below-essential digital skills, either through lack of connectivity or devices.
Steve Renata, who heads up cultural creative agency Kiwa Digital, said Aotearoa had the potential to become an international Centre of Excellence for audio and post-production, but first there was work to be done in developing educational curricula to ensure skills matched workforce needs, and that there were enough highly-skilled people to fill the jobs.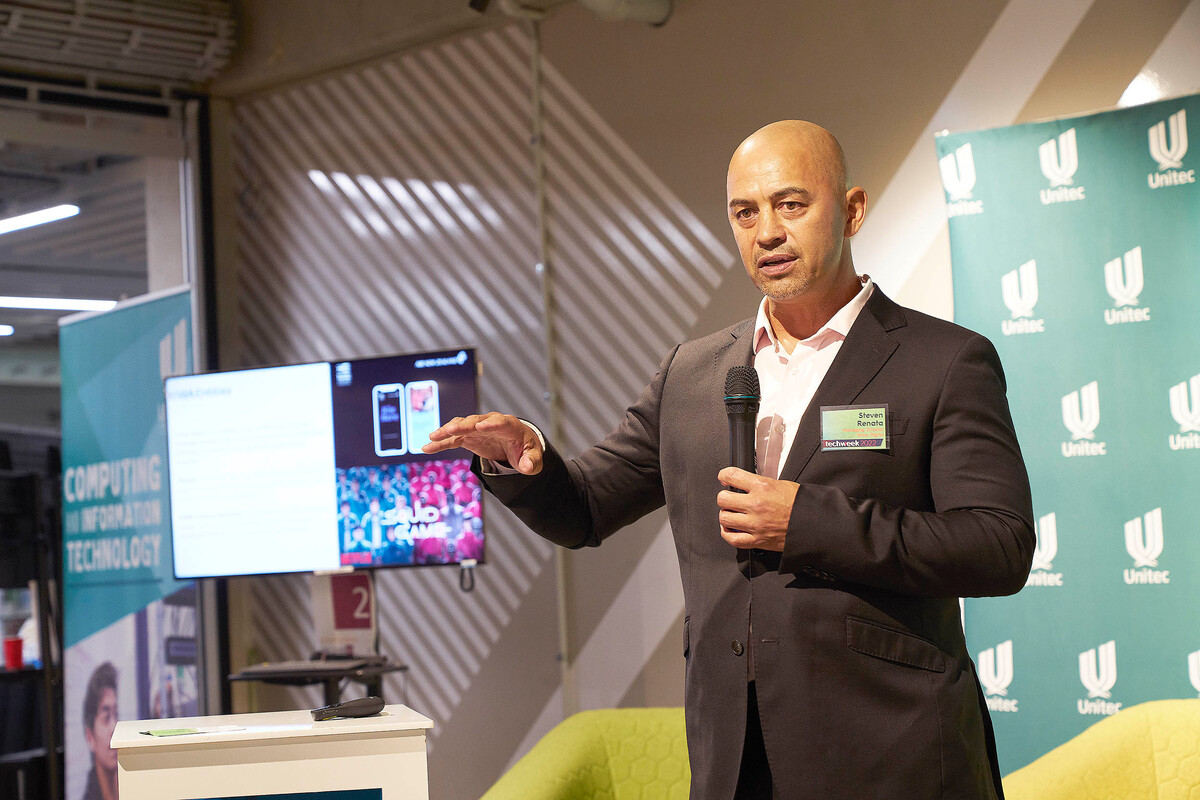 "We've got the technology, we've got relationships – now we need the curriculum and the people," he said.
Opportunity through diversity
"Coming to Unitec this evening was a real thrill," said Microsoft NZ MD Vanessa Sorenson. "I always dreamt of a bigger education, but I didn't have the opportunities at the time."
Starting her first job at 17 without having even seen a computer, she says she often wonders how she got to where she is today.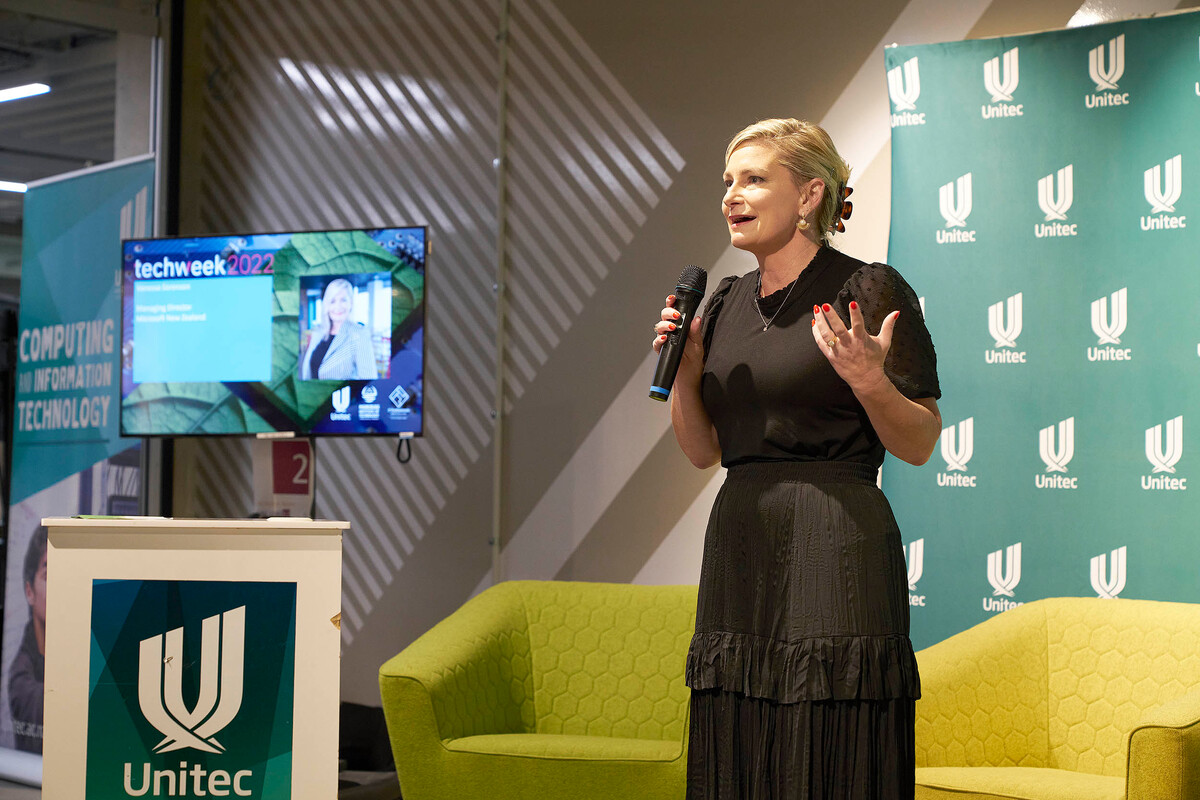 "It's all about hard work, it's about failures," she said.
It's about being knocked back and getting up again. It's also about having the right mindset and being the 'learn it all' person – no one knows how to do every single job, but there's no reason why you can't learn as much as you can about everything.
"Tech is the place to be – the opportunities are incredible," she said.
Ms Sorenson said Microsoft would be creating more than 100,000 new jobs in New Zealand over the next four years, and sent a message to the audience that 'Microsoft needs you'. She said the highly-paid jobs which would support the development of three giant data centres in the Tāmaki Makaurau region included roles in Cybersecurity and the Internet of Things.
She also talked about the underrepresentation of wāhine in digital roles globally, and the work Microsoft has been doing to raise awareness about the careers available in the tech industry and to inspire future innovators.
Microsoft has recently launched the #10KWāhine initiative, bringing together digital partners to empower 10,000 female students, workers, and career-changers with new skills and mentoring opportunities.
"We know there's still a lot of work to be done to boost diversity in the tech industry and to break down the barriers preventing more women from exploring careers that require digital skills," she said.
How to get a job in tech
When asked how to get a tech job, the panellists had pragmatic advice for the audience.
"Get your CV right, understand what your rights are – that's what's important," said Victoria MacLennan. "Do the extra work so you're seen in the best light, ask for help with interview practice."
"Go to events like this," added Vanessa Sorenson. "It's honestly that simple. Be flexible, be open, be responsive. But most importantly, you've got to execute on what you say you're going to do."
Steve Renata added, "Understand that things change quickly in tech. Get your CV out to as many people as possible. You're going to get a lot of no's, but understand that 'no' actually means 'not right now'. That's the resilience you need."
---
For future collaboration and industry engagement opportunities, please contact Dr Masoud Shakiba, IT lecturer at the School of Computing, Electrical and Applied Technology, email mshakiba@unitec.ac.nz.