Students matched with jobs at Unitec's popular Industry Connect event
"Be kind, be open, be enthusiastic".
31 August 2022
These were the words of advice that PwC graduate recruiter Dominique Herewini had for the prospective job seekers who attended last week's careers fair at Unitec.
PwC was one of 20 businesses that exhibited at Unitec's Industry Connect event for Business and Computing and Information Technology students, designed to match students with employers and help them find jobs at the end of their studies.
"Finding employment in their area of study is one of the key outcomes of student success at Unitec," said Shani Sauerman, senior industry partner at Unitec and organiser of the Industry Connect events.
"Our Industry Connect events are renowned as an effective and important way of bringing students and employers together, as we continue to meet the demand for highly skilled workers throughout the country.
"Not only were our students work-ready, but our exhibiting businesses also came ready to sign up our graduates," said Shani.
Exhibitors included Datacom, PwC, Orb360 Chartered Accountants, Farmers Trading Group, NEXTGEN Group, Harcourts, Westcon-Comstor, KPMG, Disruptive Unicorns, and Chartered Accountants of Australia and New Zealand.
It was the first Industry Connect event for NEXTGEN Group technical services head David Venter, and he says he had several positive conversations with students about potential sales roles at the enterprise software and cloud group of companies.
"We're always on the lookout for self-starters who are keen to learn and proactively seek out information," he says. "Gaining a wider understanding of the technology in the industry always helps."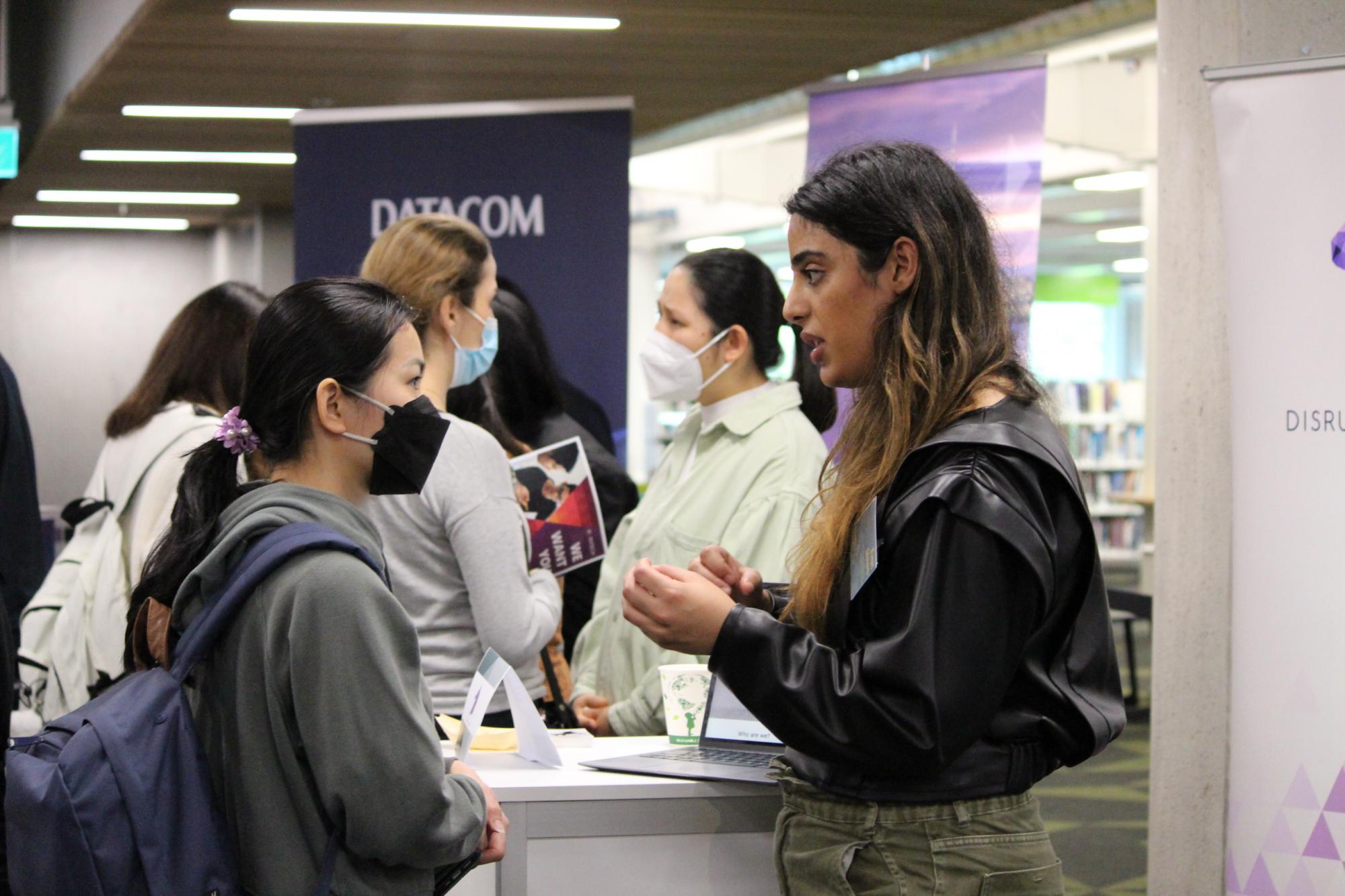 Unitec graduate keen to give back
"I wanted to give back to students who are in the position I was once in," says Unitec graduate and exhibitor Sauvruth Sanjay.
Sauvruth graduated from Unitec with a Bachelor of Accounting and Finance in 2020 and is now a Provisional Chartered Accountant at Newmarket-based chartered accountancy firm Orb360.
He attended the Industry Connect event as a way of giving back to students.
"I was once in that position and can relate to what they're going through," he says.
Sauvruth joined Orb360 through Unitec's internship partnership programme. Although his degree equipped him with work-ready accounting and business skills, he says that nothing beats industry-based learning.
"It's when students get to go out into the accountancy workforce and put their skills to practical use. It's a critical part of learning."
Thirty-four-year-old marketing student Salamasina Napa came to the Industry Connect event to make connections and scope for graduate marketing roles once she finishes her Bachelor of Business degree at the end of next year.
The mother of three is hoping to put her new-found digital marketing skills to use in her native Cook Islands where tourism is a major business sector, and job opportunities for skilled graduates are plentiful.
---