Short film directed by Unitec | Te Pūkenga Screen Arts graduate wins UNESCO Wellington City of Film Best Film Award
Unitec School of Creative Industries grad film The Last Sunday directed by Unitec | Te Pūkenga Screen Arts graduate, Saito Lilo was announced the winner of the UNESCO Wellington City of Film Best Film Award at this year's New Zealand international Film Festival (NZIFF) on Saturday night.
Saito was presented the award by Wellington Mayor, and UNESCO ambassador, Tory Whanau, at The Roxy Cinema in Wellington. "Grateful to everyone who helped despite the size of the production and budget we were working off. Special mention to all the tutors who had the greatest faith in this story and glory to God, my family and friends," said Saito.
"This short film is a beautiful work of love/alofa/aroha on every level," says Associate Professor Vanessa Byrnes, Unitec-Te Pūkenga's Head of School Creative Industries.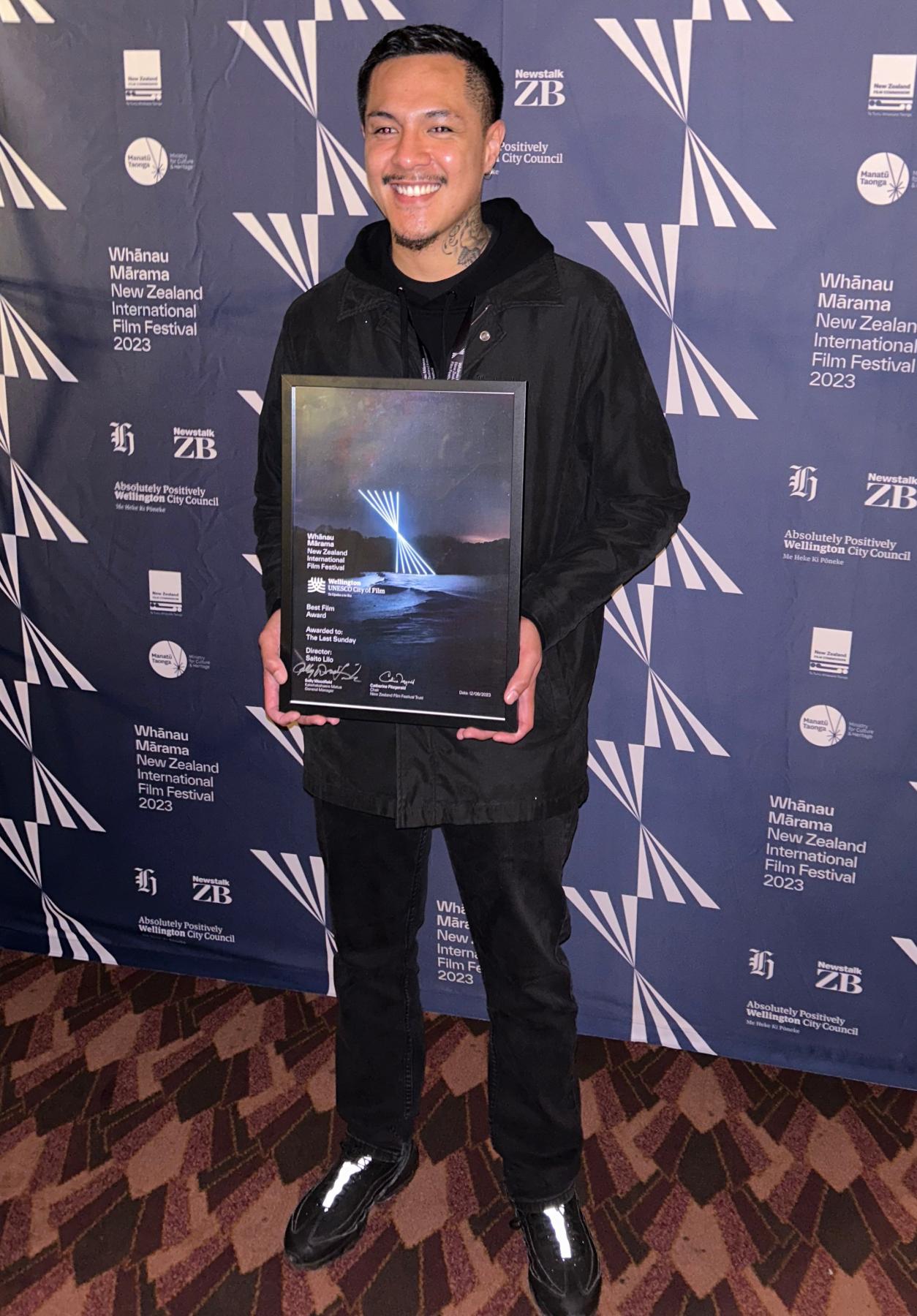 "It brings together the wisdom and expertise of particular communities of practice and faith to create a specific work of depth, beauty, and courage on every level. Unitec/Te Pūkenga is thrilled to be the incubator and engine room of such rich work; we help create the filmmakers of today and tomorrow. Huge congratulations to Saito, Marino, and the entire team on this film who all have a bright future ahead."
The jury commented that The Last Sunday was technically excellent with strong structure, visually good storytelling, and good acting. "Director, Saito Lilo demonstrated courage and bravery in highlighting a topic which was relevant today, with the pressures on family and the role of the church."
The Last Sunday is a coming-of-age story where a Samoan teenager is faced with a life-changing decision when he realises financial struggle in his household. The short film was filmed in South Auckland in 2022 and was selected to screen at this year's NZIFF in the Ngā Whanaunga Māori Pasifika Shorts 2023 programme. Audience Awards for NZIFF 2023 were announced at the Closing Night in Te Whanga-nui-a-Tara Wellington on Sunday.
To read the full announcement by NZIFF, click here