Professor Peter de Lange: One of Aotearoa's leading botanists
2 March 2023
Professor Peter de Lange, one of our new Ahorangi (Professors) at Unitec, says his career has taught him that telling stories, acting out roles, and using case studies, sprinkled with humour and honesty have consistently worked to get the best out of the students he mentors.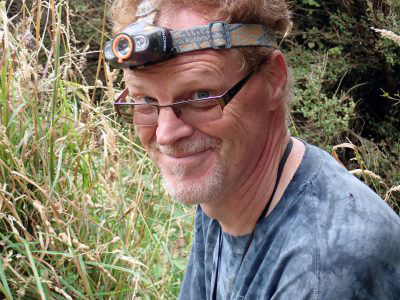 "I get the best from my students by giving them hands-on experiences through field trips, internships, encouraging participation in my research, or them starting their own, and importantly working with real issues and people," he says.
Peter, recognised as one of New Zealand's leading botanists, joined the School of Environmental and Animal Sciences as Associate Professor in 2017, bringing 30 years of experience in environmental and conservation fields to the role. He was named Young Conservationist of the Year in 1982, is a Fellow of the Linnean Society (London) since 2003 and is a past winner of the Loder Cup (2017), one of New Zealand's oldest conservation awards.
One plant, a kind of kawakawa (Piper excelsum subsp. delangei) and a lichen, Amandinea delangei have been named for him.
Peter has published over 210 peer-reviewed publications, 28 books, and made over 50 paper presentations at national and international conferences. He is also a seasoned media commentator on field-based plant ecology and threatened species and leads national and international field trips in support of his research.
He is also a Research Associate at the University of Auckland, University of Canterbury and Auckland Museum, and Adjunct Professor, School of Biological Sciences, at the University of Sassari in Sardinia.
Peter has strong interests in the significance of taxonomy to indigenous peoples and is an advocate for collaboration with iwi and imi on matters relating to the flora of our nation, including Mātauranga Māori/Totohunga Moriori and plant conservation needs.
Prior to joining Unitec, Peter was a Principal Science Advisor at the Department of Conservation where he worked throughout most of Aotearoa/New Zealand, including the Kermadec and Chatham Islands. He was responsible for all threatened plant research within the department and provided technical input into the development of policy and law reforms.
He was awarded the Excellence in Research award at the 2022 Unitec Staff Awards, with the judges commending him for his demonstration of Te Noho Kotahitanga values in his research leadership and collaborations, and his strong support of emerging and early career researchers.
Peter holds a PhD in plant systematics from the University of Auckland and a Master of Science with First Class Honours in Earth Sciences from the University of Waikato.
He has been instrumental in developing and implementing the New Zealand threat classification system for all New Zealand flora and fauna which has resulted in fairer, more impartial listings. He was part of a collaborative team involving several Crown Research Institutes and tertiary institutions who were awarded an MBIE Endeavour Fund scholarship in 2018 to research Myrtle Rust disease.
Peter has described as new to science over 70 kinds of plants and lichens, and collected over 19,000 plant and lichen specimens which are housed in various herbarium both here and overseas. He is frequently asked to identify plant specimens for institutions, museums, consultants and New Zealand botanists.