Pacific & Maori architecture on the rise
Unitec architecture graduate Tuputau John Belford Lelaulu has been chosen as a finalist for the prestigious Cadimage Group Student Design Awards, New Zealand's top prize for final year architecture students.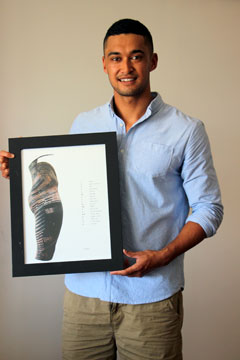 Tuputau says there is an increasing interest in Pacific and Maori architecture, and was selected for his indigenous Pacific-styled concepts.
Judges for the Cadimage Group Student Design Awards said Tuputau's work "beautifully describes some of the processes and artefacts of Samoan culture and draws design inspiration from La Malofie, traditional Samoan tattooing."
The awards are contested by the top four architecture students from Unitec, the University of Auckland and Wellington's University of Victoria.
Of Samoan descent, Tuputau says he is keen to incorporate greater meaning into architecture in regards to the Pacific.
"What many do with Pacific art in New Zealand is take these patterns and apply them to a façade," he says.
"What I'm saying is that our culture is more than a façade. There are meanings to these patterns, relationships within those patterns."
Tuputau says a perfect example is the pe'a, the traditional Samoan tattoo for males from the waist to the knees.
"Most people look at a pe'a as a beautiful tattoo, which it is. But if you start breaking it down you come to understand it involves formal relationships, the obligations towards protecting your family and the wider community, the idea of the importance of education, exploration and discovery which are all inherent in our culture."
In his submission, Tuputau displayed the influence provided by New Zealand-based Samoan artists, such as Fatu Feu'u, John Ioane, Lily Laita and the late Paolo Suluape, as well as a crop of young emerging New Zealand-based artists from across the Pacific.