Nursing students recognised for excellence
Two high-performing Unitec Veterinary Nursing and Nursing Practice students were recognised with industry awards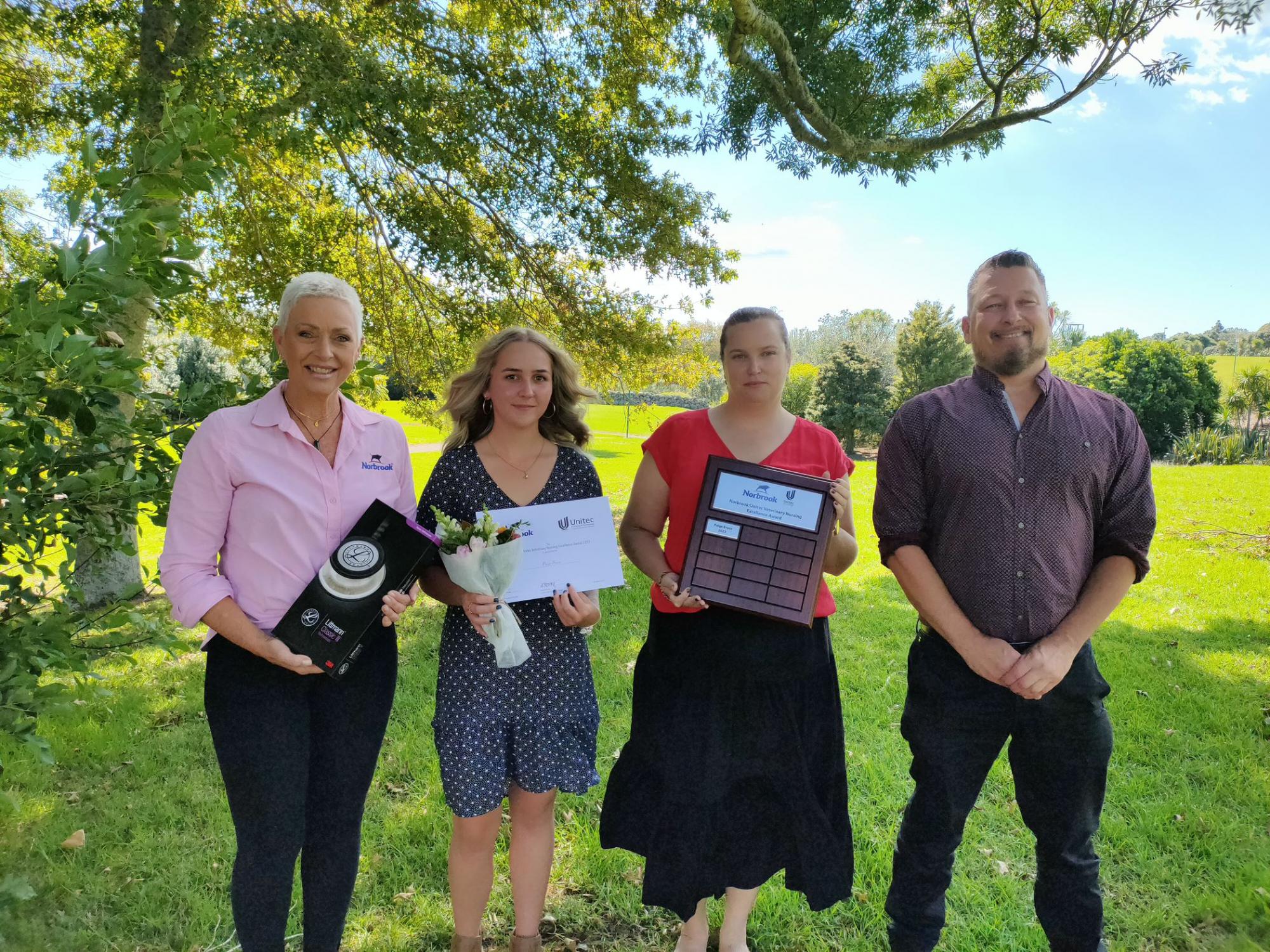 5 April 2022
Norbrook/Unitec Veterinary Nursing Excellence Award
Unitec Institute of Technology, in partnership with Norbrook New Zealand, are proud to announce the inaugural recipient of the Norbrook/Unitec Veterinary Nursing Excellence Award. The recipient for 2022 is Diploma in Veterinary Nursing graduate, Paige Bruce.
This award recognises the high academic achievements of Paige, over her two years of study at Unitec. Paige receives a certificate of recognition, a $200 gift card, Littman Stethoscope, and her name on the Norbrook/Unitec Veterinary Nursing Excellence Award plaque, to be displayed in Unitec's Veterinary Simulation Clinic.
To be eligible for this award, students must be enrolled in the New Zealand Diploma in Veterinary Nursing (NZ Dip. VN) programme, and can be studying full-time or part-time, on campus or by distance. Domestic and International students are both eligible. The award is based on a student's grade point average for their period of study in the NZ Dip. VN programme. Paige's recognition as the winner of this award is a reflection of her consistent hard work over the last two years.
Norbrook Companion Animal Territory Manager for the Upper North Island and Wellington, Jacqui Steven, says "Norbrook is delighted to support and encourage New Zealand's future veterinary nurses. We believe that success is a by-product of hard work, dedication, and enthusiasm. Paige has certainly proven her commitment to success by being the first recipient of the Norbrook/Unitec Veterinary Nursing Excellence Award. Congratulations Paige we wish you the very best in your vet nursing career."
Academic Programme Manager for the School of Environmental and Animal Sciences, Laura Harvey, says it is important to recognise the achievement of students. "It is great to see students striving to be the best veterinary nurse they can be, wanting to do the best for their patients and promote a high level of animal welfare. This award, in partnership with Norbrook, means we can recognise students who put in the long hours of study and achieve well."
In addition to her high standard of grades over her two years of study, Paige also found time in her second year to run weekly tutorial classes for first year students, in the subject of anatomy and physiology. Since completing her studies, she is now working as a veterinary nurse for Franklin Vets in Pukekohe. Paige says "To me this award has just proven that I'm definitely on the right path and I'm in the right career. It's a perfect example that when you're studying something you love and are passionate about, you thrive!"
Established in 1969 by the late Lord Ballyedmond, Norbrook is one of the largest privately owned veterinary pharmaceutical companies in the world.
Image: Left to right: Jacqui Steven, Norbrook NZ, Paige Bruce, recipient of award, Laura Harvey, Academic Programme Manager, Environmental & Animal Sciences, Unitec, Dr Dan Blanchon, Head of School, Environmental & Animal Sciences, Unitec
---
ProCare/ Unitec Top Pacific Nurse Award
Unitec Institute of Technology nursing practice graduate Imelda Rokoua was the recipient of the 2021 ProCare top Pacific Nurse award, worth $1000.
The joint prize in nursing was established in 2019 to recognise high-achieving Unitec Pacific nursing students and to encourage interest in primary care and support the wider community.
The prize is awarded to a student who has completed their final year of the Bachelor of Nursing Practice Programme and who have the overall highest GPA points in four core papers of the BNP programme.
When speaking about her reasons for becoming a nurse, Imelda said: "I knew I could do more for my patients and care for them as a 'whole' person and be able to make a difference in their lives - my nursing journey has not been an easy road, but it is well worth it. I'm delighted to have won this award."
Viv Pole, Senior Advisor – Pacific Health at ProCare says: "This is a fantastic award. Congratulations to Imelda for this wonderful achievement."
Bindi Norwell, Chief Executive at ProCare says: "We're delighted to recognise Imelda's achievements with this award and the important role nurses have in our community."
ProCare is New Zealand's largest Primary Health Organisation.