Ngā Wai a Te Tūī celebrate arrival of Marsden fund recipient
Dr. Nālani Wilson-Hokowhitu (Kanaka 'Oiwi Hawaii) proudly exudes an enduring passion for her culture, her whakapapa, her whenua and her tūpuna.
23 June 2021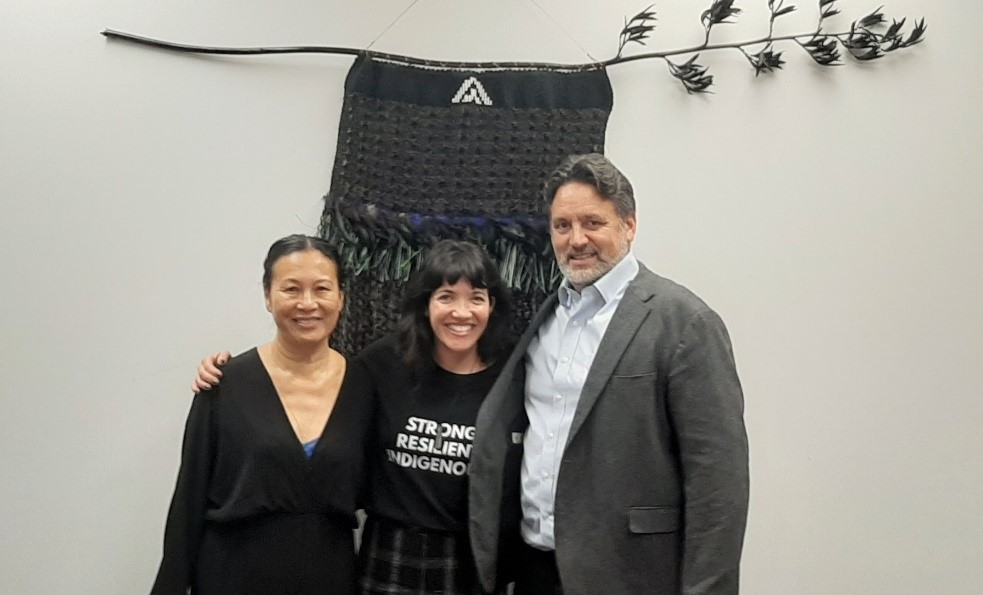 The globally respected scholar of Critical Pacific and Indigenous Studies is one of the newest members of the whānau at Ngā Wai a Te Tūī.
"I am kanaka Maoli and my whenua is Moloka'i Nui a Hina, which is a special and spiritual place located at the piko, the centre of the Hawaiian islands. The land is rich with resource and is a powerful place of prayer where people were trained in Pule (karakia)."
Nālani has dedicated more than 20 years to Indigenous Studies and joins Ngā Wai a Te Tūī supported by the Marsden Fund Council from Government funding, managed by Royal Society Te Apārangi. The Marsden Fund Fast Start Grant will support furthering her PhD research into retracing the storylines of Pacific women voyagers and navigators, with a focus on the lineage of her akua (goddess), Hina.
"The project will focus on retracing the footsteps of Hina the mother of Moloka'i as a voyager. You see this akua (goddess) name across Oceania as Hina, Hine, Sina, Sima, Nima, Ine, and what's interesting is that in my PHD journey, I found evidence that Hina initiated her own voyages and our ancestors share stories of her final journey to the moon, which shows as a people we were already conceiving of being able to fly into the cosmos or venture out from this earth to another."
Nālani is an avid champion of indigenous matauranga, creating an independent major at the University of Wisconsin, Madison focusing on Indigenous Cultures in Contemporary Society in 1996. She's authored two books and co-curated two exhibitions at Waikato Museum Ka Hikina: Navigating the Present (June – July 2019) and E Hina e! E Hine e! (The Past Before us).
"Everything I do in my work is about honouring my grandmother's lineage, honouring Hina who is the mother of Moloka'i and the geneological connection to our natural environment. It's not just a Pacific study, it's an environmental study, it's humanistic but it's about the relationship with the non-human world."
Nālani says the research on the project will span across three different locations including Aotearoa, Tahiti and Hawaii. She says the journey ahead will be enriched and supported even further with the manaakitanga and knowledge she is surrounded with at Ngā Wai a Te Tūī.
"When people come to an institution, often they're drawn to both the institution and the people, the people are a huge part of what has drawn me here. I'm so excited to work with everyone here and am particularly eager to work with Jenny Lee Morgan's pūrākau methodology because that is exactly what I am going to be looking at, pūrākau throughout this research process."
A book compiling the elements of E Hina e! E Hine e! (The Past Before us), which Nālani worked on in collaboration with Dr Aroha Yates Smith, is set to launch in a few week, she says. The launch of the book will essentially be the beginnings of the research.
"The book provides a dialogue between Māori and Kanaka Maoli right back to Po, the beginning of the Universe. Dr Aroha Yates Smith and I brought our work together and we have kōrero going on visual form through art through tāonga and through science and activism."
---