Unitec students gain hands-on experience that prepare them for the field.
5 May 2022
Caring for our natural world natural ecosystem and knowing how to respond to the impact of humans on our biological diversity often goes hand in hand. That is why students who study conservation and biodiversity management at Unitec not only learn how to evaluate ecosystems and advise on the sustainable management of land, but they develop an understanding of biosecurity and the impacts, management, and risks of foreign species have on a country's environment. It's great preparation for a rewarding career protecting our natural world.
From a graduate's perspective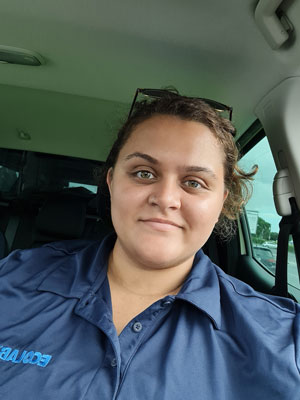 We asked graduate Jade Matthews about her passion for the environment and what she loved most about studying at Unitec.
Jade completed the Bachelor of Applied Science (Biodiversity Management) in 2021 and now works as a pest control service technician with ECOLAB. She explains that the course at Unitec was a perfect combination of classroom and field-based learning.
"I personally enjoyed the days where classes were outside. The hands-on experience of getting out and conducting plant and animal surveys, or identifying species just by looking at them, for example, was fantastic. Plus, most assessments required you to be out in the field, especially in the third year of the programme where classes become more specialised, so I felt well prepared."
"After completing my studies, I applied for various jobs and managed to land a position as a pest control service technician with ECOLAB. During the final months of studying, I knew I
wanted to get into the field of biosecurity or pest elimination as I found that I had a particular interest in the area. Landing my current job was a dream come true."
During her time at Unitec Jade also had the opportunity to work at Te Puna Kararehe, Unitec's Animal Behaviour and Husbandry Centre, which had some synergies with her studies in biodiversity management.
"When I first started working at Te Puna Kararehe I wasn't comfortable handling some of the animals, but after some time I built the confidence to not only open their enclosures but also handle them. It is really about being able to get your hands dirty and do the work physically, but it's also a very flexible environment. No one will force you to do something you're uncomfortable with doing, which I really appreciate," says Jade.
What the teaching team say
Dr Lorne Roberts, Senior Lecturer and Academic Programme Manager at Unitec's School of Environmental and Animal Sciences, says what sets the Bachelor of Applied Science apart is its applied focus. "While there is always underpinning theory, the degree is taught practically and is delivered in smaller class sizes often with no more than 30 students per class. There is a personal nature to the way we teach, students receive a huge amount of pastoral care and support, and we know our students well."
When it comes to finishing the degree students can feel confident they have learnt the right technical skills to take that next step. "At Unitec, we deliver programmes with a clear direction of entering a job at the end of it. We have an ongoing relationship with industry stakeholders and are able to adapt the programme and courses to the need of industry." says Dr Roberts.
"Negotiated Research is a capstone course that provides students with an opportunity to complete a self-directed applied science project using research skills and analyse their findings. This 3rd year course enables and directs students to engage with industry and draw on their real-world experiences meaning they enter the workforce hitting the ground running."
What types of jobs and careers do students studying these programmes go on to do? In short: a wide range.
Conservation and Biodiversity Management graduates tend to have a diverse career path and go on to become ecologists, conservation managers for DOC or Iwi, MPI quarantine
officers, biodiversity and/or biosecurity officers; geographic information systems (GIS) analysts and much more.
Have questions? Check out the Conservation and Biodiversity Management programmes here or get in touch with the team.