Inside Story: Building The Grand Pavilion
Rohini Contractor was still a student and in her final year of the Bachelor of Architectural Studies, when she volunteered to help co-ordinate the construction of an elaborate entrance pavilion for the Waiheke Island Sculpture on the Gulf, opening on 27 January 2017.
The pavilion was designed by Stephens Lawson Architects, but has been built by Unitec students from Architecture, Engineering and Construction. For some, the work goes towards course credits. For others, it's been paid experience that's given students a chance to practice what they've learned in the classroom, in the real world.
"So we've been having weekly meetings with architects Gary Lawson and Nicholas Stevens, and Matthew Harwood, the structural engineer from Holmes Consulting, to make sure the design is what they want while making sure it's practical for us to build."

She says this has been invaluable. Adrian Janus, who is helping coordinate the project, agrees. "It's good to get an understanding of what the real world is like, what to be prepared for, what is possible, what is expected of you, and the vital connection between architects and engineers."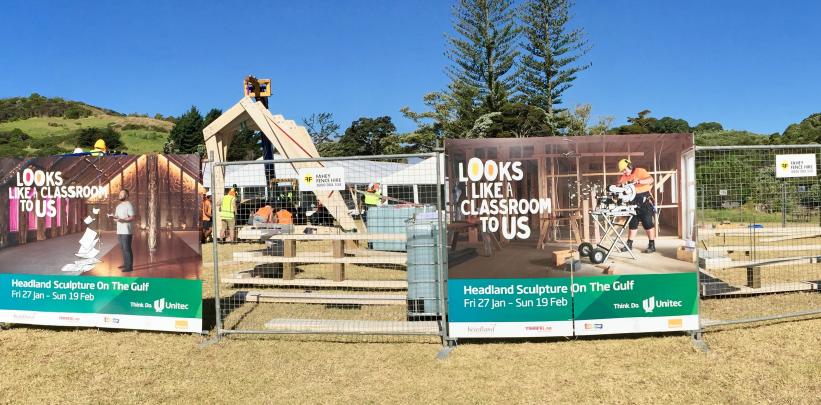 The project has meant students needed to get used to using Computer Numeric Control (CNC) machinery, which involves the use of computers to control machine tools and cut materials in a very precise way. "We needed to model the building on a computer, take that 3D model, and then programme that into the CNC machine," says Rohini. "We've gone back and forth heaps, editing the different section of the model several times, to make sure it was structurally and visually correct."
"It is a radical design, pretty out-there, so a dream to be able to work on," says Adrian. Working with construction and engineering students is also a valuable experience. "We're working on the same project, with people with different skills and experiences, which allows us to learn so much and feed off each other," says Rohini.
Projects like this allows architecture students to learn a lot about the practice of architecture, and how it plays out in real life, says Yusef Patel, lecturer in Architecture and Planning. "How to talk to manufacturers, how things need to be specified, that everything has a cost. It teaches students how to deal with stress, the downsides, which helps them grow. They'll learn about site, that there are forces such as wind to deal with, and how real materials respond to them. And architecture students get to interact with the people who are building it, which builds respect, trust and understanding between disciplines. These are all experiences that architecture students don't usually get."
Between November and mid-December, the students built the entire 16-metre long structure, to make sure that everything fit together as intended. The final structure was made up of 900 lineal metres of glulam wood, with 1500 bolts and 3000 washers holding it together. It was then dismantled, packed into shipping containers and taken to Waiheke Island, where the students have been building it in situ.
The entranceway structure will form part of a gallery and entertainment area near Matiatia wharf for the duration of the three-week Sculpture on the Gulf event. More details about the event can be found here.
---
Architecture and Architectural Technology Study Architecture Order Study Guide