Growing New Zealand's cybersecurity talent
The partnership between Spark and Unitec helped increase the pool of cybersecurity talent in New Zealand. We spoke to Spark's Security Awareness & Operations Planning Chapter Lead, Carl Ling, about the benefits for both Spark and the country as a whole.
Previously Team Lead of Spark's Security Operations Centre (SOC), Carl was the key person responsible for hiring new starters into a rapidly growing team - including many Unitec graduates.
"We were always impressed with the high calibre of talent that came through from Unitec. I interviewed a lot of people, and while many looked good on their CV, they struggled to answer the interview questions that required more practical understanding. Unitec students had hands-on experience, rather than just theoretical knowledge."
Developing the NZ Cybersecurity Diploma
It was the consistent high-quality of Unitec's graduates that prompted Spark to take part in Unitec's Computing Connect event. This subsequently led to the organisation partnering with Unitec in the creation of the New Zealand Diploma of Cybersecurity.
"Back then, there wasn't anything specific that tied computing students to cybersecurity. My manager at the time, Kiw, who is now Head of Security at Spark, was all about helping to grow local talent. He'd been in the industry a long time and knew how hard it was to find good people - particularly in a small, relatively remote country like New Zealand.
"So, when Unitec decided to develop their Cybersecurity Diploma, he saw it as an opportunity to help shape the course and ensure graduates were industry ready. In cybersecurity, you need people who have a passion for security and hands-on, practical experience. That doesn't often come simply by completing a certificate or degree."
Spark's internship programme
As part of the NZ Cybersecurity Diploma, Spark offers an internship programme to Unitec students. They hold weekly sessions with interns to upskill them on all areas of security.
"Our security analysts spend three hours with interns each week, running sessions on different security topics. Many interns have only just started the diploma and may not have had any previous IT or security experience. Our aim is to supplement the technical knowledge they acquire at Unitec with a 'behind the scenes' look at what security analysts do on a daily basis. We give them an understanding of what security means in the real world - how we can help maintain security for an organisation, why it's important, and the positive impact they'll make if they decide to join the cybersecurity space."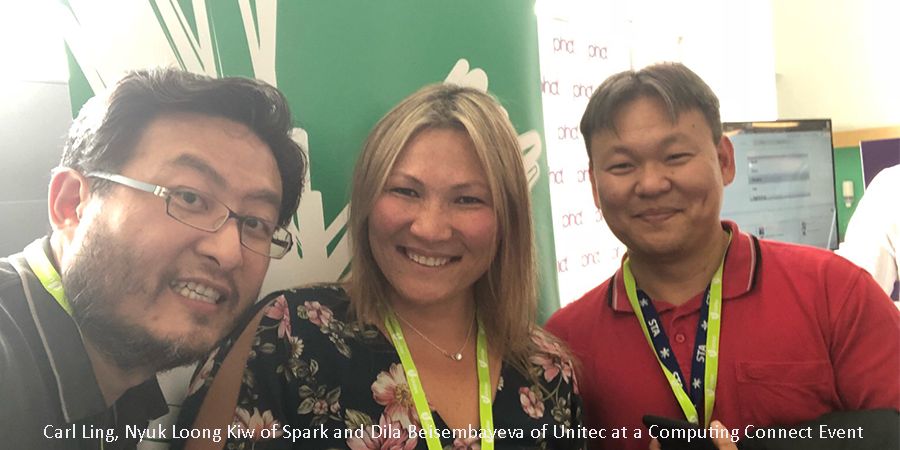 The impact of COVID on cybersecurity
Today, part of Carl's role at Spark is about increasing security awareness within the organisation. He says the pandemic has completely transformed the threat landscape in New Zealand and around the world.
"Security is always changing, so you're always learning. Now that everyone is working remotely, cyber-criminals may see an opportunity to hack into an organisation through its people. Many New Zealanders know very little about security and think it's something just for the IT or security teams, but that's not the case. My responsibility is to bridge that gap and raise awareness about security across the organisation. The goal is to influence mindsets, change behaviours and ultimately reduce human risk through cultural change. That's also why initiatives like Cybersecurity Awareness Month and Cyber Smart Week exist, which are held in October each year."
The benefits of the partnership
Carl says that while there are many benefits for Spark as a result of their partnership with Unitec, the organisation's key driver is to benefit New Zealand's cybersecurity industry as a whole.
"As a result of our relationship with Unitec, we've hired a total of 13 students since 2016, with three of them coming through our internship programme recently. While many of them have since moved on from Spark, they continue to flourish at other New Zealand businesses and I'm proud to know we helped make a difference at the beginning of their career.
"For Spark though, it's not just about our organisation benefitting from the programme. The lack of cybersecurity resource in New Zealand is a challenge for all organisations. We're a small country and it's a small industry, so it can be hard to find good people. That's why we see the importance of growing local talent - so it's not only available to us, but to the rest of the market.
"We're also playing our part in helping New Zealand solve its security problems. Like I say in my role every day, security is everybody's responsibility, so increasing the skillset and awareness of our cybersecurity industry is the right thing to do."
---