Datacom partnership with Unitec provides pathway for next generation of cybersecurity super stars
With cyber-attacks on the rise globally, the vulnerability of many New Zealand organisations to further threats has been laid bare, as has the rapidly increasing need for expert cybersecurity advice and support.
The number of cybersecurity attacks being reported in New Zealand is on the rise, with nearly $17 million lost over the past year as a result*.
CERT NZ's Q2 Report for 2021 showed an increase of 150% in ransomware reports on the last quarter, while direct financial loss grew 30% to $3.9 million.
Australasia's largest tech services provider, Datacom, says customer data shows that overall awareness of cybersecurity is growing exponentially, in line with the increased threat of attacks.
But as cybersecurity threats increase around the world, the global shortage of trained experts in the area is becoming a significant challenge for businesses.
The annual State of Cybersecurity 2021 survey found that two thirds of the cybersecurity teams at organisations in Australia and New Zealand are understaffed**.

Unitec leading the way
Unitec was the first tertiary institution in New Zealand to offer the vocational New Zealand Diploma in Cybersecurity, having developed and launched the Level 6 qualification which was supported by a number of partners, including Datacom.
It's a one-year, full-time course, focused on equipping students with the core cybersecurity and technical skills needed to protect information and manage systems security.
Students undertake risk assessments, learn about defence and offence mechanisms and employ effective techniques to address security deficiencies.
The diploma aims to bridge the gap between education and industry, with industry partnerships providing employment opportunities for students and equipping them with hands-on skills for jobs.
"By working alongside Unitec and actively contributing to the development of this programme, we've been able to ensure that students are equipped with practical, real-world, experience that not only provides them with the skills they need to embark on a career in cybersecurity, but also sets them up for future career success," says Tim Chu, Cybersecurity Managed Solutions Manager at Datacom.
"The internship component of the diploma makes a big difference. Students essentially become a part of the Datacom Cyber Defence Operations Centre (CDOC) team where they have the opportunity to observe some of the best cyber experts in New Zealand in action and walk away with a deeper understanding of what cybersecurity is all about.
"We've also created a strongly mentored training environment to ensure that the students are coming to Datacom not just to learn, but to learn through working."
Now in their second year of partnership with Unitec, Datacom remains closely aligned to the course. They participate regularly in Unitec's Career Expos, and one of their team members is a lecturer on the programme.
"All of this means we have direct input into what students are learning and are able to give them an insight into what's going on in the market right now. In an industry that is always evolving, this is hugely valuable," says Tim.
The first two years of the course at Unitec have been full to capacity, and the programme has since been rolled out to NMIT in Nelson and Ara in Christchurch to meet the increasing need for skills in this area.
Datacom recently completed a significant hiring streak to help extend its 24/7 cybersecurity services to customers.
"We were delighted to be able to include in the new hires a number of people from the Unitec programme, including some who had previously done the internship with us.
"At Datacom, we place a big focus on recruitment to ensure we are well placed to meet future customer demand in cybersecurity. Through our partnership with Unitec, we have yet another great channel to help our business tap into future cyber talent and ensure we are building a diverse workforce of cyber experts," adds Tim.
"We value our partnership with Datacom very highly, and we're delighted that they're able to provide hands-on employment opportunities for our students throughout the country," said Dila Beisembayeva, Lead, Centre for Digital Innovation and Skills at Unitec.
"It's reassuring for us to know that the skills and training that our students learn as part of the diploma course are meeting employers' needs, and that we're helping build a broader base of cybersecurity talent in Aotearoa New Zealand."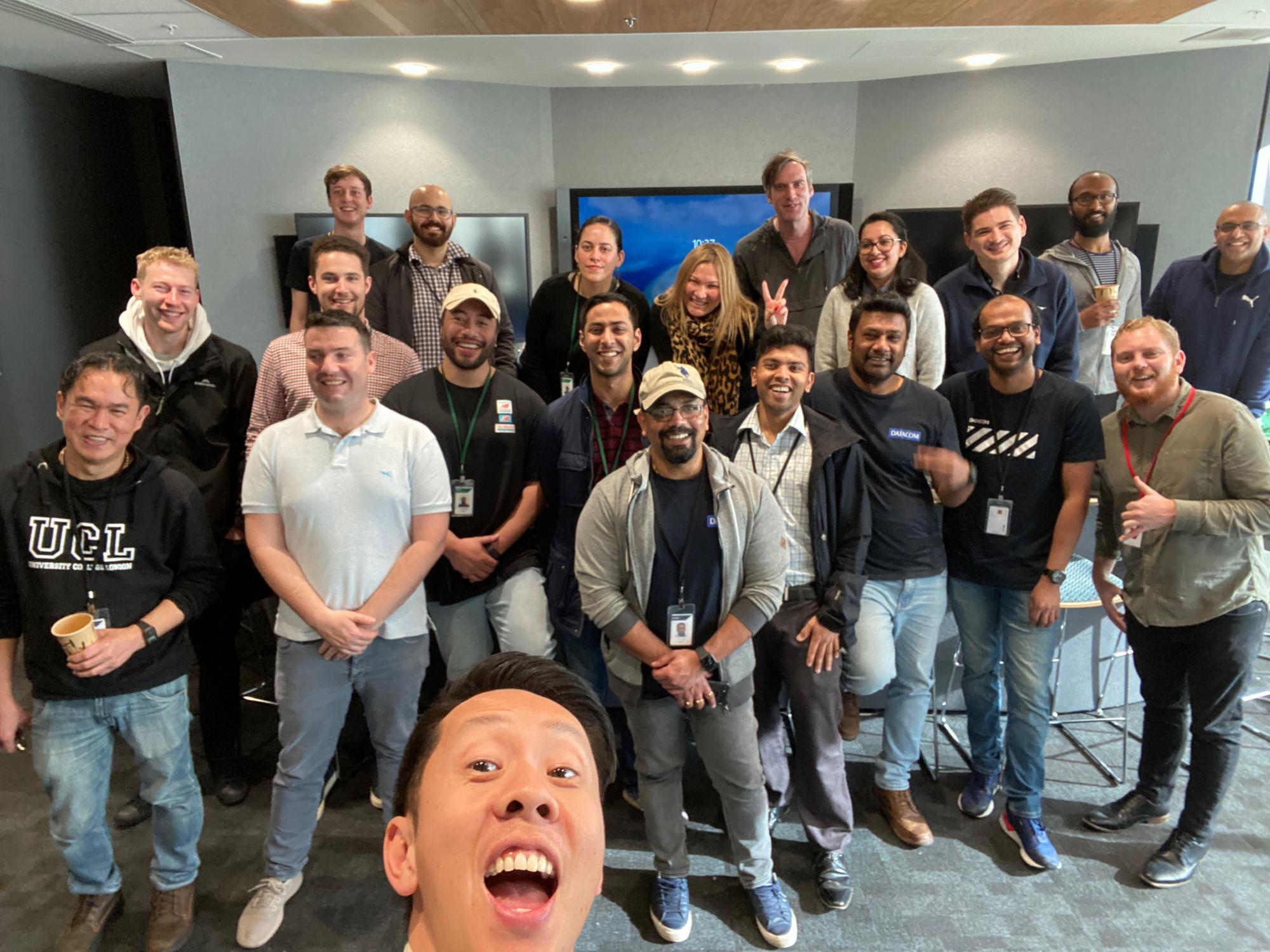 Setting you up for life
Twenty-four-year-old Corey Hilton planned to be a physiotherapist when he left school, but after six months of anatomy and physiology he made the switch from Health Science to Computer Science, punctuated by a couple of years of work in between.
The former Long Bay College student says he enjoyed the variety of IT skills and the foundation it gave him, but with a year left to go on his degree he says he still hadn't found an area he was truly passionate about.
Cybersecurity had always interested him, but he couldn't see a clear pathway into the industry. A friend recommended Unitec's cybersecurity diploma and it ticked all the right boxes – applying security theory in a hands-on way in an industry-based environment.
"Cybersecurity has always interested me, but I wouldn't have known where to start without the course," says Corey. "The assignments we were set really aligned with what's going on in the industry – they were hands-on and relevant."
Corey finished his diploma in June and started in a full-time cybersecurity analyst role with Datacom two months later. He says the industry connections forged as part of the course were invaluable.
"The connections that you make with your peers, you couldn't get anywhere else," he says. "I know that I'm learning the right things and going in the right direction. If you can tap into those contacts, it will help set your career up for life."

Alignment of values
Denise Carter-Bennett (Ngāpuhi, Ngāti Hine, Ngāti Whātua Ōrākei) taught herself computer coding and programming by getting books out of the school library when she was just nine years old. She didn't know what she could do with her skills at the time, but it helped sow the seed for a decades-long fascination with computing.
The 36-year-old single mum has worked as a librarian, freelance writer, social media consultant and public servant during her career, juggling full-time work with care of her 12-year-old autistic son.
"There was a lot of trying and failing, then trying again," she says. "It was 11 years of hard slog."
Denise says she always felt that she was a little different to everyone else. Initially diagnosed as autistic as a child, at the age of 30 she was formally diagnosed as ADHD.
She was first introduced to the world of white hat hacking and Open Source Intelligence (OSINT) when she was at university in 2003 which then led to her interest in cybersecurity, despite it not having a name at the time. However, it was her role as keynote speaker at Women in Technology conference WITCon 2020 that was the real catalyst for her to seriously consider making the switch to cybersecurity and pursue it a career.
Cybersecurity experts at the conference recommended she look into the Diploma course at Unitec, and she was encouraged by the fact the course was fees-free under the government's Targeted Training and Apprenticeships Fund (TTAF).
She started the one-year course in March this year and at the same time, was accepted onto the internship programme at Datacom.
"It was a huge boost for my confidence," she says. "Up until then I had suffered from imposter syndrome – I really didn't feel I was good enough."
Denise says the Unitec Diploma course helped formalise the knowledge that she'd built up over the years and helped her fill in the gaps.
"A lot of computer science courses are taught by academics, but Cybersecurity is changing all that," says Denise. "It's a great point of difference for the Unitec diploma course – we're learning how to apply our technical skills in a professional environment and gives students the opportunity to get a foot in the door with some amazing companies."
Datacom was looking to hire people who'd proven themselves on the internship programme, and Denise was offered a full-time security analyst role with the company. She started her role in August, and is currently combining work and study in order to complete her diploma in November.
Despite receiving offers from other companies, Denise says her heart was set on staying at Datacom.
"For me, it's important to be aligned to the ethos of a company and I knew I had that at Datacom. They have customer-focused values but they also really care about their staff and what's good for them.
"They offer really good career development and were willing to give me a chance."
In the meantime, Denise is navigating the demands of work, study and home life in the midst of a Level 4 lockdown.
"My days are full-on, but I manage to pack it all in. I wouldn't have it any other way."

*Denise is due to speak at KawaiiCon; the largest security and hacking conference in the Southern Hemisphere, in 2022.
Notes
*CERT NZ Q2 2021 report can be found here: https://www.cert.govt.nz/about/quarterly-report/quarter-two-report-2021/
**The annual State of Cybersecurity 2021 survey by the Information Systems Audit and Control Association can be found here: https://www.isaca.org/go/state-of-cybersecurity-202