Avondale Pavilion boosts street art
Located on the site of the former 3 Guys supermarket in Avondale, 'the Pavilion' is a 3-dimensional structure designed to showcase local graffiti and street artists. Each month for the next six months, a new artist will re-skin the pavilion with new artwork.
31 March 2021
Originally designed for a site in Henderson, the project struck some hurdles with last year's COVID-19 lockdown. The move to Avondale came about after a conversation between Dr Bobby Hung, Unitec's Discipline Leader, Design & Contemporary Arts and Panuku Development about the 3 Guys site. The site was already one of the most active legal walls for graffiti artists to showcase their work, and was was renamed 'Avondale Art Park' around 2017. Bobby has curated a number of projects in the space.
"Late last year, I was approached by Edward Peni, who is involved in urban regeneration and placemaking with Panuku. We both wanted to activate this space with creative activities, so painting the pavilion was a starting point for what could be a raft of other possibilities," said Bobby.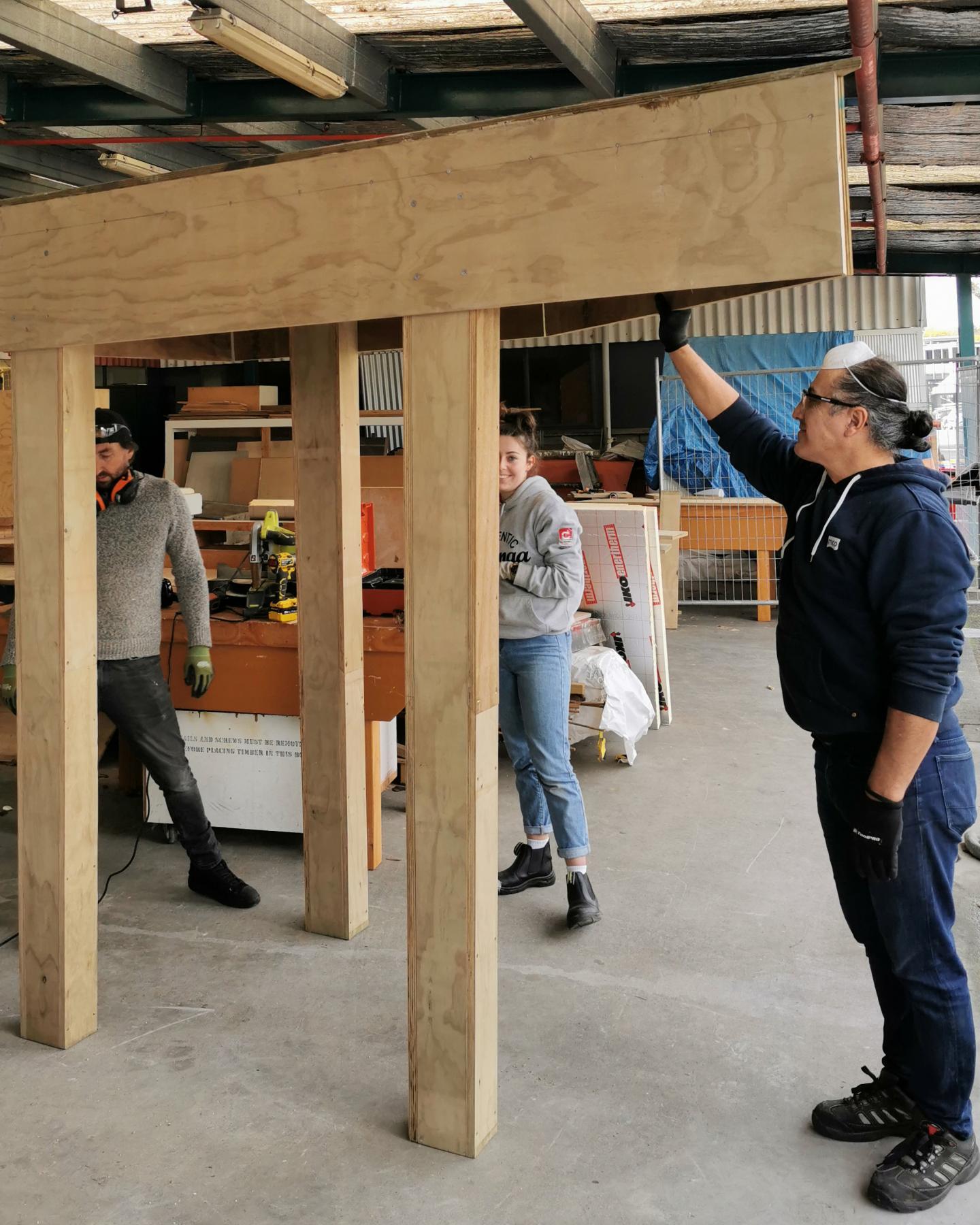 The Pavilion was designed and created by the School of Architecture's Dr Yusef Patel - Academic, Programme Manager and design-project lead, and his team of students: Masters of Architecture Professional students Neill McCulloch, Alyssa Haley and Bachelor of Architectural Studies students Victor Corrales and Ben Oge.
Over the next six months, artists at the forefront of the graffiti and street art scene will regularly reskin the Pavilion. Each month, Bobby will release a real-time format video of each artist sharing insights into who they are, where they come from, and what they do in their respective creative practices.
Projects like the Pavilion play an important role for architectural students, says Dr Patel.
"It gives them the opportunity to put their academic skills to practical use and consider the connection of purpose and community use to the environment. Importantly, they gain experience and skill formulating a brief, working with stakeholders and then discovering how their materials and designs work within the real world."
The Pavilion was manufactured by Dr Patel and his teams of student within the School of Architecture Workshop. Yusef says a key aspect for the students is getting hands-on experience fabricating their designs and discovering if that can be done offsite.
"It really teaches them that their design details have consequences during the building stages of a project," he says.
The Structure
The pavilion consists of three modules, including three roof structures and a seating structure. The students worked with Nuralite's enertherm product (who also sponsored the project) to create sandwich panels, while the use of thick plywood ensured the structure would have longevity and provide a rigid medium for painting.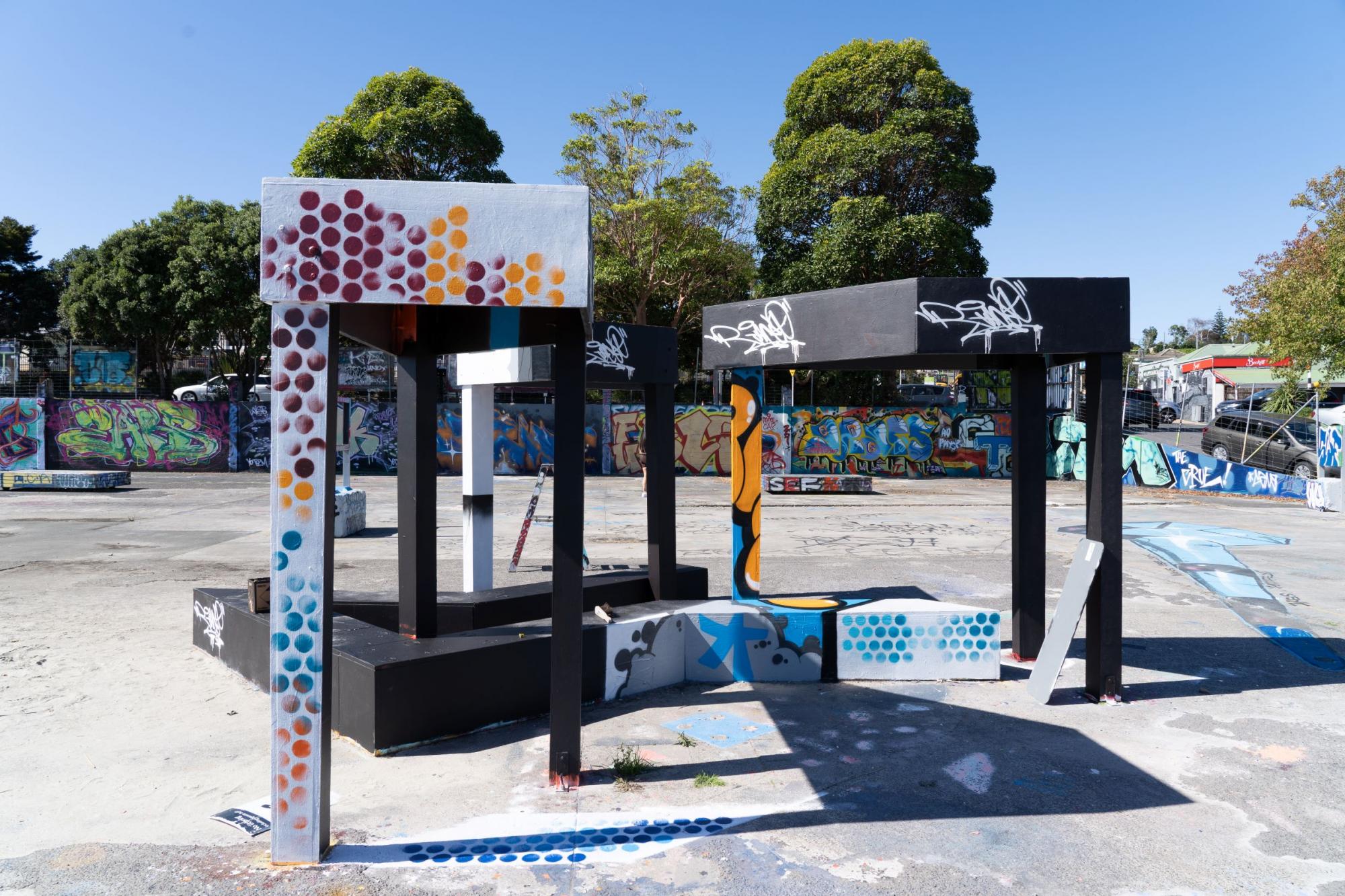 The Artists
Haser
Kairau 'Haser' Bradley is a Māori artist of NgāPuhi descent, raised between West Auckland and Whan­gārei, Aotearoa (New Zealand). Haser is one of a handful of artists at the forefront of the graffiti and street art scene in New Zealand, with more than 20 years' experience within the graffiti community, and also holds a prestigious career with displaying art in diverse forms at various events and locations throughout Australasia, North America, Europe, Asia, and Middle East. Watch Haser Time-lapse Here:
Watch Haser's Interview here:
Levi Hawken
Levi Hawken be­gan his artistic career as a graffiti artist in Auckland City during the mid-1990s. Although much of his graffiti work is no longer visible, the influences in his more formal paintings remain. In the past eight years his work has taken a turn, from the once public forum of the walls and spaces in our cities, to a more private and formal review of his own style. Levi has made the poignant decision to take back ownership of his works by composing them on canvas, away from the public domain. Watch Levi's Time-lapse here: