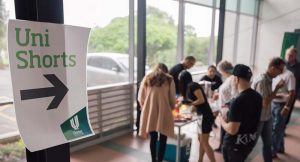 Short films from the Middle East, Europe, Australia and USA have taken out the top awards at this year's Uni Shorts International Student Film Festival held by Performing & Screen Arts (Creative Industries) at Unitec Institute of Technology in Auckland, New Zealand on Saturday 27 October.
Auckland schools swept the New Zealand Secondary Schools section. Seventeen-year-old King's College student Quinn Dacre took out the top prize for his animated short, Acceptance which he drew himself on 1000 post-it notes. Runner up was Intensive Care, a documentary about New Zealand's health system from the point of view of a South Auckland-based doctor, directed by Western Springs College student Donald Mayo.
Screen journalist and NZ Web Fest founder, Keith Barclay, who judged this year's entries, was impressed by the winning film: "The commitment required to complete a film like Acceptance is huge, so kudos to a teenager for sticking with it – and for producing a well-told story," he commented.
A film about a young boy looking for salvation in a European refugee camp took out the Best Fiction Postgraduate Award. Aamir was influenced by Tisch School of the Arts student Vika Evdokimenko's own experience as an immigrant. Barclay commented that "the Middle Eastern/Arab experience in Europe seemed to reappear quite often" in this year's entries. Runner up went to University of Auckland master's graduate, Adam Thorogood's film Mute, about a mute teenage girl struggling to fit in.
The Best Fiction Undergraduate Award was won by Tehran University of Dramatic Arts graduate Arian Vazirdaftari's film Like a good kid, about a series of events which changes the lives of a babysitter and a young boy forever. "This film stood out for me – the director got a great performance from the kid, and the story was beautifully and harshly told," Barclay explains.
Spanish film school ECAM had two films named co-runners up in this category; Cuarteto and No Odies Al Jugador.
The Best Documentary Award went to Israeli film Lido, about an abandoned restaurant by the Dead Sea, by Uri Smoly from The Jerusalem Sam Spiegel Film School. Barclay adds: "Lido was a clear winner for me. It took me somewhere interesting and had a sense of scale." ECAM entry Concerto Em F was runner up.
German film Walls took out the Best Experimental Film. Co-directed and produced by Dortmund University students Maik Schuster, Fatmir Dolci, Max Paschke, Walls deals with the energy generated through human confrontations with walls. Runner up was Lucid from The Jerusalem Sam Spiegel Film School.
Australia's Griffith Film School won the Best Animation Award for Fifty-Two, by honours graduate, Brodie Stephenson, about an employee bound by contract working in an underground station who attempts to find his freedom. Spanish entry Vssanta from Valencia's Barreira Art and Design School was runner up.
All category winners receive NZD$100 prizemoney and a FilmConvert Bundle license worth NZD$320 sponsored by FilmConvert – a Wellington-based company that makes software for filmmakers. Their film emulation and grain plugins are widely used at film schools around the world.
Uni Shorts chairperson and Unitec's Head of Creative Industries, Dr Vanessa Byrnes, was impressed by the storytelling and diversity of this year's entries and congratulated all the finalists and winners for the high quality of their submissions. "Uni Shorts is one of the only film festivals in the world to celebrate student filmmaking and we are proud to provide a platform for these emerging filmmakers to showcase their work. Thanks to all the entrants and their schools who supported them in submitting their work, as well as our sponsors, judge and all involved in this year's festival."
UNI SHORTS 2018 WINNERS
BEST SECONDARY SCHOOL
RUNNER UP: Intensive Care, Western Springs College
WINNER: Acceptance, King's College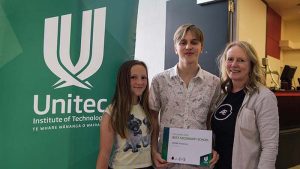 BEST ANIMATION
RUNNER UP: Vssanta, Barreira Art and Design School (Spain)
WINNER: Fifty-two, Griffith Film School (Australia)
BEST EXPERIMENTAL
RUNNER UP: Lucid, The Jerusalem Sam Spiegel Film School (Israel)
WINNER: Walls, Dortmund University (Germany)
BEST DOCUMENTARY
RUNNER UP: Concerto Em F, ECAM (Spain)
WINNER: Lido, The Jerusalem Sam Spiegel Film School (Israel)
BEST FICTION (UNDERGRADUATE)
CO-RUNNER UP: Cuarteto, ECAM (Spain)
CO-RUNNER UP: No Odies Al Jugador, ECAM (Spain)
WINNER: Like a good kid, Tehran University of Dramatic Arts (Iran)
BEST FICTION (POSTGRADUATE)
RUNNER UP: Mute, University of Auckland
WINNER: Aamir, Tisch School of the Arts (USA)