Research and Enterprise Office
The Research and Enterprise Office combines the management and administration of staff and student research at Unitec, under the leadership of Unitec's Dean of Research.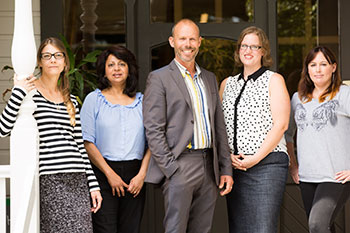 Across our campus staff and student researchers are investigating topics from a range of disciplines − from nursing and architecture to computing and construction. The topics are as diverse as the areas in which we teach; the common factor is their focus on creating research that has a concrete output for the world around us.
Our staff are active in research in order to develop advanced thought and practice in their field, to invigorate their critical thinking skills, and to maintain the currency of their knowledge. But the practice of innovative research also has huge benefits for our students, who by extension become work-ready and skilled in the latest theory and practice within their chosen profession.
The Research and Enterprise Office is the glue that binds the research activity at Unitec together. It supports both staff and student research and provides a vital link for outside organisations who wish to work with our researchers. We are here to help our staff and students and our other research partners achieve their research goals.
Research management and promotion
The Research and Enterprise Office is responsible for the collection and reporting of all of Unitec's research activity and research outputs. We also manage Unitec's Performance Based Research Fund (PBRF) activities and help staff to meet PBRF requirements. The unit is also responsible for communicating and promoting research activity via publications such as Advance magazine and through special events.
The Research and Enterprise Office is located at Penman House, Building 55, Mt Albert campus.
Contact
External grants and funding
We help staff seek and win external funding for research projects and in consultancy activity. We also serve as a point of contact for external stakeholders wishing to engage with Unitec and the expertise of its staff. The unit is also responsible for commercialisation activity, technology transfer and the management of intellectual property. Unitec also operates an internal research fund, operated by the Unitec Research Committee, that acts as a seed fund to support staff research.
Contact
Postgraduate student research
We look after the administration and management of several aspects of student research, in particular the examination processes for student theses and dissertations. The centre provides a 'home' for postgraduate students in the form of computer labs, study spaces and meeting rooms. The centre also administers the Postgraduate Scholarships Fund.
Contact
| | |
| --- | --- |
| Name | Cynthia Almeida, Postgraduate Academic Administrator |
| Phone | +64 9 815 4321 ext 8515 |
| Email | calmeida@unitec.ac.nz |
Research Ethics
The Research and Enterprise Office is responsible for administrative support for the Unitec Research Ethics Committee (UREC), an accredited institutional ethics committee.
Ethics enquiries should be directed to ethics@unitec.ac.nz.