Te Noho Kotahitanga and Unitec
One of Unitec's most defining features as a tertiary institution, is the formalised partnership between Māori and non-Māori.
In 2001, Unitec honoured its commitment to Te Tiriti o Waitangi (Treaty of Waitangi) through the adoption of the partnership agreement Te Noho Kotahitanga. Since then, the partnership, which is based on five guiding principles, has helped staff and students to examine how they can engage with Māori knowledge, how Māori and non-Māori interact with each other, and how we all can behave in our local communities.
Why Te Noho Kotahitanga?
Unitec is the one of the largest polytechnics in New Zealand and is committed to enabling better futures for students, communities, and public and private enterprise.
A strong future relies on acknowledging the past and validating where the knowledge passed on comes from. Incorporating Te Noho Kotahitanga into the Unitec way of life means students get a global academic and cultural education to last them a lifetime.
When you choose to study at Unitec, you're welcomed into the whanau and community that is Unitec with a pōhiri at the marae - which also carries the name Te Noho Kotahitanga. The marae is your home away from home while studying and it, the experience of the pōhiri, and our commitment to Te Noho Kotahitanga, "reminds us we are part of a large family and community with all the ups and downs that come with that experience" says Dr Josie Keelan, Dean Teaching & Learning – Matauranga Māori.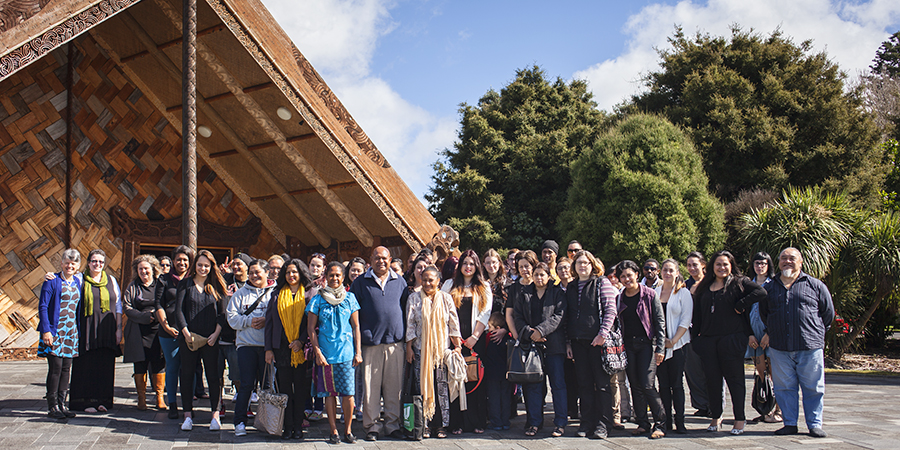 "Māori knowledge is shared with you from the moment you participate in the until you leave. It is integrated in what you learn and how you learn. Māori knowledge can be found everywhere and in everything and is not confined to the marae" she says.
What does Te Noho Kotahitanga mean?
Te Noho Kotahitanga invites us collectively to work together as a whanau and community of staff and students using the five principles to guide our behaviour.
The principles also guide the way in which Unitec staff engage with you as a student – respecting who you are, what you bring to the learning experience, and how you engage in your studies with fellow students.
Here Keelan gives some examples of ways in which each of the principles work:
Rangatiratanga (Authority and Responsibility)
is demonstrated by ensuring the Māori knowledge shared with you, and the ways of doing and being, are from reputable Māori sources.
it's about showing respect for that knowledge rather than dismissing it as not relevant to current practice.
Wakaritenga (Legitimacy)
Acknowledges all knowledge has value including Māori knowledge for example:
when wai Māori (natural water) is included in the curriculum for Plumbing and Gasfitting, it is legitimate to do so.
when the Māori translation of words and names are included, it is legitimate to do so because Te Reo Māori is one of New Zealand's three national languages.
Kaitiakitanga (Guardianship)
Calls upon everyone at Unitec to act as guardians of knowledge. This means all knowledge is valued and also up for critique, with the outcome always about learning.
Mahi Kotahitanga (Co-operation)
Is about working together for example group work, online discussions, group assignments.
Ngākau Māhaki (Respect)
Asks everyone at Unitec to respect each other no matter their culture, ethnic group, the clothes they wear, number of tattoos, religion, haircut, and in the case of Māori, the knowledge they bring to the community. On that basis, everyone is welcome and deserves to be respected and in return, respect others.
"We invite students to embrace these principles because there is evidence it will add value to the career path you have chosen" says Keelan.
The value of Te Noho Kotahitanga
At Unitec, our approach to teaching and learning takes students out of the classroom and puts them into real world experiences with hands-on industry training. By engaging meaningfully with Te Noho Kotahitanga, you are encouraged to consider how each of the principles come alive for you – a journey from thought to practice – the same way you'll learn how to build cities, take care of the environment, write a screenplay.
Keelan says engaging in the principles of Te Noho Kotahitanga will enhance your work-readiness meaning you'll leave Unitec with the ability to do so much more than just your job.
It will mean you value Māori knowledge and those who have it
You'll seek their expertise and be comfortable moving between worlds as well as many different cultural and ethnic environments
You'll know the value of knowledge and its practical application
You'll be a great problem solver, open to ideas, willing to have an opinion and contribute to many and every discussion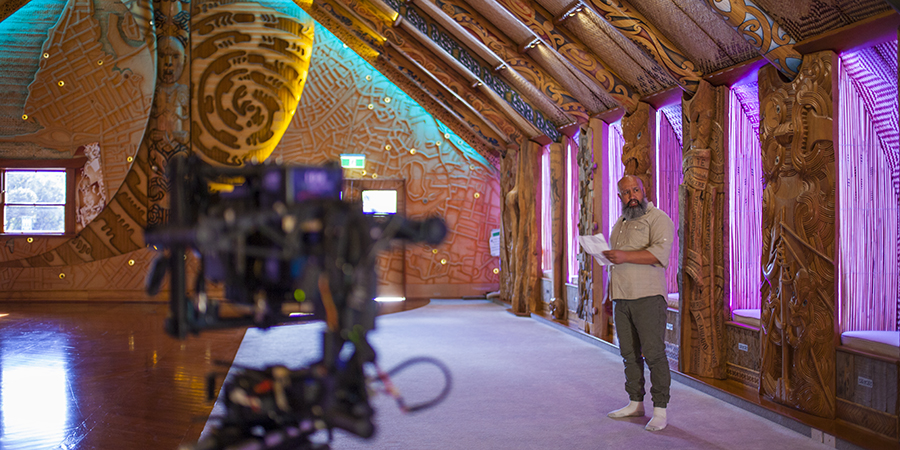 Te Noho Kotahitanga Marae Taurahere Hohepa Renata explores the design and architecture of Unitec's whare, Ngākau Māhaki with an interactive 360 video.
---