Professor of Social Practice Helen Gremillion brings wealth of experience to Social Practise
Professor Helen Gremillion, one of our new Ahorangi at Unitec, arrived in Aotearoa New Zealand from the United States 15 years ago, bringing with her a wealth of experience in research into gender studies and cultural anthropology.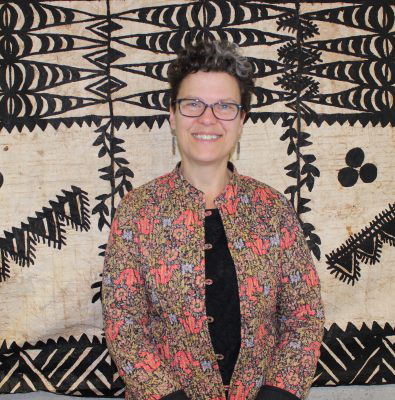 10 March 2023
Prior to her arrival here in 2008, Helen was Peg Zeglin Brand Chair and Associate Professor of Gender Studies at Indiana University.
She holds a PhD in Cultural Anthropology (specialising in gender studies and medical anthropology) from Stanford University and a Master of Arts in Cultural Anthropology from the University of Chicago.
Helen was previously Associate Professor of Social Practice at Unitec and continues to serve as Social Practice Research Leader. She has been instrumental in growing research culture in Social Practice, supporting staff to develop research projects and agendas with impact for professions, communities, and teaching practice. These research initiatives are partnered with Māori and Pacific researchers and communities, including those involved in the postgraduate programmes within Social Practice which Helen oversees currently as Discipline Leader.
In addition, in her role as Research Professional Development Liaison across Unitec, Helen partners with Tūāpapa Rangahau (Research & Enterprise Office) staff to create and lead research capability development activities consistent with her professional and community-partnered, applied, and Te Tiriti-based research portfolio.
Helen has nearly 30 years of interdisciplinary research experience. She has published widely on topics ranging from gender diversity in tertiary settings, research ethics, the scope of Talanoa research methodologies, eating disorders in cultural context, and Te Ao Māori informed counsellor training. Her work contributes to research that is not only uniquely applicable to the South Pacific, but also of international significance. She is a frequent presenter at both national and international conferences.
Helen is currently planning research in LGBTQIA+ studies, including transgender medicine. She is a long-standing member of numerous research committees at Unitec and is also part of Te Pūkenga's Health & Wellbeing Community of Practice exploring the future of research on health and wellbeing topics within Aotearoa New Zealand's ITP sector. She is currently co-investigator for a project investigating the safety and inclusivity of Te Pūkenga campuses for rainbow ākonga.