Luseane Cains: A humble high achiever with a heart of gold
23 May 2023
Luseane Cains has never been afraid to explore new opportunities, expand her knowledge and confront any challenges standing in her way. The Kupe scholarship recipient graduated as top scholar with her Bachelor of Early Childhood Education this year and crossed the stage to accept her degree in front of her daughter and family.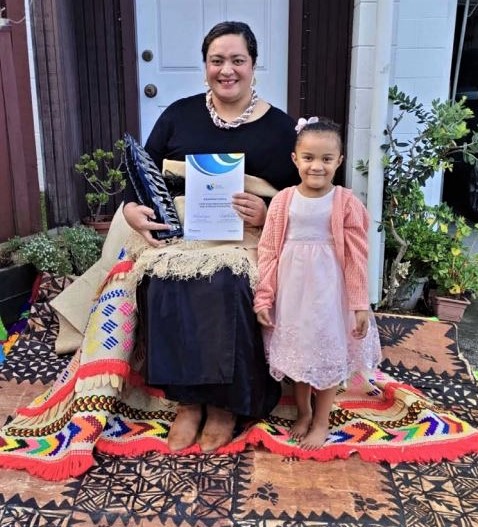 Luseane was able to incorporate her Tongan culture and heritage throughout her learning journey at Unitec Te Pūkenga.
One example of how she did this was by creating a traditional garland using the Heilala flower, using an arts-based philosophy to guide one of her research assessments.
Luseane, used the intricate process of creating and gifting the garland to demonstrate a method of collective crafting an education model designed to cater to the needs of children with autism.
"I interweaved the importance of this garland with the work of Tongan theorist Konai Helu, which is known as the Kakala model. Konai Helu's theory has six key components, but I focused on three aspects. "
Toli – the picking and choosing of the flowers
(understanding how to collect the best information in the right way)
Tui – sewing the flowers carefully together
(careful consideration and assessment of all data)

Luva – literally means, a gift from the heart and involves the gifting of the garland
(using the information to create something that contributes to the community)

Luseane also established a meaningful connection with te ao Māori at a very young age thanks to her father who dedicated his 40 year career to education as a teacher and deputy principal.
"My dad worked with kura kaupapa and mainstream schools, he always wanted to go where he felt he could make a difference. We lived in Kaikōura, Whāngarei and Omanāia where mātauranga and tikanga Māori were part of everyday living and Māori communities treated us like part of their whānau."
Luseane chose to explore different career opportunities and secured a high-level management position in the corporate industry but eventually her heart guided her back to education.
She says studying at Unitec was integral to her success and the Early Childhood Education team wrapped a 'korowai' of aroha and manaakitanga around her every step of the way.
"They are my whānau, I have never experienced so much support, awhi, kaitiaki, aroha and
tightly woven whanaungatanga and manaakitanga, in any tertiary school I have attended. The lecturers make sure that 'no one is left behind.' They guide and assist us to get through to the end and they provide an inclusive, culturally responsive programme that celebrates the mana and hauora of all students. As a Pasifika student, the lecturers and staff of this programme have given me a vision, and I hope to do the same for my daughter, my family and all our tamariki."