Celebrating the brilliant minds and benevolent hearts of our graduates
More than 900 ākonga crossed the stage earlier this month to receive their well-earned qualifications at Graduation 2023. An elated crowd of more than 4500 supporters surrounded them and cheered them on at the Auckland Town Hall.
24 April 2023
Acknowledging success Graduation, Kahurangi, and the Pasifika celebration event provided extremely revitalising and rewarding experiences for all. A common quality in the hearts and minds of ākonga was the strong desire to use what they have learned to strengthen and empower their own communities.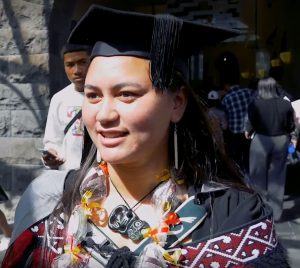 Bachelor of Architecture graduate Taoitekura Eruera (Ngāti Awa, Tūhourangi, Tūhoe, Ngāti Tūwharetoa ki Kawerau) hopes to contribute to future building plans in her hometown of Edgecumbe and focus on reducing the risk and impact of flood damage.
Taoitekura says the community is still trying to recover from the impact of flooding after the Rangitaiki River breached its stop banks in 2017. She says this event helped spark her interest in Architecture.
"I want to give back to my community, and I loved how I could apply my culture to my studies. It's embraced in Architecture."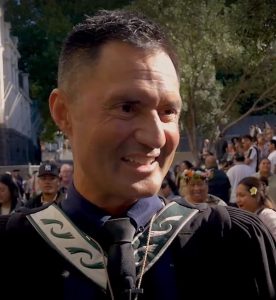 Bachelor of Construction graduate Vincent Thomas (Ngāpuhi, Ngāti Te Ata) has his sights set on helping improve the quality of social housing for communities he is connected to, which include Māori, Pasifika, and people living with disabilities.
"I want to use my construction knowledge to help the aging community in New Zealand and create homes they are safe and comfortable in. I want to be a part of that journey to mitigate this crisis in housing at the moment."
Top scholar and Kupe scholarship recipient Luseane Cains graduated with her Bachelor of Education and said her Tongan culture and heritage-inspired her throughout her studies.
Luseane applied Tongan knowledge and tradition in her research project, which focused on providing enhanced learning experiences to children with diverse cultures and backgrounds.
"As Kaiako, we are responsible for building a curriculum that is customised and fitted to the needs of our tamariki and their whānau. By doing this, we create an inclusive environment where whānau and Kaiako and wider learning communities come together to share knowledge and aspirations that will enhance and empower each child to enjoy the meaningful learning established by both Kaiako and whānau (including the child's voice)."
While they have achieved amazing things, these graduates maintain a sense of humility and credit their whānau and the support of Unitec staff and surrounding communities with their success.
Each hopes to inspire others from their communities to pursue their dreams.
Vincent says, "I've got my son here and my family. The little eyes are always watching. You never know, I might be watching them one day".