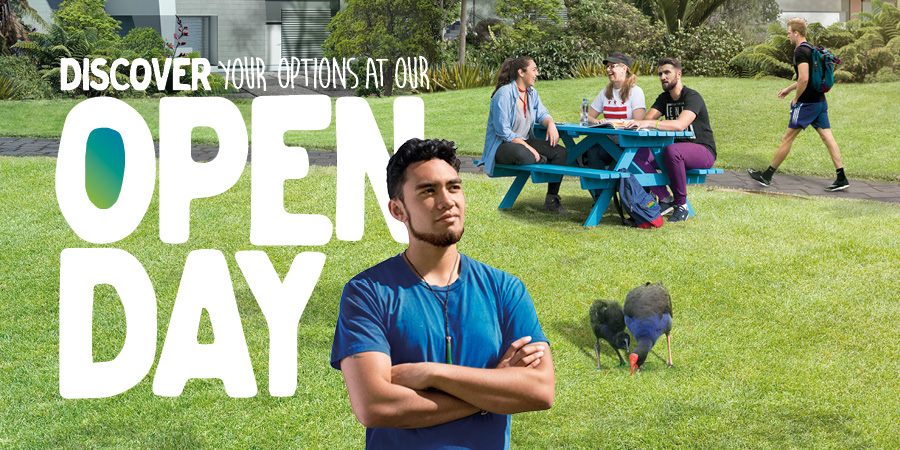 When: 10am- 2pm, 26th Saturday August 2017
Where: Unitec Mt Albert campus and Waitākere Campus
Ask us anything
Come along to our Open Day and get inspired about your future, this is your chance to discover your study options and career opportunities. On the day, we'll have our lecturers, industry experts and student support teams available to answer any questions you have about life at Unitec.
Experience Unitec like our students do
Explore Unitec the same way our current students do – pick up a coffee on us from our student hub, visit the student experience team and ask us anything from planning gym memberships to childcare to accommodation, join a tour and explore our facilities including the brand new student hub and trades building, then grab a bite to eat and kick-back on the sprawling, green Unitec campus.
(Hard copies available on sites on Open Day)
Mt Albert and Waitākere Campuses are open for you
You are welcome to visit both campuses or just the one that suits you. If you'd like to explore both campuses, shuttles will be running between to the two campuses throughout the day.
Visit our Mt Albert campus for Architecture, Bridging Education, Business, Computer and Information Technology, Creative Industries, Construction and Infrastructure, Engineering, Environmental and Animal Sciences, Osteopathy, Sport, Teaching and Education, and Vehicles.

Our Mt Albert campus is on Carrington Road, you can download a campus map here. If you're driving, please enter through Gate 4 and follow the signs for free parking.
Visit our Waitākere campus for Health Promotion, Medical Imaging, Nursing, Social Work and Community Development, and Youth Development.

The Waitākere campus is located on Ratanui St, Henderson, you'll find the campus map here.
Let us know you are coming and we'll keep you updated!
We are looking forward to meeting you, your whānau and your friends on the day. If you have any questions, please feel free to chat to our team by using the Unitec Chat at the bottom right hand corner of your browser.