Computing and Digital Innovation
This research group is focused on the software and hardware that will change the way we live for the better. Our researchers are working at the cutting edge of technology research, finding exciting new ways to enhance how we live.
Projects and case studies
Cyber Security Research Centre

Started in 2012, the centre was the first of its kind in New Zealand and has since become a focal point for Cyber Security research in New Zealand. Initially the centre offered a cyber-security monitoring capability but now it has three major projects in place, including the exciting new Red Alert System, an early detection program for intruders into a computer system.
Find out more here.
Telemedicine Chair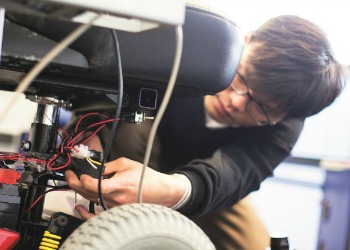 Robochair is a modified wheelchair which is connected to a socially assistive companion robot developed to make daily life easier for disabled or elderly people. It can measure vital signs, offer medication management, help the person talk to friends and family, and also communicate with the person on the chair. The software can be used on other common objects, for example a lazy boy chair, a walker, or a hospital bed, to enable patients to feel more comfortable and to better use the practical features of the technology.
Find out more here.
Contact us
| | |
| --- | --- |
| Name | Shane Stuart, Associate Dean of Research and Enterprise, Faculty of Creative Industries and Business |
| Email | sstuart@unitec.ac.nz |