Why choose a career in trades and construction?
There are exciting career prospects ahead for skilled staff in the trades and construction industries, according to a recent report outlining high demand workforce skills required for Auckland in the next 10 years. The report is a high level "roadmap" of anticipated growth in construction, and tells us that young career-minded individuals could do very well if they were to focus their training on construction-based trades.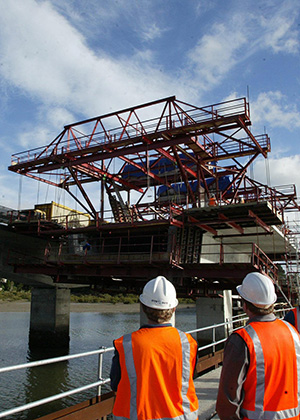 Studying trades and construction at Unitec opens doors to new opportunity. You could work overseas to expand your knowledge and experience before coming back to New Zealand to start building equity in your own business, or you could get out there and kick start your career working for a local company making positive change in the community. If you have a trade skill, the possibilities are endless - giving you the confidence to be in full control of your own career path.
Employers are currently crying out for more skilled staff in carpentry, welding and fabrication, land and quantity surveying, plumbing and gasfitting, civil engineering, and construction management. Here at Unitec, we have places available to get you started in any one of these specialist, high demand trades. And of course, we also offer a programme in Automotive.
If you're not sure which course might suit you but you're keen to find out more, check out our website for more information. You can strike while the iron's hot and apply online, or you're welcome to call us on 0800 10 95 10 to discuss your career plans.
With over 120 study options starting in Semester 2, there's no reason to wait until next year to start your journey to success. Browse our programmes in:
Building and Carpentry » Fabrication and Welding » Land Surveying Quantity Surveying » Plumbing, Gasfitting and Drainlaying » Civil Engineering » Construction Management » Automotive Engineering »