Whale Watcher has Supported Learning to thank for his dream job
Dave Hicks of Unitec's Supported Learning programme may be new to his Academic Programme Manager role, but his passion for his students is evident, explaining that meaningful employment – and not simply a job - is the outcome Unitec wants for every graduate.
"Meaningful employment and what that means is very different now to how it was ten years ago."
"Our programme is holistic and has been tailored for disabled learners. It recognises literacy and numeracy, social capability and emotional capability. It includes things like friendships and relationships, nutrition, and how that aff ects you. We build on the overall development of our students, as opposed to just skills."
"We teach independence, responsibility and empowerment. We know we have done our job well when this leads to meaningful employment, and it's proven time and time again amongst our graduates."
The student success results are testament to the programme's quality. In 2019, nearly 90% of students finished with a Level 1 Certificate in Skills for Living and Working.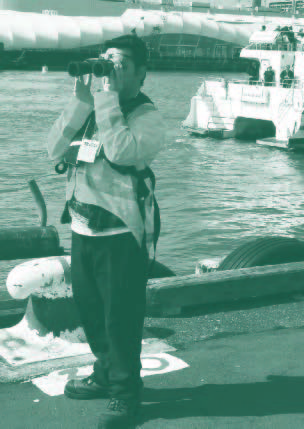 Lyndon Chow
Thanks to the skills he learned at Unitec, Supported Learning graduate Lyndon Chow has found his niche. Working for Downer New Zealand in Auckland's Viaduct Harbour, Lyndon is a 'mammal watcher'. His single-minded focus on all things related to Health and Safety makes him perfect for the job - one which involves watching the water to check for marine mammals including dolphins, seals and orca – while heavy construction work gets underway for the Downtown Auckland programme.
Lyndon was introduced to the role by PolyEmp, an organisation that supports young people with learning disabilities towards their goal of sustainable employment.
"Downer was initially looking for someone with an interest in the environment and animal protection, but we realised that Lyndon's careful, conscientious nature and awareness of health and safety made him perfect for
the role," said Margaret Reilly, Manager, PolyEmp, which works with Unitec to place students from the Supported Learning programme into jobs.
"Downer is very supportive of Lyndon. They ensure he doesn't feel like he's working on his own. And they have very sound systems in place if Lyndon does alert them to hazards."
---