Using iPads in business school
Using iPads in the classroom is becoming more commonplace, with primary and secondary schools leading the way. Tertiary education is now following suit, with the Bachelor of Business at Unitec making it compulsory for students to have an iPad for their first year papers, starting with the 2014 intake.
"It's a huge challenge but we can't ignore it," says Accounting and Finance Senior Lecturer James Oldfield. "The old attitude of having a basket at the front of the class and making students put their phones in it just isn't going to fly anymore."
Oldfield knows all about using mobile technology as a teaching tool – his PhD research is centred on e-Learning and mobile learning, and he's created a new model for teaching technology to students.
Oldfield says he uses iPads to teach students how to solve business problems. "If you think about trades students, they learn how to use a hammer to build a house; they don't learn all about the anatomy of the hammer. It's just a different way of looking at the technology and its role in the classroom. Students don't learn the components of the iPad, they learn how to use it in a business context. So in other words, rather than learning what the tool does, you learn how to use the tool for a specific context."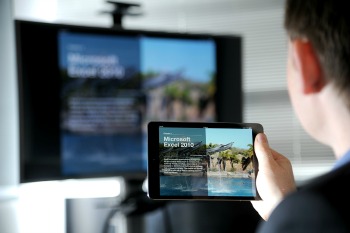 It's all about providing the best possible solutions for learning in a more technology focused environment, says Oldfield. "You've got the ability to either move with the mobile technology that's coming into the classrooms and take advantage of it, or you can try to fight it. I certainly think that taking advantage of the processing power and the connectivity that these devices bring is a much better option for me as a teacher."
Read the full story on the Advance Blog here.