Unitec students re-design Whangarei waterfront
Artificial oyster reefs, self-closing flood barriers, community gardens, wetlands parks and low-rise terraced housing — these were some of the features suggested by Unitec students in their designs for a waterfront development in Whangarei.
As part of their coursework this year, Bachelor of Landscape Architecture and Masters in Architecture students collaborated on a real-world project organised by a joint team of academics from landscape and architecture — Matthew Bradbury, Hugh Byrd, Lucia Melchiors and Xinxin Wang.

The project involved working with Momentum North, a community group of people who live and work in the Hihiaua Precinct in Whangarei. The Whangarei Council had developed a master plan for the area. It was a design that was similar to waterfront developments around the world and very do-able, says Associate Professor, Matthew Bradbury. "But there were a number of issues that the community had concerns about, namely environmental concerns, such as the impact of sea level rise, issues around cultural preservation and an acknowledgement of our obligations under the Treaty."

The students were tasked with researching and articulating those concerns, identify potential solutions and come up with an alternative masterplan. In the second part of the project, they were asked to design a new building and landscape for the Pacific Centre for Indigenous Knowledge for the precinct — the Centre was opened last year (an event attended by 22 United Nations delegates) but is currently located in an existing office space.
Hihiaua was a complex site to work with, says Sharon Eccleshall, who is in her fourth year of a Bachelor of Landscape Architecture. "We were working with a culturally significant, low lying, reclaimed piece of land between two rivers which is subject to flooding, the future impacts of climate change and sea level rise."
The project required attention to hydrology, topography, ecology, culture as well as design. "It was definitely a challenge, to find design solutions that would be resilient, achievable, affordable, aesthetic, functional and more importantly would suit the community," says Sharon.
Working with a real community was a valuable experience, she says. "You need to be able to empathise with a diverse range of people with related concerns. It meant learning how to listen and extract the information you need to form a viable idea."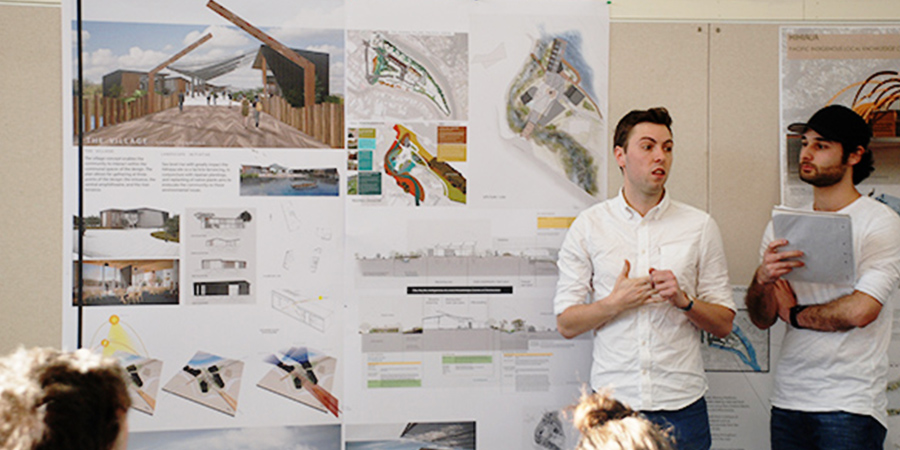 They were also required to present their designs to the Hihiaua community, including representatives of the Mana Whenua. The community was impressed by the students work, says Matthew. So was the Mayor of Whangarei, Sheryl Mai, who attended the presentations students gave in Whangarei, of their alternative masterplans. "She was very engaged by the different perspectives that the students bought to the future of Hihiaua," says Matthew.
Presenting to a group of strangers can be a daunting prospect, says Sharon. "But once you realised these people were genuinely interested in your ideas, it's quite rewarding. Everyone received great constructive criticism and praise. Working on a project like this, illuminated some of the challenges we'll be faced with when we enter the workforce."
Wesley Twiss, who is studying a Masters of Architecture, notes that the experience reminded him that architects have an idiosyncratic language, something that architects needs to be aware of. "We're used to getting a specific brief, from teachers who talk the language of architecture, but most people don't use that language. They might know what they want but might not know how to articulate that."
"I think a lot of us struggled with that at first, but by the end we really enjoyed talking to the community and seeing how they reacted to what we came up with. It made me aware of how we have to find ways to convert design language to more colloquial language, to make it understandable to people who haven't spent the last three years reading and speaking and thinking in this sort of language."

For the Pacific Centre the students were briefed by the Centre's Director, Tui Shortland. "She knew what she wanted, but she had an idea in mind, rather than a particular design," says Wesley.

She wasn't initially keen on the proposed location for the Centre that Wesley's team suggested, but the team stuck to their guns — and judging by Tui's response to their final presentation, she changed her mind. "So that was a steep learning curve, to have someone telling you what they want, but not quite knowing what they need, but who are looking to you to push them in different directions."

Both parts of the project gave students a chance to develop real world solutions that could have a real-world impact. The detailed research and design that students presented will be published as an online book for the Hihiaua community and Whangarei District Council to use as a reference guides for the Hihiaua waterfront development.

"This kind of project helps students understand that their abilities and skills can have social outcomes, that they can actually help communities, that through design they can make a real difference," says Matthew.
Peter Ogle, a Momentum North community member, attended the presentations students gave for both the Master Plan and the Pacific Centre. He commended them, telling students they "rose to the challenge and took on the risk of building a strategy for an area that none of you had a local connection to, other than perhaps a passing visit. You have done a wonderful service to our city, and provided us with so many thought provoking options."
---
Find out more about studying Architecture at Unitec: