Unitec Dance School overcomes the challenge
As the COVID-19 pandemic unfolded, moving lessons to an online platform was a challenge faced by educators worldwide. In many cases, it was relatively straightforward, but how do you teach a physical skill like dance in a virtual environment?
This was the task facing Unitec's School of Creative Industries dance tutors as New Zealand's borders closed in semester 1 2020, locking out a cohort of students from the Beijing Dance Academy (BDA) about to travel to New Zealand to start their first semester at Unitec.
BDA and Unitec have collaborated for more than 10 years and in 2014 they agreed to develop a double degree undergraduate programme that has since been designated an Elite Scholarship Program by Beijing Municipal Education Bureau. The first cohort of 10 BDA students transferred to Unitec in July 2017 and graduated in 2019.
In 2018 Unitec was invited to present a paper on An Outlook on Future Dance Training, hosted by BDA as part of the International President's Dance Forum in Beijing, China. It was a proud moment for the School when the learning and teaching methods employed in the Bachelor of Performing and Screen Arts (Contemporary Dance) stood shoulder to shoulder with some of the most prestigious and elite dance Institutions in the world, including The Place and Trinity Laban.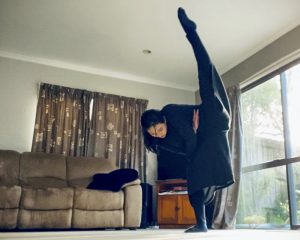 Unfortunately, as the pandemic shut down borders globally, it looked like the new BDA cohort would miss out on the course. Keen to find a way to support these students, Unitec teaching staff scrambled to find a way to continue the programme. Led by Charles Koroneho, Head of the Dance team in 2020 and Yiling Chen, the BDA Dance Tutor & Choreographic Mentor, they only had two weeks to create class materials.
Initially, they thought this would only be a short-term measure to help the BDA students stay aligned with the local Year 2 students so they could move straight into the programme at Unitec when the borders reopened, Yiling says.
"Then the first lockdown was announced. Once that happened, all of the courses had to be transferred online."
They realised that the programme would probably have to be delivered online for at least a year, so they created something specifically for the BDA international students and their unique situation which ran parallel to and interacted with the domestic offering, "same but different".
Teaching dance online
"We didn't know if it was possible, but we really cared that the students received a good education and didn't waste a year of their time. We want to support them in a career they are in love with, and we worried our partnership with BDA would fall apart because of the pandemic. We wanted to make it a success for everybody," says Yiling.
Designing the platform has some significant technical challenges as in mainland China, the students didn't have access to many of the same websites as New Zealanders, so they spent extra time working on additional and complementary platforms to allow them to study easily online.
Charles created a website for the international students to navigate study materials, while Yiling recorded and uploaded footage and delivered materials, supported and curated by the Dance team of Paul Young, Katie Burton, Claire O'Neil, Rebecca Wood, Bella Wilson and colleagues from Film and Editing Carstern Kudra, Sai Yin Leung, as well as many others.
At first, when they realised they couldn't come to New Zealand, the students were very upset, says Yiling. "They experienced anxiety and loneliness, being alone in their space and in front of camera is not normal for dance culture. They were unsure about themselves or whether they had executed the movements correctly."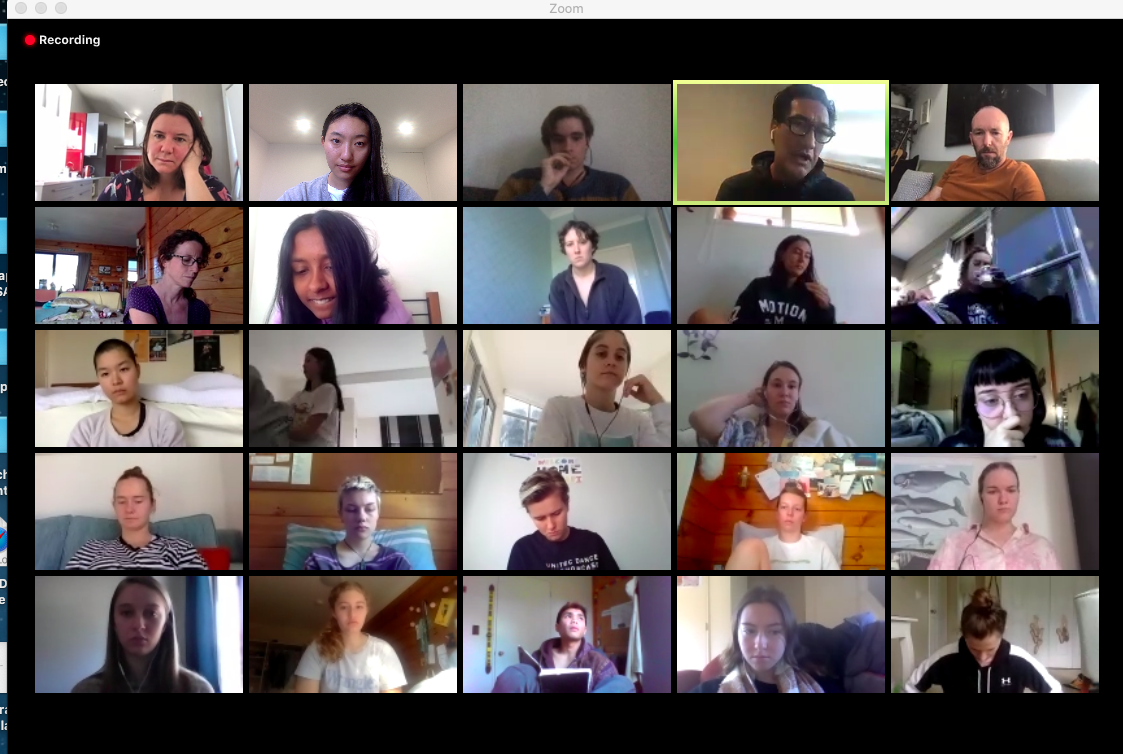 However, the BDA students participated in the Unitec online dance programme smoothly and naturally, except they had to work with time differences, which meant getting up at 4.00am for some classes.
They also designed specific bridging courses to fill the gaps of cultural differences (for example, environmental-socio culture, dance culture and pedagogy), and to inspire them to reflect on their own situation and status.
"We all admit that online is not ideal for dance, but when we asked students to focus on themselves and touch the realities around them, then online becomes an acceptable mentor for them to develop themselves. They were very open, adaptable, creative and had fun from it."
The part of observing is very limited. Students could only observe the experience of movements in a flat view, which is totally different in the tangible class. Therefore, when they tried out their own version, sometimes the movements were not aligned with its original purpose.
It meant the teachers had to improve the accuracy of their technique description both verbally and in practice.
Yet, it transpired that online teaching also had advantages as the students could review the class materials as many times as they wanted.
"We managed successfully to pass on our pedagogy to them, and they learned and reflected really well. Students have learned a lot through an online programme, they enjoy the teaching and have fun from it, and they are willing to continue their study with us.
"We have discovered new ways to make works, presentations and productions. This online journey opens up a new door and cuts down the distance for dancers from all over the world to make connections and share knowledge," Yiling says.
Dr Vanessa Byrnes, Head of School of Creative Industries, and Charene Griggs, Academic Programme Manager of School of Creative Industries, Liang Luo and the international team were also invaluable in supporting this project, she says.
Watch
Students' Individual Performance
Filmed in three different cities and edited together to share with tutors and peers in New Zealand
Group performance
Three students flew to the same city to create this amazing performance
---