Unitec continues to lead the way in gas-fitting training by offering new short course
Unitec Institute of Technology has become the first tertiary institution in New Zealand to offer a short course in installing and commissioning the latest range of Rinnai commercial water heating systems.
Unitec, which is one of is one of the country's leading tertiary providers of Plumbing, Drain-laying and Gas-fitting training programmes, will offer training on newly-installed, state-of-the-art gas water heaters as part of a new short course for registered licensed and certifying gas-fitters, due to launch later this year.
The equipment will also be used to support Unitec's ongoing delivery of the Commercial and Industrial Gas Appliances and Equipment training course delivered to gas-fitting apprentices.
There is now an increased demand for apprenticeship programmes through the launch of the Government's Targeted Training and Apprenticeship Fund.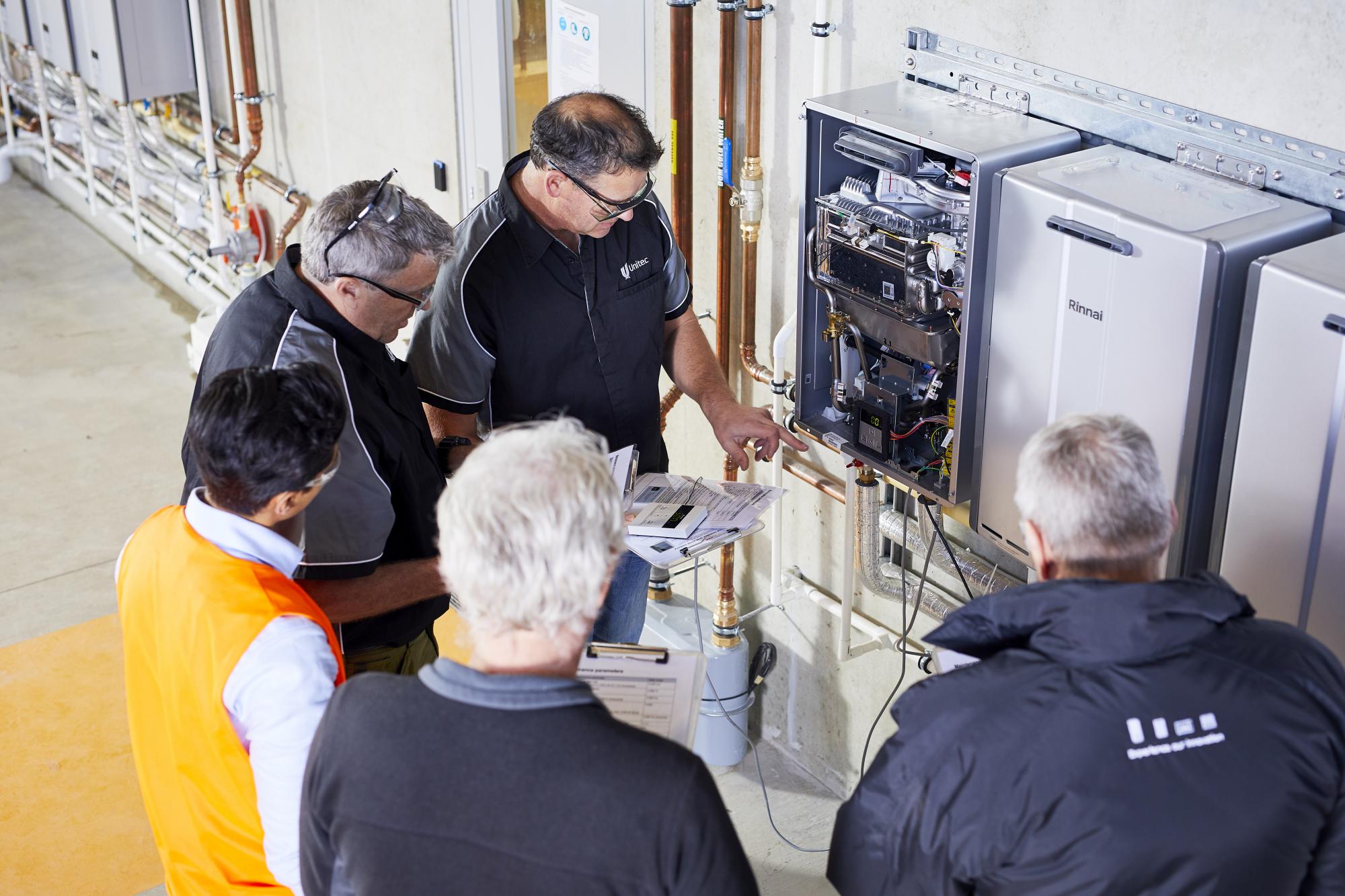 Training on the commercial water heating systems, Rinnai's Demand Direct and Demand Duo, will provide apprentices with operational knowledge and practical skills. These water heating systems are commonly installed in large commercial buildings, such as hotels and sports complexes.
"We're delighted to be leading the way in gas-fitting training in New Zealand and to continue to set another standard with the introduction of this new course," said Unitec's School of Trades & Services programme manager, Jake Curran.
"Anyone in the industry appreciates the efficiencies that these state-of-the-art commercial hot water heaters provide. The operational knowledge and practical ability that our courses will provide present increased opportunities for those gas-fitters to progress into specialised work," he added.
The full-day course for registered licensed and certifying Gas-fitters will cover operational theory, component identification, appliance and flueing installation, condensation removal, commissioning, gas flue analysis, gas type conversion, control setting and associated sequential synchronised staging.
The Level 4 course will be held at Unitec's Mataaho trades training facility at its Mt Albert campus. For further information on this course please contact plumbingandgasfitting@unitec.ac.nz