Unitec celebrates Polynesian Panthers 50 years of social justice
Unitec's School of Healthcare and Social Practice hosted an event at Te Rangimarie, Waitakere campus on 17 June to mark the 50-year anniversary of the founding of the Polynesian Panthers social justice movement.
The anniversary coincided with the government's announcement it would make a formal apology for the 1970s Dawn Raids at a commemoration event in the Auckland Town Hall. (This was due to take place on 26th June but was postponed due to the Covid Level-2 in Wellington)
The Polynesian Panthers played an integral role in protest against, and stopping, the Dawn Raids that aggressively targeted Pacific Islanders who had overstayed their visas.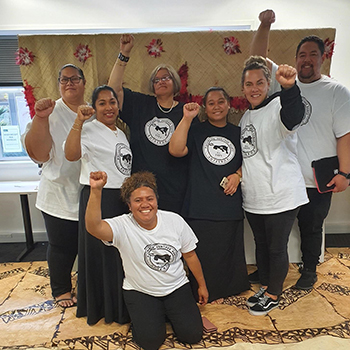 The event was organised by Sailauama Cheryl Talamaivao, Discipline Lead and students of the New Zealand Certificate of Health and Wellbeing, with support from Head of School Linda Aumua, Academic Programme Manager Aulola Lino. It was well attended by students, lecturers, community leaders, other Polynesian Panther members.
The Panthers were founded on 16 June 1971 by six young Pasifika men: Fred Schmidt, Nooroa Teavae, Paul Dapp, Vaughan Sanft, Eddie Williams and Will 'Ilolahia
Speaking at the Unitec event were Polynesian Panthers co-founder Will 'Ilolahia and member Pulotu Peta Si'ulepa, who shared their experiences to inspire the next generation of social activists.
In welcoming the speakers to the campus, Unitec CEO Gus Gilmore said although many New Zealanders may not have been taught contemporary New Zealand history, "we all knew about the Polynesia Panthers and the work they did."
He said he wanted to celebrate the amazing work the Panthers had done in the community in the past, and also into the future.
"It was founded by an incredibly dedicated group of Pasifika people who came together to address the inequities being suffered by families at the time.
"The talanoa today is about the lives that have been and remain impacted by the Dawn Raids in the 1970's and to support the healing and restoration. We at Unitec join and support the government's apology to all of those directly and indirectly affected back then but remember and are still affected today," he said.
Polynesian Panthers co-founder Will 'Ilolahia said Unitec was the first institution in Aotearoa that responded to the Panthers call to wear black. His aim was to run #blackouts as later this year they were releasing a drama series about the Panthers and they were hoping people would wear black as they watched the show.
"The story is not just about the Panthers, it's not just about Pacific Islanders. We are a nation of migrants. It's your story. We were just fortunate enough to be New Zealand born and able to stand up for what we stood for."
Looking back over the 50 years since the movement began, Will says when they started they didn't look to the future as they had as so much work to do.
"Now, looking back now, I'm happy in a lot of areas, but still disappointed that we have got dropouts in school and all that kind of thing, but I'm glad I did it. It was a big sacrifice for me personally, as I didn't get to spend the quality time with my children. I'm still regretful that we haven't solved all the problems. Yet, overall, I think we have progressed greatly."
Pulotu Peta Si'ulepa also shared her story of growing up as the children of Samoan immigrants in Waitakere, where she was a foundation pupil of Kelston Girl's High School in West Auckland, and how she first connected with the Panthers and the Race Relations Office.
As many of the attendees were students from the School of Healthcare, Peta contextualized for them how the Panthers evolved out of the surge of protest movements of the late 60s and early 70s. She told how 21 Maori and Pacific Islands Girls were expelled from Kelston Girl's High School, including her sister, and among the groups protesting against it were the Polynesian Panthers.
This was her introduction to them and it began her political activism in areas such as domestic sexual violence, and a nuclear free pacific, environmental issues, and she continues in this work today.
"Once a Panther always a Panther so our political activism never stops," she said.
If you wish to learn more about the Polynesian Panthers and the Dawn Raids, more information is available here.
Media site Stuff is has a six-part podcast "Once a Panther" on the history of the movement.