Two Social Practice students, two different internships
Social work is an extremely rewarding vocation, but it can also be demanding. Unitec Bachelor of Social Practice students spend 60 days of their third year on placement as an intern, which gives them a chance to find out what area of social work they might want to end up in ... and if they're up to the challenge.
We talked to two third year students about their current internship -- what they've learned and whether they still think they've made the right career choice.
Espoir Ngungambili Butu, placement at Kakano Youth Arts Collective, based at Corban Estate Arts Centre.
Did you have an arts background?
No, but Mandy (Patmore, who leads Kakano) got me drawing in my first week. My field educator advised that, to get involved with young people, I needed to put myself in there.
I came to New Zealand as a refugee from the Democratic Republic of Congo, and so I started thinking about own country, how I ended up in New Zealand. I drew a picture and underneath I wrote 'peace, unity and justice'. I don't know how, but it made me reflect on why I came here, from a country where there is no peace, no unity, no justice. So when kids do this, they also express themselves through art. And it helps.
Kakano works with young people who've struggled in mainstream education, many of them with a history of offending. What have you learned?
When you talk to a young person, face to face, you get a different understanding from what you might read about them in the paper. So I'm learning to understand more about the issues in the community, and the needs of the young people I'm working with. Some of them just hadn't had enough attention, from home, from society, so when you give them attention, and you respect them, it's easy to build a connection.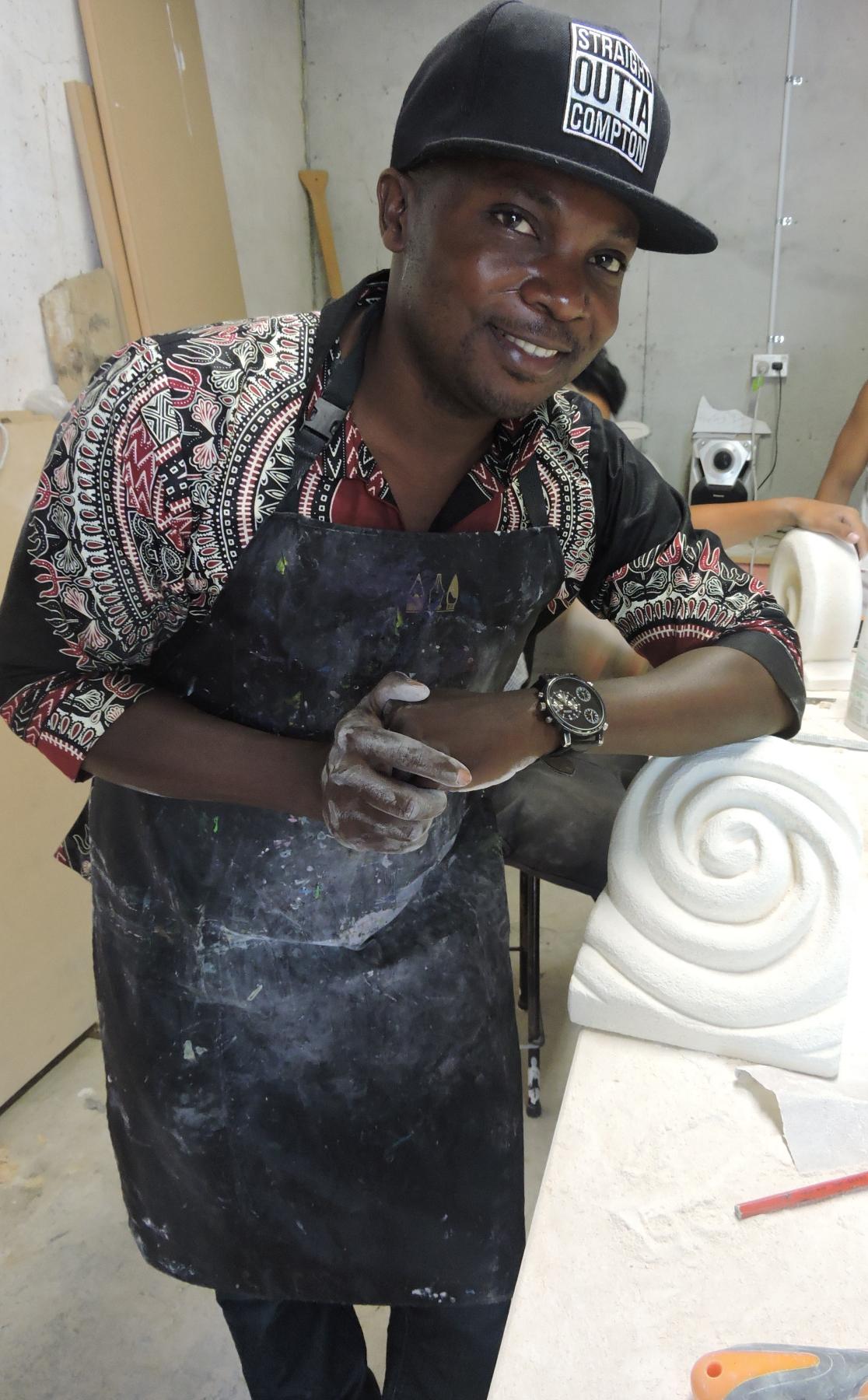 Your role is not just about supervising art classes, but helping students in a variety of ways; for instance, you've helped one student transition to an army training course?
That has been very satisfying. That student is now getting to the point of being independent — he's turning up for his course, he's sorted out a bank account. There was a day I went to pick him up to take him to the course, but I was late, and by the time I got there he'd left, and got himself there on his own. So he's attending classes.
And you got him to the dentist, for four appointments?
He was a bit scared, but it was just about sitting with him, and talking to him. Telling him, 'if you don't get this done, in your 50s, you won't have any teeth, how would that look'. So he turned up.
How has this experience changed your feelings about becoming a social worker?
I used to think working with young people would be hard, but this placement has shown me that if you give them attention and respect them, it's easy to relate to them. They get something from you and you get something from them too. I think now I would like to work with young people ... I'd like to carry on working here to be honest. I love this environment.
Mandy Patmore, who leads Kakano, says:
We're working on art practice, and through that, helping students develop other skills, such as working with a team, communication, learning how to express themselves. But we're with people who haven't had much; food is an issue, transport is an issue, clothing is an issue, even homes are sometimes an issue. Before Unitec approached Kakano, I was struggling for quite some time with the needs of the kids that are outside my job, and that's where Espoir is becoming incredibly invaluable. I don't know what I'm going to do when he leaves.
Jenna Stokes, Mercy Hospice, which provides a range of specialist community palliative care and hospice services for people facing life limiting illnesses
What made you choose hospice for a placement?
I've seen people who have passed away in my own life, grandparents and friends, and I find there can be so much beauty that comes out of that time, especially if people can find peace after suffering for a long time.
What have you learned so far?
The experience is growing me as a social worker. I'm building my confidence with communicating and talking about grief, with every person I work with. It's a privilege to be part of a person's journey, be able to walk alongside them when they're going through what they are. A lot of people in these situations have resources within them and coping with strategies that they don't even realise they have. There's a lot to learn from them.
And it's a chance to put theory into practice?
Definitely. It's not possible to be an effective social worker without having that practical knowledge. There's so much for social workers to learn from their clients, their patients, and their patient's families — you can't learn that in a classroom.
Are you enjoying the experience?
I'm loving it. You learn a lot about yourself. The work is challenging, you're working with different people, and I've got regular supervision and been well supported which is really lovely.
I take it day by day, patient to patient. The patients have so much to teach me as a social work student, and so do their families, about their strategies for dealing with a very difficult situation in their life. On my first day I was excited and nervous, but after about five weeks, I'm beginning to get it. It's definitely meaningful work, but a lot of it is new and I have all sorts of things ahead of me to learn."
Her supervisor, Maree Goh says:
We're very happy with Jenna. Not every student is suited to this environment, so we do interview them to make sure they are comfortable in this environment. You're dealing with some tricky situations. So we are careful we're not putting anyone in at the deep end; we want to give them an opportunity, one that is safe, to develop skills and get real world experience. It's important that students are well supported.
---
Find out more about studying Community Development and Social Work at Unitec:
Study Social Work Bachelor of Social Practice Order Brochure