Te Pātaka Art Trail set to open at Unitec
Te Pātaka Art Trail is a community project intended to encourage public engagement with significant heritage, cultural and environmental qualities of this place, such as Te Wai Unuroa o Wairaka, Te Auaunga and Rangimarie Pā Harakeke, at a time of unprecedented housing intensification and urban change.
We are pleased to announce the ceremonial opening of Te Pātaka Art Trail on Thursday 27th October, 2022 and we invite you to join us. The opening event includes a project in collaboration with Dr. Pouroto Ngaropo and Ngāti Awa ki te Awa o te Atua.
Te Whatu Mauri o Wairaka brings together mauri stones from the rivers from which Wairaka comes - Oriini, Rangitaiki, Te Awa O Te Atua, Whakatane - as one energy to Te Waiunuroa o Wairaka to protect the puna for future generations to follow.
This project is accompanied by Drift (Gina Ferguson and Dale Cotton) and Ngā mahi toi (year 12 and 13 Māori students from the Mahi a Toi Academy).
When: Thursday 27 October, commencing at 1pm
Where: Ngākau Māhaki, Te Noho Kotahitanga Marae.
Location: Building 178, Carrington Road, Mt Albert, Auckland.
Map: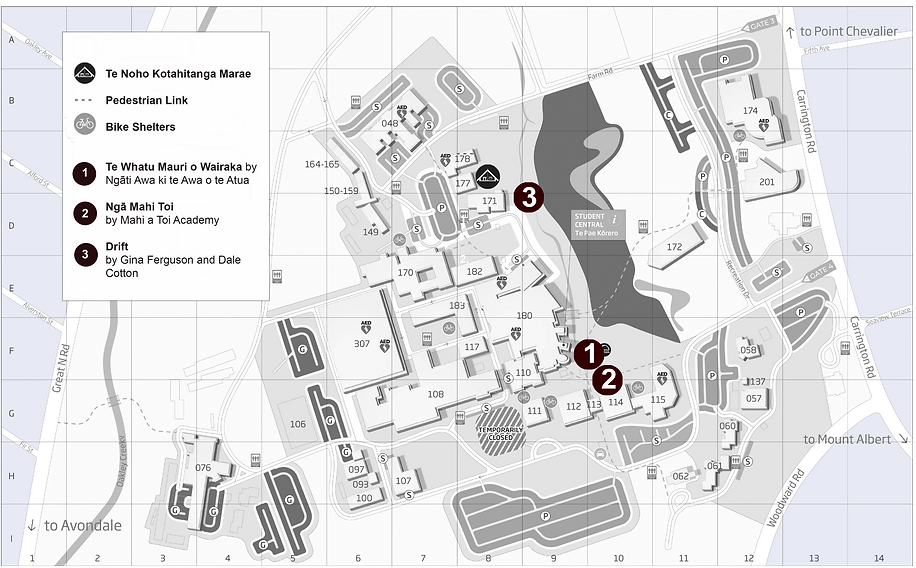 RSVP: Numbers are limited, so we kindly ask that you RSVP by 12pm Friday the 21st
1:00 pm Pōwhiri [receiving the mauri stones], Ngākau Māhaki, Te Noho Kotahitanga Marae
1:45 pm Blessing of the mauri stones in Te Wai Unuroa o Wairaka; placement in te pātaka and puna
2:25 pm Opening speech Te Pātaka Art Trail and refreshments (RSVP required), Maanaki, Te Noho Kotahitanga Marae
4:00 pm Close