Study tour to India a career-changing experience
Sabian Meyrick recently returned from a six-week supply chain and logistics study tour in India, which he describes as a "once in a lifetime experience" and "the highlight of my adult life".
The Bachelor of Business (Management) student was one of ten business students from around New Zealand to be awarded the Prime Minister's Scholarship for Asia (PMSA) last year. The study tour, mainly located around the southern state of Tamil Nadu, involved visits to 15 different industries.
"And the industries all operated so differently," says Sabian. "Some were traditional Indian businesses, where they were doing things the way they'd been doing them for years, and not really innovating."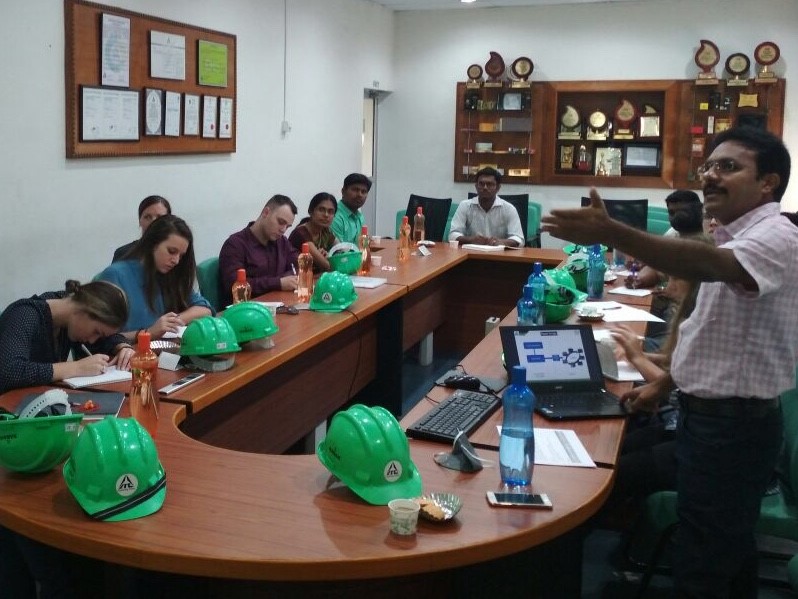 "But we also visited some of the biggest companies in India, where it was incredible to see just how efficient every aspect of the business was. We got to see the best practice that we'd learned about in the classroom, being used by an actual company."
A chance of a lifetime
Sabian had been alerted to the Prime Minister's scholarship by his Unitec lecturer in Operations Management, Dr Maryam Mirzaei, who also encouraged him to apply. The scholarship funded 80% of the cost of the tour, while Unitec funded the remaining 20%.
"Which was amazing. I thought everyone on the scholarship would have got that financial support from their tertiary institute, but I found out that wasn't the case at all."
The experience was "Incredibly valuable, both personally and professionally". At the end of the tour he spent two weeks on an internship at Sankara (the hospital and foundation), which aims to eradicate treatable eye disease in India.
The organisation impressed him from a philosophical and also a financial perspective. "They've managed to optimise their costs so efficiently, that when one person pays for a cornea or cataract, it almost fully subsidises free surgery for four people. They call it an 80/20 business model; 80% of free patients are subsidised by 20% of paying patients and they've been able to perform over 1.5 million free surgeries as a result."
Sabian shadowed a number of different executives at Sankara, in the central procurement department (which oversees procurement for 12 hospitals), the transport department, the central store, pharmacy, and operations. "This experience showed me what business execs really do on a day to day basis."
What he learned about himself
Sankara was an inspiring place to work, where everyone was passionate about the organisation's mission. "And what I learned from this is that I am really drawn to working for non-for-profit societies, or even for-profit societies, that really want to address societal problems," says Sabian.
"That's something I learned about myself — that I don't just want to follow the money, but find a job that provides me with the most value, which might be the rewarding and challenging nature of the work, and whether I'm making a difference."
It also shifted his views of what area of business he might pursue. "Before the tour, I was more interested in becoming a business analyst but I learned that supply chain is an area in business where you would be interacting with a lot of different suppliers in a lot of different countries. It wasn't really on my radar, as a career path, but it definitely is now."
Along with the study, there was some time to play, with visits to cultural and historical sites, wildlife reserves, an elephant sanctuary, and more. "I experienced a lot of South Indian culture and made so many personal connections with the people there."
The host organisation, Bannari Amman Institute of Technology, was exemplary, he says. "And honestly, the guest quarters were like a five star hotel!"
Learning by "doing"
Sabian has recently begun his IBL (industry-based learning) internship at Douglas Pharmaceuticals in Auckland, where he is working on analysing manufacturing cycle-times and providing assistance in the scheduling department. After talking to other business students from other institutions on the tour, he's more aware that Unitec's emphasis on real-life experience, as a core course requirement for the Bachelor of Business, sets it apart.
"Which I didn't really realise until recently. I think it's a great idea, that students go out and get real world exposure, while they still have university support. That's really valuable.
"It means that when students leave Unitec they'll be much more confident about going into a real corporate workplace. It's also better for prospective employers, as students can demonstrate that they can function well in that environment."
---