Starting from the ground up
Lance Spalding's career has taken him from apprentice to workshop manager to business owner, and now to Regional Trade Developer for iconic hardware store Mitre 10. We caught up with him about his journey and what he loves about his current role.
Lance started a Trade Certificate in Automotive Engineering at Unitec in 1991. At the time, he says, he'd just come out of high school and had no idea what he wanted to do.
"The course was a six-month pre-trade course, and in hindsight it really gave me the focus I needed to find the career path I was going to take! When you choose to head into this sort of trade, you're really looking for 'hands-on learning' – and Unitec certainly delivered. We were fixing teachers' cars in our spare time, taking things apart, welding, getting our hands dirty. I loved it! The tutors were people who had worked in the industry, so they taught us some practical, smart processes. One was a four-step process of how to diagnose an issue with a motor vehicle. I still use it to this day – not just for vehicles but business processes too."
Lance's course included weekly work placement days, which he completed at Lyon Ford in Takapuna. When the manager started his own workshop in Devonport, he took Lance on board as an apprentice straight out of Unitec, and it wasn't long before he was promoted to Workshop Manager. Then, in 1995, a chance conversation saw Lance take the next big step in his career.
"A tool salesman pulled in to the workshop one day, and as we were chatting he asked if I knew anyone who was interested in buying a business. Two weeks later I was the proud owner of AutoPro – an automotive repair workshop in Hillside Road. I spent the first three days sweeping the floor before my first customer turned up!"
Over the next nine years Lance built the business up – adding a dedicated Warrant of Fitness shop, incorporating a mobile mechanic service and learning a lot about people management, customers and marketing along the way.
"There's no greater learning curve than running your own business! It was hard work, but such a rewarding experience. When my wife and I found out we were having twins, I made the decision to sell the business and simplify my life a bit. I had some time off, changed a lot of nappies, and spent the next nine or ten years doing some small business consulting."
In 2012 one of Lance's customers connected him with an opportunity at Fletcher Building, and he started in the Pink Batts insulation business, running the install network 'Pink Fit'. Then, when his manager moved over to Mitre 10, Lance made the decision to follow suit.
Building up the Mitre 10 Trade business
Today, Lance is Regional Trade Developer at Mitre 10, working with 19 stores in the Auckland/Northland region to help develop the company's fast-growing trade arm. It's a role that allows him to bring together the wide range of skills he's learnt over the years.
"My job is to support the stores in growing their trade operation. It's a bit like an advisory role – I mentor the store and trade managers, help them build the best teams and make sure the right people are in the right roles. From the tradies' perspective, they want to deal with people who are capable and understand their needs, so we're looking for staff with approachability, attitude and people skills."
Lance's role not only sees him working with some very entrepreneurial people, but also offers him the same autonomy and personal drive of running his own business.
"I love the scope and independence my role offers. Because I've owned my own business it's so important to me to be able to plan my own day and deliver my own results. We have a high-level strategy of what we're trying to deliver for the year, then we come up with a plan of how we're going to deliver it for each store.
"While I work for one brand, I work across many businesses. Mitre10 is a cooperative, so each store is owned by someone really entrepreneurial and business minded. I work with them to decide where they want to take the brand and help them achieve it. My thinking is constantly stretched, and I'm always learning new ways to tackle different business problems. I also work closely with the in-store trade manager and have a lot of customer contact – so I get to meet the 'real people' who are doing the job every day. I've learnt a lot about what it's like to build a house in New Zealand: what the constraints are and what we can do to help."
A win-win relationship with Unitec
Lance has recently reconnected with Unitec and is keen to see how he can continue to grow the relationship.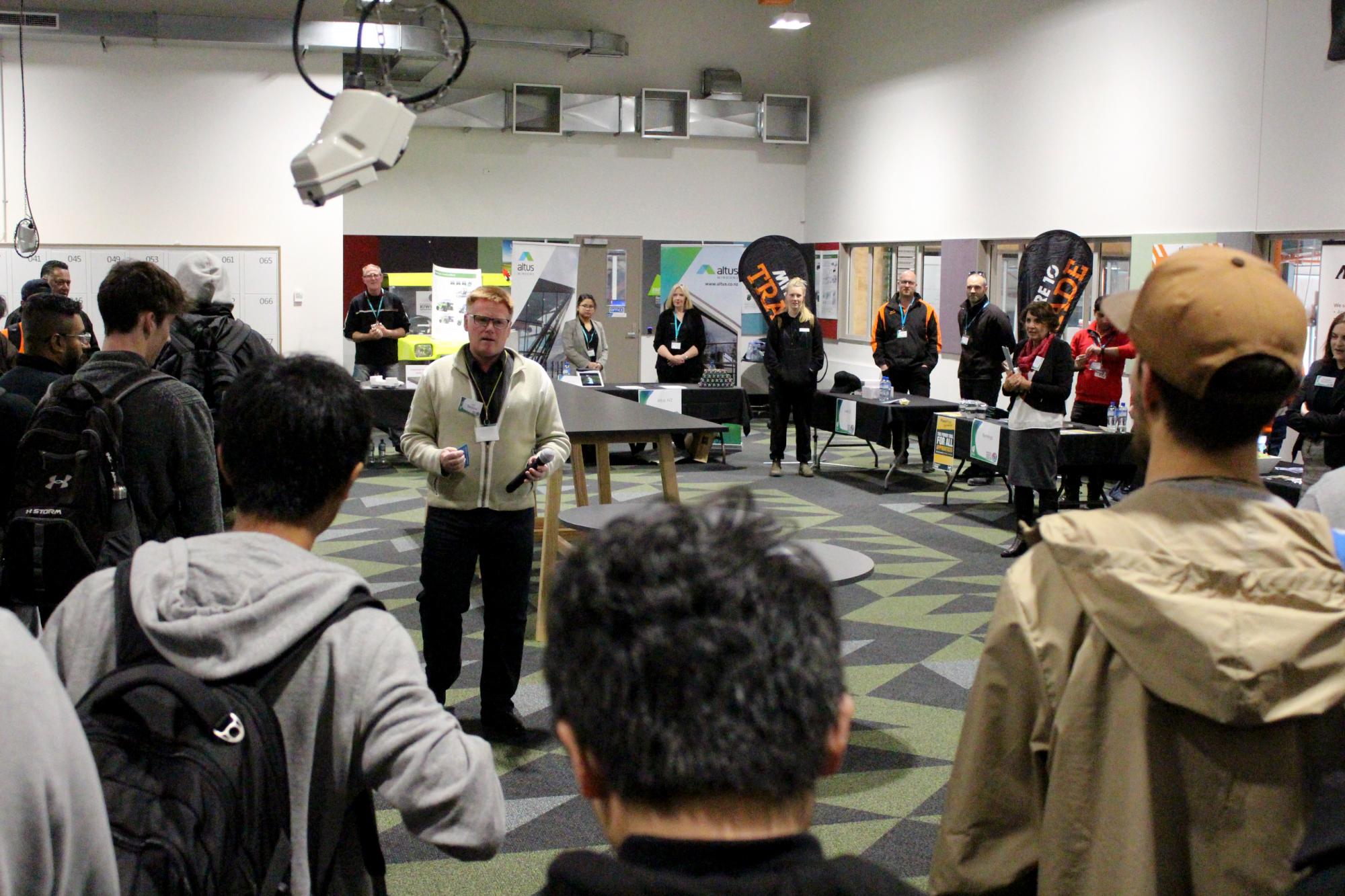 "Some of my Trade Managers and I attended a recent Industry Connect Day, which was fantastic. We spoke to a lot of really good people and it's resulted in three job interviews – which is a real win-win situation. For us, the new knowledge and bright-eyed enthusiasm of the students coming out of Unitec is so valuable from a diversity of thinking perspective. For students, we have a lot to offer in terms of job opportunities. If they're just starting their course, we have roles in our retail stores over weekends or holidays that will help them get a foot in the door. Or we often have positions in the drive-through part of the business for trade, where they can learn about the products, increase their knowledge and make some connections. It offers them a different pathway into the industry.
"My key piece of advice for students would be to get all the work experience you can: learn about how a workplace functions, be part of a team. Sometimes you have to start at the bottom, sweeping the floors, and learn the business from the ground up. Or you may have to take a step backwards to get into a team, then find the foot up you need to get to where you want to be. What's important is taking all the opportunities that come your way, and always being open to learning."
---