Sharing knowledge both in and out of the workplace
Aidan Cooper completed a Bachelor of Environmental Engineering at Unitec in 2003, and now leads Unitec's Engineering Alumni Group - sharing his knowledge and enabling others to do the same.
Originally from Henderson in West Auckland, Aidan left school and spent two years based in Linton Military Camp near Palmerston North, as a field engineer for the New Zealand Army. It was there that he made the decision to head back to study.
"After two years in the Waiouru's rugged landscape, driving tanks and learning to shoot, I decided I wanted to take a different career path. Environmental Engineering was something I was really interested in, so I moved back to Auckland to start a Diploma at Unitec."
Aidan says he chose Unitec because the Environmental Engineering degree offered the value and mix of disciplines he was looking for.
"At the time, all the other Environmental Engineering degrees lacked that combination of engineering and science that I was interested in. They were purely Civil Engineering degrees. I was 20 when I started Unitec's Diploma in Environmental Technology (now called New Zealand Diploma in Engineering (Civil)), and after completing that I went on to complete a Bachelor of Environmental Engineering (now called Bachelor of Engineering Technology (Civil)).
"The degree offered a good deal of variety as well as practical skills. I loved that I could gain knowledge in both science and engineering, and I also appreciated the networks I developed with fellow students and teachers, many of which I've been able to maintain."
Aidan was halfway through his Bachelor Degree when an opportunity arose to take a full time role as Environmental Manager for the State Highway 18 Project - or Upper Harbour Highway in Auckland.
"It was an opportunity that was too good to turn down, but at the same time it was daunting! I was working a 40-hour week while completing two papers a semester. It was tough, but in hindsight was an ideal start to my career."
The role threw Aidan straight into the world of environmental engineering and saw him managing everything from sediment and erosion controls, to stream works design and construction and landscape sub contract management.
"It was sink or swim for me! I learnt so much in that role. The good thing was that, because I was still studying, I was pretty much applying what we were learning in our papers to a real-life role. And it worked both ways: my studies helped me in my job, but I was also able to come back in to Unitec and present to the other students about what I was doing on the project."
Aidan finished his degree in 2007 and decided to pack up and head to the UK. In London, he worked as a Storm Water Engineer in land development until the market crashed in 2008.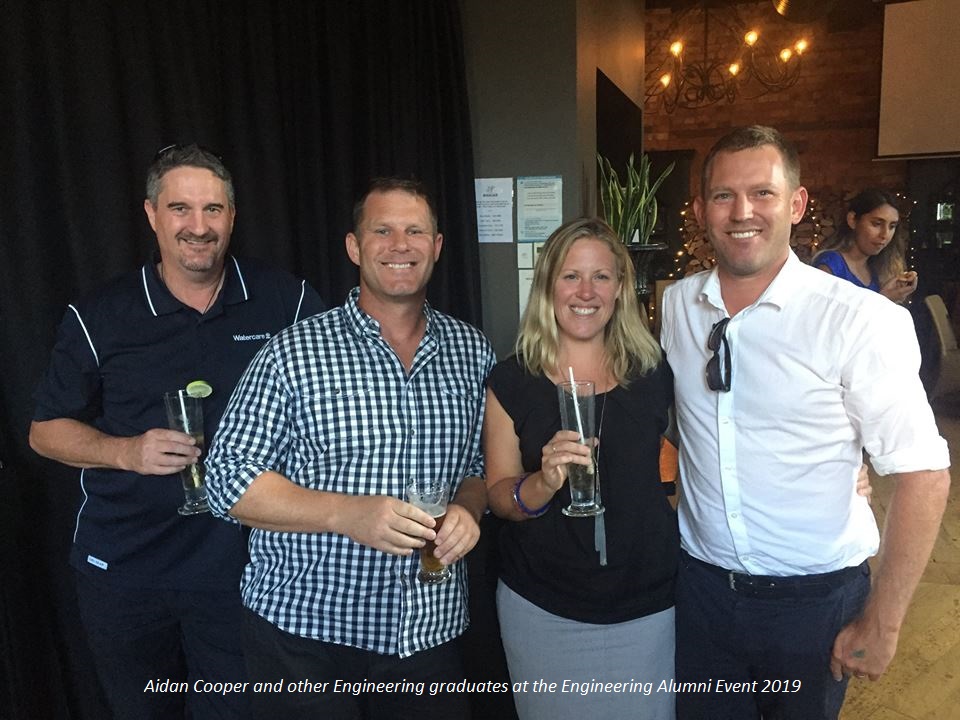 "Luckily, I was able to pick up work as a landscape labourer for a period of time, and then ended up coming home to New Zealand in 2009 to work as a Senior Water Engineer in Auckland - and I've been here ever since. My job is all about supporting the development and sustainability of water projects while reducing their impact on the environment. I do everything from catchment plans and erosion monitoring to stormwater modelling, earthworks, landscaping and development as well as some interdisciplinary management. I also help out with a bit of contract management.
"Until recently, I was helping out with a project in the Cook Islands, supporting their water supply rollout. I was spending a week each month over there, which sounds more glamorous than it actually was. It was a lot of time in planes and air-conditioned offices, rather than on the beach! But a great experience nonetheless."
Aidan says what he particularly loves about his role is the variety it offers.
"I especially love it when I can get out and about, kick the dirt, walk around sites. I'm not afraid of lifting up manholes and getting my hands dirty! I also enjoy training graduates and sharing knowledge with clients and colleagues."
Sharing knowledge is something Aidan is also passionate about outside of the workplace. Five years ago he started the Engineering Alumni Group at Unitec, which sees ex-Engineering students meet once a year at a networking event.
"Our annual event is a chance for old students to touch base, and for new graduates to have the opportunity to network with those who are more established in the industry. We usually feature a guest speaker - often an ex-student who has gone on to do amazing things. It's a chance for all of us to brush up on the latest industry skills and innovations, to see how things are going and how they've changed. It's all about sharing knowledge, supporting one another to learn and grow - I'm a firm believer in continuing to constantly learn in your role."
---