Sharing her passion for the game
Ketaki (Kay) Khare's passion for rugby is clear. And now she's able to share it with others as she works to develop and build women's rugby here in Aotearoa.
Originally from the town of Pune in India, Kay was a sporty child who grew up playing football, hockey and judo. In fact, it was her judo experience that first saw her get into rugby.
"I'd gone to Khares Football and Rugby Academy to play football, and it was here I was exposed to the game of rugby. As soon as I tried it I knew it was for me. I loved the physicality – it was so like judo. The tackling, the try scoring… it became a passion and I haven't looked back."
"I played for the National Indian Women's team for five years and it was incredible. We played against teams from across Asia, places like Kazakhstan, Japan and China, and came so far in terms of our skills, teamwork and confidence."
In 2012, Kay was offered a one-year role in Sri Lanka, running the National Women's Rugby Development program. Kay thrived in the role but knew she still wanted the chance to continue playing herself, so kept an eye out for other opportunities internationally. Eventually, she secured a development scholarship to play in New Zealand's Bay of Plenty. It was during her move there that she discovered Unitec.
"I'd already decided I wanted to study sports coaching in Aotearoa one day if I could. So I decided to go and visit Unitec on my way to Bay of Plenty. It didn't hurt that the Blues used to train at Unitec back then – I had an added incentive to check it out!"
Kay loved what Unitec had to offer, but it was the people she met who really made an impact.
Kay completed her six-month stint in the Bay of Plenty and went back to India, but studying at Unitec was firmly in her sights. She was then lucky enough to be offered a one-off New Zealand India Sports Scholarship – one of only ten awarded across the whole of India. This enabled her to come back to Aotearoa to study the Bachelor of Sport (Coaching) at Unitec, and she began her degree in Feb 2015.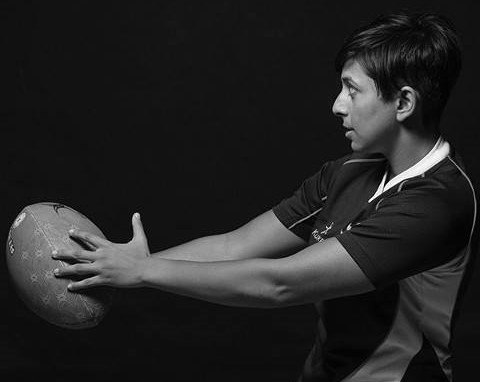 "My time at Unitec was life-changing for me. My degree was a Bachelor of Sport (Coaching), but it provided me with so much more than that. I loved the paper we covered on exercise prescription and knew it was something I wanted to pursue. The team leadership and athlete ID also really helped me – focusing on development as a leader and an athlete's identity and wellbeing. All of that really resonated with me."
Unitec also helped Kay on a personal development level.
"The sports department and lecturers were supportive and genuinely concerned about us as people. They were easy to talk to and so qualified – they really helped me achieve to the best of my ability. Their support also helped me get into the workplace with roles at YMCA, Les Mills and eventually as a project manager for New Zealand Rugby's International Student Programme."
After graduation, Kay went on to work in a similar role with Auckland Rugby before being hired by Auckland Tourism, Events & Economic Development (ATEED) to run a Māori Leadership Programme. Today she works in Christchurch as a Women's Rugby Development and Schools Officer – creating rugby development opportunities for coaching and playing right across the women's space.
"The great thing about the degree at Unitec was that it not only gave me invaluable industry experience but armed me with the flexibility to transfer my skills across a variety of different areas. What I love most about my career choice is that I get to influence and develop women's rugby – that's my passion. I still love to play and coach too, and I always want to be able to do that. Coaching allows me to have an instant effect on people's movement and even their mood. It's so rewarding."
Utilising Unitec's Study-to-Work Pathway, Kay successfully became a New Zealand resident in 2018. She says that, for her, success is about being the best version of herself.
"For students wanting to get into a similar area, my biggest piece of advice would be to put yourself out there. Align yourself with working in sports from day one – instead of taking interim jobs in a different area that take up most of your free time while you're studying.
"It's also so important to utilise the connections you make at Unitec. My mentor is actually one of my ex-lecturers at Unitec. She mentored me throughout my first year and continues to do so to this day. She's one of the reasons I'm in this role. To be honest, if I hadn't chosen to go to Unitec I wouldn't be where I am today!"
While the Bachelor of Sport (Coaching) is no longer open to new applicants, Unitec has just launched a brand-new contemporary and industry-focused New Zealand Diploma in Sport, Recreation and Exercise (Coaching pathway), as well as the New Zealand Certificate in Sport Coaching, which can be completed part-time around full-time work.
---
Study Sport, Exercise and Recreation Order brochure Apply Now