Ready to hit the ground running
Having completed her Master of Architecture (Professional) degree at Unitec in 2017, Peta Smith now works for architectural firm Brewer Davidson. She says the hands-on, practical learning she gained at Unitec really helped her hit the ground running.
Based in Auckland's CBD, Brewer Davidson works on large scale commercial, public, residential and educational architecture as well as urban design, all with a firm focus on sustainability. Peta first began working there during her second year of study on a two-week internship. They asked her to stay on, working one or two days a week during term time and full-time over the holidays, and she's been there ever since.
"I'm not your typical architectural graduate. The work experience I gained throughout my degree, combined with Unitec's practical approach to learning, meant I was totally equipped to take on a role after graduation. I started full-time at Brewer Davidson earlier this year and I've already independently managed my first big project."
Growing in a fast-paced industry
Peta has just completed a large-scale housing development project in Ormiston, Auckland, where a quick turnaround was required to complete the masterplan and design for 66 houses. She's about to start another project of a similar size on the North Shore.
"The housing project in Ormiston was a great starting point for me. The partner had completed a concept design, so I was required to complete the design for Resource Consent and then manage the documentation to make it happen. It's given me the confidence and experience to move onto the next big project comfortably."
Laying the foundations at Unitec
Wind the clock back to 2012 and Peta was just starting out as an architecture student at Unitec's Mount Albert campus. She chose Unitec because she'd heard good things about the Bachelor of Architectural Studies degree and its associated practical experience.
"I had spoken to a couple of architects, all of whom suggested I went to Unitec – it's very well respected in the industry. Upon starting my degree, I found myself surrounded by like-minded people, which I loved. The tutors and lecturers are really supportive, you could go to them any time of day and they'd help you out. We became like a big family."
For the first couple of years, the degree was quite concept based, laying the foundations of the architectural discipline. However, the latter years saw Peta moving into more practical applications of her learning.
"We started doing our technical papers, and were given the opportunity to take part in on-site build projects. I was even able to travel to China twice to study Chinese architecture. It really broadened my thinking and allowed me to see how architecture can come to life in different cultures. We also made some invaluable industry contacts, as well as architectural contacts at other universities, which is so important now I'm in the workplace."
The final years of Peta's degree allowed her to hone in on the more 'hands-on', model making aspects of architecture which she was passionate about. It also saw her select a very non-traditional thesis subject, with the full support of Unitec's tutors and lecturers.
"That's one of the great things about Unitec – it gives you the freedom to focus on what you love. My thesis topic was very unusual, but they were really open to it. You're not confined to any set standards – you can adapt your focus and be as creative as you want."
A sensory approach to shared workspaces
Peta's thesis looked at the link between architecture and Synesthesia – a multi-sensory condition where the stimulation of one sense causes an involuntary sensation in another. This means people with Synesthesia may 'see sounds', 'taste words' or feel a sensation on their skin when they smell certain scents.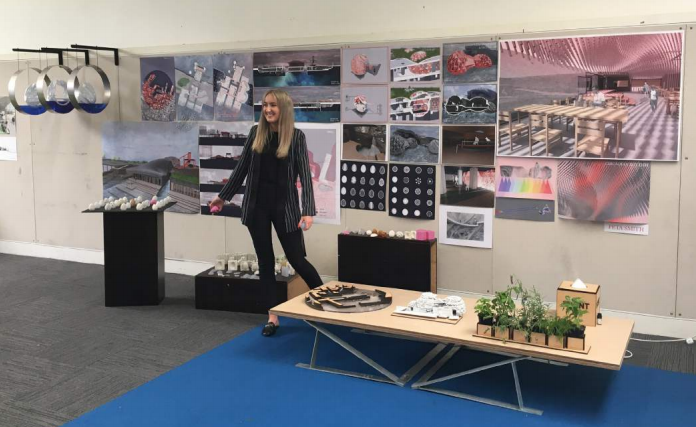 Peta discovered that people with the condition, whose senses are heightened, don't tend to suffer from mental health problems. In contrast, people who sit in office buildings all day (where many sensory triggers have been removed) have a higher tendency to suffer from mental health problems.
"I'd heard my family talk about Synesthesia – I think my aunt may have had it, but I became really interested in it from an architectural perspective when I began my degree. For my thesis I looked at ways we could reincorporate all the senses into work environments through architecture. Typical offices use extractor fans to get rid of smells, remove natural light and replace it with artificial light, and replace bright colours with whites and neutrals. I did the opposite – put in smells, different colours and lots of natural light. I designed a shared office space using these principles, and looked at how it could improve the mental health of those working there."
Finding her niche
Having the ability to create her own thesis topic not only saw Peta expand her knowledge in an area she was really passionate about, but led to some impressive outcomes.
"My thesis was really well received, I think a lot of that came down to the fact I was working on something I loved. Finding your niche is so important. If you do, then study and work come a lot easier! Architects work long hours, but if you enjoy what you do then it doesn't seem like work at all."
Peta's ultimate goal is to become registered and eventually have her own practice, something she sees as achievable.
"I have a study group set up with several people from my firm and a couple of people from Unitec – we meet up regularly to make sure we're on track with working towards registration. But right now I'm just pleased to be working where I am, doing something I love. I really couldn't see myself doing anything else!"