E ngā hāpori o Tāmaki whānui!
Tēnei rā te whakamōhio atu ki a koutou, kei te wātea e toru ngā tūranga kei runga i te Roopu Runanga o Te Whare Wānanga o Wairaka. Pēnā kei a koe ngā puukenga, wawata, ki te mahi kōtahi ai, me te roopu matua o te
Wānanga nei, henā, tukua mai tou nei tono! Mauri Ora!
Apply for a position on Unitec's Rūnanga Advisory Group
Unitec is seeking to welcome 3 new non-executive members to join its Rūnanga Advisory Group.
Rūnanga is Unitec's non-executive advisory group providing the Chief Executive with strategic leadership on responsiveness and effectiveness to Māori. It also monitors performance around Unitec's obligation to the Treaty of Waitangi, Te Noho Kotahitanga partnership policy and the Māori Strategy.
About Unitec Institute of Technology
Unitec is New Zealand's largest Institute of Technology, with more than 20,000 students studying over 150 work-oriented programmes. Unitec is primarily focused on the associated professional, advanced trades, and technology sectors of industry. We have a particular emphasis on reskilling and continual professional development.
Unitec Rūnanga's history
The Rūnanga was established in 1991. At this time many organisations were considering how the Māori perspective was being represented and heard within them. Nationally, there was an identified need for more Māori participation in Tertiary Education and the Rūnanga was to provide advice and insight into how Unitec could create the conditions for this to occur. It was also intended to be an important conduit for two-way communication with iwi and the Māori communities that Unitec serves.
Sir John Turei, Dean, Charlie Berryman and (then) lecturer, Hare Paniora all had a hand in the Rūnanga's establishment under the leadership of former Chief Executive Doug Armstrong. Mere Tunks and June Mariu were also among the Rūnanga's first members.
Unitec's Rūnanga came into its own as it looked at campus development and was integral in advising on the building of Unitec's Puukenga (1993), Wharenui (2009), and Wharekai (2012) which make up the Marae complex.
The signing of Unitec's partnership document - 'Te Noho Kotahitanga' at Orakei in 2001, as witnessed by elders of Ngāti Whātua was also a significant milestone.
Unitec Rūnanga's focus today
The underperformance of the tertiary system for Māori remains a huge concern for Unitec Council and the Rūnanga. Despite best efforts; participation, achievement, and outcome results are lower for Māori than the broader population. The Unitec Council are committed to closing this achievement gap and the Rūnanga have a crucial role to play in this journey. There is a committed partnership between Council and the Runanga to work together to bring about excellent outcomes for all Maori students.
A further area of concern is that the percentage of staff who identify as Māori at Unitec is dropping. This is something that needs to be monitored given Te Noho Kotahitanga.
Role description for Members of Unitec's Rūnanga
Unitec is seeking three high calibre appointees to provide proactive advice and perspective on delivery of tertiary education to Māori students, and insight and understanding of the Māori community which Unitec serves.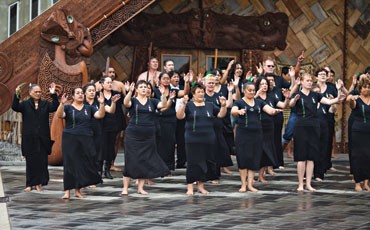 Members are expected to commit to reading papers for, attending and participating in 4-5 hui's per year from 5.30-7.30pm on a Tuesday evening at the Mount Albert campus. If appointed to this position, new members' first hui will be on 10 April. Other hui dates in 2018 are 19 June, 11 September and 20 November.
In addition, there may be occasional requests made of members, for instance participation in ad hoc subcommittees or working groups and invitations to graduations and pōwhiri.
The term of appointment will be three years, which is renewable once. Remuneration for Rūnanga members will be $240.00 per meeting attended.
How to apply:
1. Write and tell us how you meet each of the three criteria for appointment listed below.
2. Provide us with a current CV.
3. Provide us with your name and contact details, the names, titles and phone numbers of 2 referees, and your view of the potential for a conflict of interest based on your existing interests.
4. Please submit to runanga@unitec.ac.nz or post to Runanga Appointments (Building 48), Unitec, Private Bag 92025, Victoria St West, Auckland 1142 to ensure receipt by midnight Sunday 11 March.
Criteria for appointment:
Appointments will be made on merit. All candidates will be assessed against the criteria for appointment. Those candidates who best meet the set criteria will be appointed.
The criteria for appointment is as follows:
1. Successful candidates will possess the following specific skills, deep expertise and demonstrable experience in:
Māori Tertiary Education or;
Health, Community or Social Services
Technology or Engineering
Commerce and business leadership.
2. Successful candidates should have excellent communication and interpersonal skills, and ideally, governance or advisory experience.
3. Insight into the delivery of tertiary education to Māori students is desirable.
Timetable for appointment
The closing date for applications is midnight on Sunday 11 March 2017.
An interview will be held with short-listed candidates. Candidates for interview will be contacted on w/c Monday 12 March.
Interviews will be held on the Monday 26 March 2017 at Unitec's Mount Albert Campus.
Successful candidates will be approved and appointed by Unitec's Rūnanga and notified during w/c Monday 26 March.
New members' induction will be on Tuesday 10 April at 3pm followed by the first hui 5.30pm – 7.30pm.
If you would like to discuss your application, please call Cathy Tyler on 021 502 849 or email ctyler@unitec.ac.nz.