Protecting people on the country's rail corridor
As National Protection Manager for KiwiRail, Ria Apiata runs the team responsible for access to New Zealand's rail corridor. She says Unitec's flexible, practical approach to learning helped set her on the path to success.
The rail corridor is a thin piece of land running throughout the country which houses our rail network. And, if anyone needs to access it, they have to go through Ria's team.
"It could be Auckland Transport wanting to upgrade their platforms, or Watercare laying new pipes underneath our tracks," says Ria. "Whoever it is, they have to apply for a permit to enter the land.
"One of my direct reports is the National Corridor Manager. His team looks after the application process, which is similar to that used by a council when you want to change something in your house. It includes things like health and safety plans, methodology and risk assessments. If the application lines up, an access permit is issued and 'protectors' are assigned to the job. These protectors manage safety on the tracks while the work is underway."
In total, Ria manages 45 people, with another 10 currently being recruited – a steep increase from the 19 she looked after when she started at KiwiRail a year ago.
"I came in with a pretty heavy growth strategy. Safety is a huge priority at KiwiRail, so we not only needed to increase assurance levels and drive a reduction in incidents but bring more of the protection function in-house. In the past, we'd had contractors protecting, but because we're ultimately responsible for the safety of people coming into the network, we felt we had to regain control of this area."
Ria says her forte is taking a team, system or process and improving it, and she has found plenty of opportunities in her role to strengthen and grow the business unit. She has also built up a strong, committed team – ranked the second most engaged in the business in KiwiRail's recent employee engagement survey.
"I'm lucky to work with some really driven people and we've already achieved so much in the protection space. Probably what I love most about my role is the people. At a government organisation you meet such a diverse range of individuals: those out in the field, on the operational side of things as well as the corporate teams.
"KiwiRail's motto is 'Stronger connections, better New Zealand' – and I love that. I'm all about connecting with people. I'm also comfortable in the Te Ao Maori space and I get to 'mahi within the mahi' (undertake voluntary work within my workplace) regularly."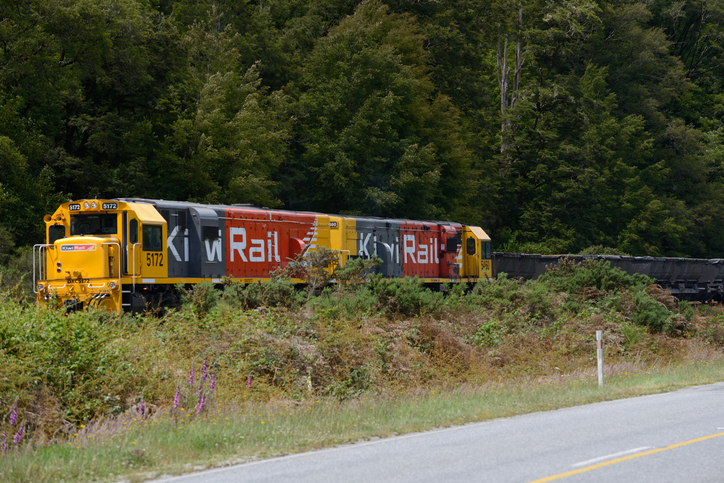 A flexible, practical learning pathway
Ria's path began after high school, where, as Head Girl she was awarded a four-year scholarship to study at AUT. However, the timing wasn't right, and Ria ended up leaving to work in insurance and event management before getting married and having her first child. But she had a plan in mind.
"I come from a family of eight, so I knew I wasn't just going to have one child. I worked out that if I had three or four kids it would take me about 10 years, so why not come out with a qualification at the end of it? I enrolled at Unitec because it offered the flexibility to do night classes."
Ria spent the next nine years completing a Bachelor of Business in Operations Management part-time, in between having four children, working in the early childhood space and running her own wedding videography and photography business.
"My husband would come home from work and I'd head off to my 5 pm classes. It was a busy time. But I loved going back as an older student – I wasn't there to muck around! I was surrounded by other mature students, people who were already in business and had seasoned skills and experience. I found the discussions so motivating."
Ria says Unitec's practical approach to learning also really resonated with her.
"I think that's what Unitec does well: practical learning and real-life examples. We'd write business cases, or complete process improvement projects for real companies and present our solutions to them – things I've done regularly in my recent roles. We also had people from the industry come and present to us, which I found really valuable and built on those connections within the industry."
Hard work and good connections
Ria put everything in to her degree and finished as Senior Scholar and top of her class. She also won an award sponsored by a freight, transport and logistics company, Toll New Zealand.
"When I won the Toll award, I asked them if they had a placement position I could fill over the summer. This led to a permanent position within a reputable company, where I was able to manage the freight logistics for two of their largest customers as well as project manage the implementation of new systems for two years. In that time, I linked in with the rail Maori network (Te Kupenga Mahi), met more great people and found a job opportunity at KiwiRail that would offer me a bit more breadth and leadership. And here I am!
"My advice to students is to ask all the questions you can. Go the extra mile for your group assignments to get the best out of your team, that's added learning for you. Use those networks within Unitec – form good relationships with your peers and your lecturers, you never know where it will lead. While it was my grades that got me the award, it was also the fact I kept my eyes open for opportunities, particularly to practice leading.
"I'd also say to look for areas of your degree where you're strong. That's where your natural contribution lies. Then also think about stretching yourself – so the papers you find hard, stretch yourself to do well – don't just pass as average. You can't be a one-trick pony, you need an all-round skillset. That's when you become truly valuable to an organisation."
---