Practical engineering experience is raising the bar
What do the Great Pyramids of Egypt, the Great Wall of China and Burj Khalifa in Dubai have in common? How about Volkswagen, Mercedes and Tesla? As well as being a few of the most impressive man-made structures and popular car brands in the world, they couldn't have been designed or constructed without engineers.
Engineers are at the heart of almost every project, using a combination of mathematics and science to solve practical problems. They're behind everything from the roads you drive on, to the gadgets you call smartphones. We wouldn't know life as it is without engineers.
However, in New Zealand and around the world, engineers of all disciplines are in short supply. Unitec is well equipped to help supply the increasing demand of fully trained Engineers. As one of New Zealand's premiere tertiary providers of Engineering courses Unitec excels in delivering a combination of theory and real world experience. Unitec believes that thinking and doing is a better way to learn and it is through this Think.Do approach that gives students real transferable skills that employers are demanding.
1) Civil Engineering
Civil engineering relates to infrastructure projects like the Sky Tower, Harbour Bridge and Britomart.
As part of a Civil Engineering programme, you can choose from five engineering pathways in which to specialise, including; structural, water, geotechnical, roading and transportation, and environmental. In the Civil Engineering programme you will learn about choosing the best materials, tools and techniques for civil construction projects. This includes understanding various computer modelling software and practicing drafting skills.
Across all courses within this engineering area, Unitec has a strong practical element allowing students to get involved in activities outside the classroom everyday - the Think.Do approach in action. Andrew, a recent Unitec graduate worked with Harrison Grierson on the drainage infrastructure and vehicle access ways for a super-lot development within Hobsonville Point. He was the lead engineer for the detailed design and construction observation of the storm water/wastewater.
Using the Think.Do approach Andrew was able to adapt to the job and become an asset to the team straight away. Andrew states, "At Unitec, you learn more skills than just the theory. I'm able to deal with clients, manage projects, and be work-ready when I graduate. It gives me real confidence to know that on day one, I can handle the job and perform to a high standard."
Andrew is one of many learning Civil Engineering in this way. Find out more about Andrew's story here.
2) Land surveying
Land surveying is a profession that gets you working both outdoors and indoors in all types of environments.
As graduates must be skilled in both measurement and resource management, Unitec can help develop your knowledge and skills across the wide range of land surveying topics.
Students will go from mapping the shape of the earth's surface to get measurements on spatial data to analysing the land, water and natural resources themselves. Our Land Surveying programme is equipped with the latest GPS equipment and CAD programmes, as well as trains students to use numerical modelling and project management software.
3) Electrical and Electronics Engineering
Electrical and Electronics Engineering relates to the design, development, testing, supervision and/or management of such things as power, telecommunications, security systems, smart buildings, electronic goods or the work of an electrician.
The best way to learn Electrical and Electronics Engineering is through practical experience. Unitec's new state-of-the-art Trade's building 'Mataaho', complete with the latest in equipment and techniques, allows students to learn in a hands-on way and is the ideal place to hone skills.
Doing just that is Zheng Sibo. Having just completed his second year of a New Zealand Diploma of Engineering, Zheng won $3000 towards course costs for his solar-powered street lamp design created for one of Unitec's annual sustainability challenges. The design of a dual-facing street light mimics an emerging plant, similar to the sturdy bamboo stalk with opposing leaves.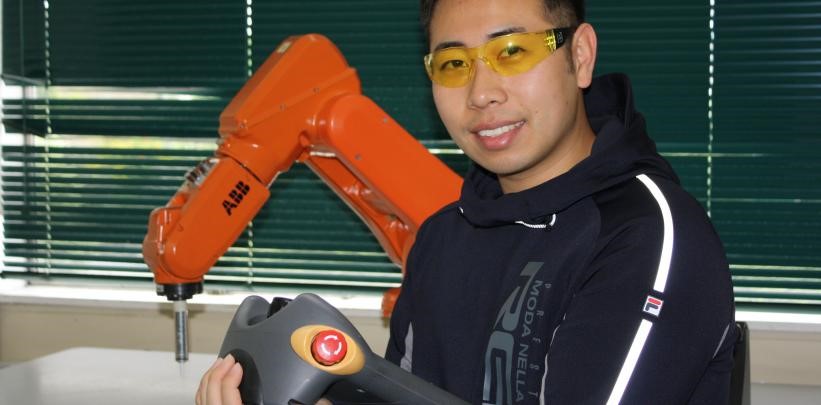 In working on this challenge and having full access to the first class facilities of Unitec, Zheng was able to physically construct his idea, helping him to materialise his creativity, similar to how he would when working in the industry. To find out more you can find Zheng's full story here.
4) Automotive Engineering
Automotive Engineering is all about vehicles - perfect for those wanting to become a mechanic, automotive engineer or auto electrician. In this programme you will pull apart engines, find and identify faults, simulate different driving conditions to test vehicle systems, all in our facilities using the latest automation equipment. This combination of learning through doing, and having the latest equipment will give you the advantage when entering the industry.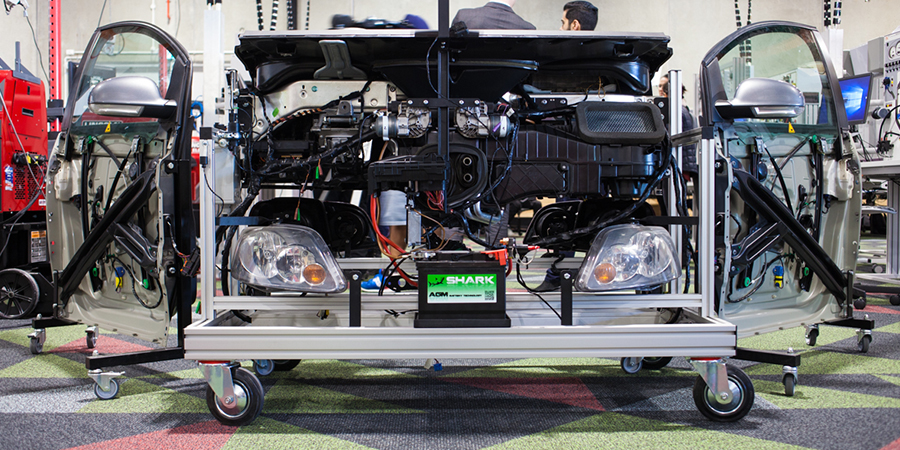 The applied nature of Unitec's Think.Do approach is the ideal way of learning engineering along with all other programmes at Unitec – it's just a matter of adjusting the practical learning for any given industry.
It is this blended approach to learning that Unitec believes will deliver graduates who can go on to meet the changing needs of employers. The team at Unitec believed it so much that they asked a group of students to work with industry professionals and the Unitec Marketing team to co-create a 2018 recruitment campaign, as a way to represent Unitec style of learning. This led the students to design and realise an experience complete with a renovated 1955 Airstream caravan, and a uniquely Unitec drink (made from scratch). It was a truly rewarding experience for all involved.
---
Find out more about studying Engineering at Unitec: